February 2020 Newsletter
Get monthly news, tips for yoga and meditation, and stay up-to-date on our upcoming programs. Click here to subscribe.





Dear Friends,

It is my impression that we have a tendency to think of non-attachment around material things. "I have a great house. But I would still be happy if I had to live in a teepee." Certainly that is an aspect of non-attachment. Another aspect is to not be attached to the results of our actions. That can be really hard for goal-oriented people.

In reading the beautiful book, Swami Kriyananda As We Have Known Him, I enjoyed the chapter "A Strong Desire." A woman tried to resist a desire for many months, as Swami recommended. But she finally admitted that she had been unable to resist that desire. Swami then suggested, to her surprise, that she then follow the desire – which entailed a big change in her life – but that she do so with an attitude of non-attachment. When she asked Swami if making this change was good or bad for her spiritually, Swami said that in itself, it was neither good nor bad. He said: "It is merely a thing. How it turns out for you depends on how you relate to it, whether with pride and ego, or with humility and devotion."

Having a great teacher to discuss our challenges with is an extraordinary blessing. Do you have a spiritual teacher you can talk to? It can be a bit risky if we rely on our perceptions to make decisions about giving into desires! But this story illustrates that non-attachment can help us grow in many circumstances.

Many Blessings,
Nityananda
February 21 – 23, 2020
with Nayaswami Diksha

Intuition is the power within us to tune into the high wisdom of our soul. The chakras are the "gates" within the astral spine that allow our energy to flow upward toward the seat of highest awareness—or outward through the physical body.
This weekend will help you take steps to feel part of a greater reality and to experience your highest potential.

INSPIRATION FROM SWAMI KRIYANANDA

This is what Swami Kriyananda said about the ETERNAL NOW:

The more non-attached you can be in yourself, the freer you will find yourself to be. The more you completely accept the present, the more energy will be released for you to enjoy the present.
How much is lost in life by people who perennially wish things to be other than they are!

Only by living properly right now, at the changeless center of the moment, can you arrive at that point where you exercise complete control over your life.
Contentment has been said to be the supreme virtue. Contentment means living behind the present moment.
In God, no time exists; there is only now.
The illusion of space and time is produced by movements of thought
(restlessness).
Without movement, Absolute Consciousness alone would remain.
September 15 – October 5, 2020
with
Sitabai & Nandadevi
Join these two experienced walkers on this sublime pilgrimage to explore the beautiful region of Galicia in northwest Spain, including walking the last 108km section of the Camino de Santiago.
The Camino de Santiago is one of the most ancient, holy, and actively enjoyed walking pilgrimage path in the world. With Ananda Spiritual Travels experienced trip leaders the orientation is an uplifting spiritual one - connected to spirit in nature, through the lives of inspiring Saints, and in sharing the experience with others. All spiritual truth-seekers who wish to deepen their connection with the Self and the Divine are welcome.
Our Year Round Retreat Programs
Archives:
No December eNotes, 2020
No April eNotes, 2020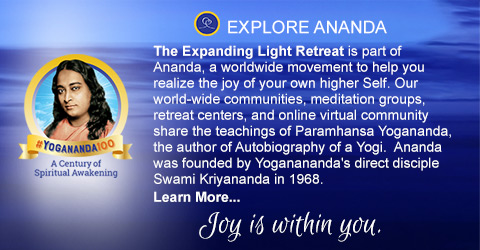 CONNECT
14618 Tyler Foote Rd
Nevada City, California 95959
Toll free 800-346-5350
Outside US 530-478-7518
SUBSCRIBE
Receive uplifting emails with inspirational content and news about our retreat programs, travels, and trainings.