Restorative Yoga to Relax and Rejuvenate
Not scheduled at this time.
with Melody Hansen
Restorative yoga is safe, nurturing, and systematic, and helps you relax and release deep tension with no effort.
In this rejuvenating retreat, you'll rest supported by pillows and folded blankets in poses designed to open areas of the body where most tensions are stored. This practice is ideal for those with physical tension and pain, or mental tension and anxiety. (Can you think of anyone who wouldn't benefit from it!)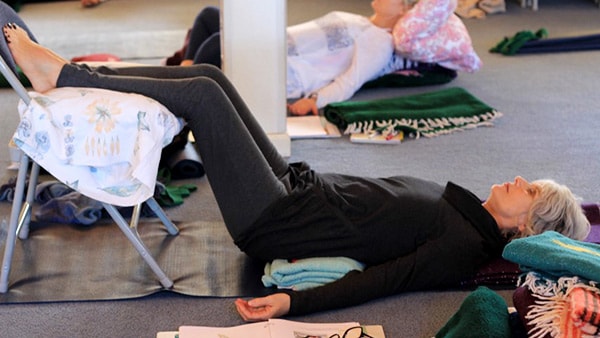 You'll feel deep-seated tensions melt away during two long, guided sessions of Restorative Yoga on Saturday (including Chakra Session). The weekend is primarily experiential, designed to include a Saturday afternoon free for a long walk and/or a massage at the Center for Radiant Health.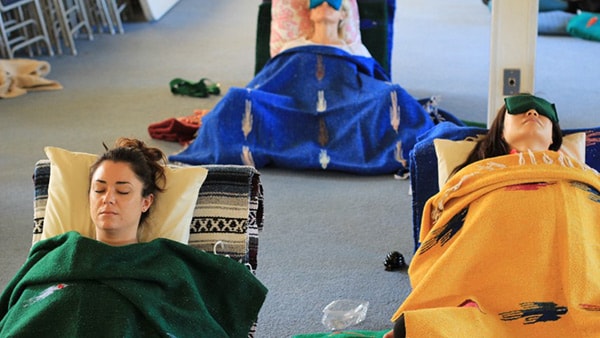 You'll also learn some basic principles to help you gain more from the exercises, including how to:
Consciously release stress and old habits of body, mind, and spirit
Work with the chakras (subtle energy centers), through the poses, to aid deep healing
Use breathing exercises, sacred music, meditation, and visualization to enhance your overall experience of rejuvenation
Easily practice your restorative yoga at home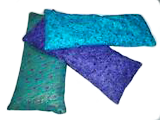 When you arrive, you will receive a yoga eye pillow, which you can use throughout the weekend and take home with you. Place it over the eyes during the poses to put gentle weight on the eyes, which cause the whole face to relax. When the face is relaxed, the entire body follows. It is a deeply calming experience.
If you're seeking the rich and transformative benefits of restorative yoga, The Expanding Light is a perfect setting. The natural beauty of the Sierra Nevada foothills, enhanced by the harmonious and restful design of The Expanding Light, the delicious and healthful food, and the staff who put your needs first, all combine for a magical weekend of being very, very good to yourself!
Anyone can do restorative yoga, and everyone loves it.
"As a guys' guy (hunter, fisherman, over-worker), I laughed when my wife suggeted this class. Then I thought: "what woud it be like to just rest? Relax?" After this weekend, I will attest that everyone needs to find a way to relax, and if you are like me, sometimes you need someone to guide and help you to have calmness and compassion. It was wonderful."—Barry P., Grass Valley, CA
"I have experienced restorative yoga before—but never like this! There was such a deep nurturing, loving embrace felt in each session. I felt relaxed and loved." —Brenda, Elk Grove, CA
"Our teacher was priceless. She made this experience something I will never forget." —E.E., Chico, CA
"I came to the weekend seeking calmness and balance, and leave feeling at peace with all around me. I slept through the night, both nights, for the first time in a long time." —Michelle P, Grass Valley, CA
"I love that I felt NO pressure to do anything. I could have skipped class or fallen asleep, and everything would have been okay. I loved the structured schedule and that it was not mandatory to follow." —M.H., Hollister, CA
"The restorative yoga helped me to find a calming balance while still feeling energized. It felt nurturing and healing. Our teacher was delightful. She has a sweet, calming presence and is very good at putting people at ease." —D.B., Sacramento, CA
"Restorative Yoga is deeply relaxing and certainly lived up to its name." —P.D., Rancho Cordova, CA
"I felt the love and care from the moment I walked in. The instruction was perfect and precise. We relaxed, played, and had perfect meditation. I will definitely be back for this soul-renewing class."— D.O., Gerber, CA
"I did not have any idea about restorative yoga. I thought it relaxed the body, but I was glad with what the session did for my mind and soul."—Sivasankari, Sunnyvale, CA
"Restorative Yoga is a must in every busy person's life. And if you are a normal American, you are probably too busy! The benefits are too great to list, but I highly recommend this program." —Joni, Idaho Falls
"The Chakra yoga series was absolutely amazing. The energy at The Expanding Light is incredible. I would be difficult to have a negative experience while staying at The Expanding Light because the people here radiate peace and love, which you can feel everywhere." —Cari, Chico, CA
"I came seeking peace inside my heart, in my mind, and throughout my body. I leave surrounded by the peace created and felt from the moment I was welcomed to Ananda. I have tools to take home with me now that will help me stay connected to this spiritual path. Thank-you. —Evelyn, Palo Alto, CA
"It is rare in life when one can spend time and money and receive so much more in return. The 'gift' of this course, the persistent, all encompassing guiding care is a treasure, to be enjoyed while here and repeated in memory and practice when you return home." — J. Gere, Penn Valley, CA
Sample Schedule
Friday
Evening: Welcome session, introduction to relaxation and restorative yoga, and a guided deep relaxation
Saturday
Morning: Restorative Yoga Postures to relax and unwind
Mini-Meditation Class & Practice
Afternoon: Free afternoon to schedule a massage or attend a tour of Ananda Village
Evening: Restorative Yoga Routine for the Chakras
Sunday
Morning: Taking Restorative Yoga Home: class on how to set up props and practice at home
Ananda's inspiring Sunday Service
Lunch: Goodbye and Departures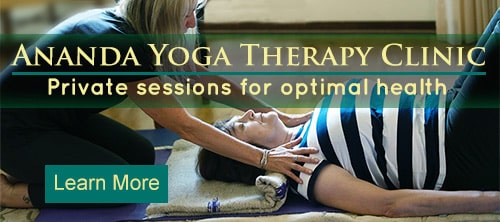 For more information, please send us a Question or Comment:

Receive monthly news and inspiration.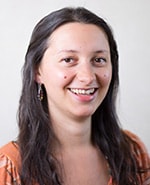 Director of Ananda Yoga® Teacher Training, Director of Restorative Yoga Teacher Training, Level 2 Ananda Yoga Teacher, E-RYT 500, C-IAYT, Certified Ananda Yoga Therapist, Ananda Meditation® Teacher
Melody is an extraordinary yoga teacher, who conveys her great knowledge of yoga asanas—from physical mechanics to spiritual upliftment—with a blend of graciousness, authority, and fun. One of Melody's greatest strengths is the purity of her transmission of Yoga. She has very little egotism to block the clear flow of inspiration she shares. Her inner life is committed and deep, and she's able to help students experience that depth in their yoga practice.
No dates scheduled for Restorative Yoga to Relax and Rejuvenate at this time.
Prices are all-inclusive and cover accommodations, meals, classes or activities, and course materials.
Restorative Yoga to Relax and Rejuvenate starts the afternoon of the first date listed and ends with lunch on the last date listed. Check-in is anytime between 1:30 p.m. and 4:30 p.m. at our Front Desk. Your room will be available by 3:00 p.m. Dinner is at 6:30. The first gathering of your group is after dinner.
Please see:
You can add extra personal retreat days before and/or after your program. Check availability and costs for the days and accommodations that you require.
Restorative Yoga to Relax and Rejuvenate starts the afternoon of the first date listed. It's ideal to arrive before 4 pm, if you are able to. That way, you can join in the afternoon session of yoga and meditation, which begins at 4:45 pm. Dinner is at 6:30. The first real gathering of your group is at 7:30 pm. If you need to arrive here after 5 pm, that's fine, but it helps us if you let us know at 800-346-5350. We can also put aside a dinner for you if you need to arrive after 7 pm. The program ends with lunch on the last date. Please see our Daily Schedule.
See Transportation and Directions whether you are coming by plane, car, bus or train. Our Frequent Questions page answers many of the questions you might have about How to Go on Retreat.