September 2020 Newsletter
Get monthly news, tips for yoga and meditation, and stay up-to-date on our upcoming programs. Click here to subscribe.






We are taught that we get what we need at the time we need it.
Do you sometimes find yourself thinking: "Really, I need this !?" I give myself a laugh when this thought comes to me. It would be nice to believe what I needed was somehow "better" than this! As I'm here now, I guess not.

Today (the day I wrote this), I digitally joined some friends to meditate together. At the end, I enjoyed repeating the words, and feeling the uplifting power, of our Light the World Affirmation.

God's light is within me and around me.

With the sword of faith in my hand, with the love of God in my heart,

I am a warrior of light.

I join my brothers and sisters everywhere to overcome fear with faith,

hatred with love, and disease with health.

We all are warriors of light. We fill the world with God's light.

This affirmation claims our birthright, and shares the best of us with all, when the world especially needs it. I find it becomes more powerful when spoken with others, with brothers and sisters.

The time is right to be a Spiritual Warrior – a Warrior of Light. It is by remembering that God is behind what we view as our reality that we have our greatest hope of staying calm and centered.

Share your light with all. We are blessed by what flows through us.

Nityananda
The Expanding Light Retreat physical campus
remains closed due to COVID19.
After months of prayer and discussion with leaders of Ananda Village, we have decided to use the main campus as an ashram accommodation to meet current needs.
We have no current plans for when we will reopen.
We do, however, very much look forward to it, and will let you know.
Please join us at Online with Ananda
We would love to offer our ongoing support with free inspirational videos on our

YouTube Channel

.
Archives:
No December eNotes, 2020
No April eNotes, 2020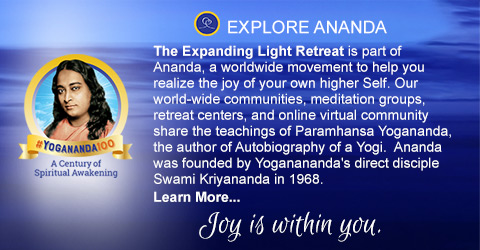 CONNECT
14618 Tyler Foote Rd
Nevada City, California 95959
Toll free 800-346-5350
Outside US 530-478-7518
SUBSCRIBE
Receive uplifting emails with inspirational content and news about our retreat programs, travels, and trainings.