April 2019 Newsletter
Get monthly news, tips for yoga and meditation, and stay up-to-date on our upcoming programs. Click here to subscribe.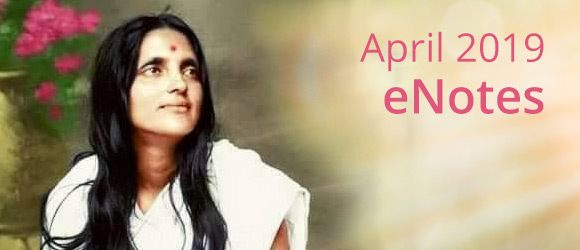 Dear friend,
During Inner Renewal Week, Nayaswami Devi pointed in one of her talks the difference between "Doing what you love" and "Loving what you do." It's very popular for the advice to be given – to younger people in particular – that they should do what they love. Well that's all right, if one can do that. However, in the world I'm living in, there are many things that need to be done, that might not of themselves be inspiring. Potters who set up their own studio, for example, would expect to have to buy a wheel, clay, a kiln, and many tools. They need to do the bookkeeping and fill out tax forms. They need to clean up at the end of the day. If only throwing pots makes them happy, then they will spend a lot of every day unhappy. If the studio doesn't succeed, and they have to get a job in construction, will they be forever unhappy? There is a better way.

If we try to find happiness only by doing what we love, then we are missing a greater opportunity. By learning to love what we do, it becomes possible to be happy regardless of what we are doing. Ways to love doing whatever we do include doing it for others, and doing it for God. When whatever we do becomes service, or is offered to the Divine, we can truly be happy about doing it. Remembering – and working on experiencing – that God is the doer, makes it easier.

The Karma Yoga Program at The Expanding Light is where many great souls deepen their understanding of this truth. But you can love what you do wherever you are, and whatever you are doing. Loving what you do will, by the way, make you more magnetic, which will attract more opportunities.


God loves you,

Nayaswami Nityananda
April 26 – 28


We'll share feminine wisdom and explore:
Opening your heart and staying true to yourself
Balancing and increasing your energy
Ways to deal with reactions, emotions, feelings
Relationships of all kinds: personal, family, spouse, friends
31 essential Secrets for Women (from the book by Swami Kriyananda)
Increasing your capacity for being a channel for wisdom and healing
Visit Crystal Hermitage Gardens with thousands of tulips in bloom.
Law of Attraction - April 5 – 7
Attuning Yourself with the Universal Power of Abundance
Learn how to master the universal keys to becoming successful. Attract Your true purpose: A retreat to attain abundance.

The Next Step in My Relationships - April 5 – 7
Fearless Loving: Deepening and Finding Relationship Fulfillment
Relationships are the most powerful motivators for inner growth and an unparalleled way to learn about yourself. In the mirror of others you have the opportunity to see your own self.



How to Rise Above Your Karma

- April 12 – 14


Use Your Life Experiences to Empower Yourself
During this supportive and insightful retreat you will explore your own karmic patterns and lessons. You will also learn effective ways to free yourself from karma.

Learn How to Meditate - April 12 – 14
Techniques for Peace of Mind and Balanced Living
This time taught by Kamran
Meditation is our daily practice due to the tremendous benefits in enhancing mental clarity, inner peace, creativity, and overall physical health. Make it yours!

Springtime at Ananda
Tulip Garden Weekends
Every weekend in April, ($8/10 admission)
Stay on Personal Retreat, and enjoy the magnificent tulip display at Crystal Hermitage, with 17,000 blooming tulips in an exquisite setting-attracts thousands of guests annually.

The 12 Steps & Yoga Principles - April 19 – 21
Walking in the Sunlight of Spirit
If you are established in your sobriety, you'll be deeply touched by this inspiring weekend on how to make your meditation and prayer more meaningful and effective.

Sustainable Spirituality - April 19 – 21
Unite the soul's inner journey with life's outer challenges and demands
Learn the fastest way to grow, to have personal breakthroughs at will, to catalyze your life–purpose and invoke higher frequencies of love and wisdom.

First-Timer's Week - April 21 – 26
A well designed getaway—with a blend of relaxation, inspiration, yoga postures, meditation instruction, and delicious vegetarian food—in a beautiful atmosphere.



Ananda Yoga® Therapy for Back & Joint Pain

- April 26 – 28
Yoga Therapist Nicole DeAvilla and experienced yoga teachers from the Ananda Yoga Therapist Training Program will evaluate and assist you in creating a personalized Yoga Therapy program to take home.




Upcoming Trainings with:


ANANDA SCHOOL OF YOGA & MEDITATION:



Ananda Yoga® Therapy Training: Health Challenges 2




- April 15 – 19


Yoga therapy for many chronic health conditions, such as Obesity, Diabetes, Thyroid Disorders, Cardiac conditions, Chronic Pain, Asthma, and COPD



Ananda Yoga® for Bone Strength

- April 26 – 28


FOR NURSES ONLY
You can prevent or reverse bone-density loss. Therapeutic Ananda Yoga® provides safe techniques to strengthen your bones and muscles, the enjoyable yoga routine both physically beneficial and spiritually uplifting.

Archives:
No December eNotes, 2020
No April eNotes, 2020