During this retreat you will:
Explore the unique qualities of each chakra, and how to work with them in everyday life
Practice yoga postures and other techniques to positively affect your chakras, attitudes, and awareness
Take home a yoga routine to awaken your chakra energy
Learn a meditation technique given by Paramhansa Yogananda
Enjoy a Restorative Yoga routine for the chakras to cultivate deep inner relaxation.
Within our astral, or energetic, spine are the seven centers of energy, the chakras—through which energy can flow either outward through the senses and activities, or inward and upward for spiritual awakening and personal growth.
During this special weekend course, you will enjoy focused practice of Ananda Yoga® to help you awaken the energy in the chakras. In one short weekend, you can be profoundly recharged and uplifted.
"In yoga practice, the meditator offers his Kundalini up to the devas, or powers, residing in the chakras, that all his energy may flow up the spine toward unity with God in the sahasrara (thousand-rayed Lotus) at the top of the head."
- from The Essence of the Bhagavad Gita by Paramhansa Yogananda
Comments from previous guests:
"All aspects of the program were enriching. The sessions were in the right order of basic chakra instruction, with the active postures relating to each or several chakras. Very much enjoyed the final restorative yoga session." --G.W., Sacramento
" I loved my retreat with Annapurna. I learned so much about the chakras and how to use them in my daily life. Annapurna is so loving, and an amazing guide. The Expanding Light Retreat gave me such insight into my life and spiritual path. I would recommend it to anyone wanting to look inward and expand." -- M.W., San Francisco, CA
For more information, please send us a Question or Comment:

Receive monthly news and inspiration.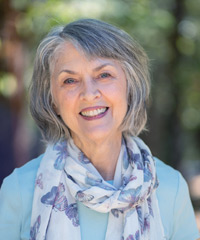 Ananda Yoga® Instructor (RYT 200) and Certified Ananda Yoga Therapist
Dayavati Barsic, Ananda Yoga® Instructor (RYT 200) and Certified Ananda Yoga Therapist, is a well-loved teacher, known for her expertise and gentle manner. The mother of 5 wonderful children, and 6 grandchildren, she has taught yoga for more than 30 years.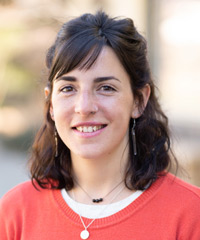 Uma Bottaro is a vibrant, energetic, and joy-filled burst of sunshine. As an Ananda Yoga Teacher, her depth of spirit and caring nature shine through, as you will experience during her classes and led sadhanas. Uma serves at The Expanding Light Yoga Retreat. Marketing, web and flyer design, helping to lead programs and teaching yoga are some of the jobs that she lends her talents to.
No dates scheduled for Ananda Yoga® to Awaken the Chakras at this time.
Prices are all-inclusive and cover accommodations, meals, classes or activities, and course materials.
Ananda Yoga® to Awaken the Chakras starts the afternoon of the first date listed and ends with lunch on the last date listed. Check-in is anytime between 1:30 p.m. and 4:30 p.m. at our Front Desk. Your room will be available by 3:00 p.m. Dinner is at 6:30. The first gathering of your group is after dinner.
Please see:
You can add extra personal retreat days before and/or after your program. Check availability and costs for the days and accommodations that you require.
Ananda Yoga® to Awaken the Chakras starts the afternoon of the first date listed. It's ideal to arrive before 4 pm, if you are able to. That way, you can join in the afternoon session of yoga and meditation, which begins at 4:45 pm. Dinner is at 6:30. The first real gathering of your group is at 7:30 pm. If you need to arrive here after 5 pm, that's fine, but it helps us if you let us know at 800-346-5350. We can also put aside a dinner for you if you need to arrive after 7 pm. The program ends with lunch on the last date. Please see our Daily Schedule.
See Transportation and Directions whether you are coming by plane, car, bus or train. Our Frequent Questions page answers many of the questions you might have about How to Go on Retreat.