Frequent Questions
Where are you
located

?

We are located in Ananda Village, one of the world's most successful spiritual communities. Situated in the Sierra Nevada Foothills in Northern California, we are approximately two hours east of Sacramento and two hours west of Lake Tahoe. See our transportation and directions and map pages for more.
What kind of Yoga do you
offer

?

We practice Ananda Yoga®, which was created by our founder Swami Kriyananda based on the teachings of Paramhansa Yogananda. Ananda Yoga is distinct from many other forms of hatha yoga in that it is first and foremost a spiritual practice rather than an exercise regimen. In keeping with the ancient roots and original purpose of hatha yoga, Ananda Yoga® is a powerful yet gentle practice designed to prepare the body and mind for deep meditation. As such, it is a perfect blend of spiritual upliftment and physical energization suitable for everyone - all ages, all body types.

Ananda Yoga is also a pioneer in the world of yoga and one of the founders of Yoga Alliance, the international organization which sets the standards for yoga certification.

We offer programs for beginners as well as for intermediate and advanced students.
What are the accommodations like?
You may choose from two types of accommodations: indoor or outdoor. For indoor accommodations we offer both standard and deluxe rooms housed in three different buildings and four one-room cabins. For outdoor accommodations RV camping is available year-round and tent camping is available from April through October.
What are your prices?
Prices vary depending on the duration of the program and your choice of accommodations. Prices are listed just below each program. Our Prices page tells you what the prices include.
"Your prices are an extraordinary bargain in light of what the participants receive."
— L.B., Tiburon, CA
What is a typical day like?
Please see our Daily Schedule page.
What kind of food do you serve? Can you accommodate special diets?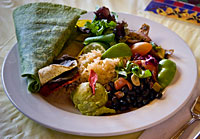 Three delicious and satisfying vegetarian buffet meals are included with the cost of your stay. Some of our dishes contain eggs and dairy. We use organically grown foods as much as possible, including some organically grown eggs and produce from right here at Ananda Village, and organically grown Fair Trade coffee. We have a variety of teas and fresh fruit available all day.
We can accommodate some special dietary needs with non-dairy, non-wheat, and egg-free choices. If you have other dietary needs, it may be that we will not be able to accommodate them.
A small refrigerator for guests who are staying in Serenity House Lounge and a full size refrigerator outside our kitchen are available for storing special foods guests might need during their stay. There is a Market close to Ananda Village if you'd like to buy special items.
Are healing and massage services available?
Yes, they are. Just across the meadow from The Expanding Light Retreat is The Center for Radiant Health.
The Center offers massage, body and energy work; Emotional Freedom Technique; career coaching; and astrology consultations. It is an independent cooperative of qualified Ananda health practitioners, available by prior appointment 7 days a week.
Plan ahead and include a treatment in your retreat by calling 530-478-7518.
What kind of clothes should I bring?
The atmosphere at The Expanding Light is casual. For yoga postures and meditation, bring loose-fitting casual attire like sweat clothes, comfortable pants, and T-shirts. If you plan to attend Sunday Service, it's ideal to bring something a bit less casual.
We suggest a good pair of walking shoes so you can enjoy our nearly 700 acres of beautiful grounds. You also might want to bring a bathing suit in summer to be able to enjoy the beautiful Yuba River (just a 20-minute drive from The Expanding Light).
We remove our shoes when entering the Temple and also the living quarters, so slip-on shoes are nice to have. In cold weather you might also enjoy having a pair of slippers for your bedroom.
Our elevation is 2500 feet, and while snow is rare, it can be chilly and rainy in the winter. We suggest you bring layers so you can be comfortable in a variety of temperatures.
Visit AccuWeather for local weather updates.
Do you allow pets?
Sorry, we are unable to accommodate pets at this time.
How many people are in a program?
The numbers vary depending on the program. The average is 8 to 12 people. Some special programs have larger numbers, like the Yoga Teacher Training that is averaging 20 students.
How many
guests can you accommodate

?

We can house about 50 people. This number does not include campers.
How many people
to a shared room

?

A shared room is usually two per room.
Are the bathrooms private?
Our deluxe accommodations in Harmony House have rooms with private bathrooms.
Serenity House and Friendship House residents use shared bathrooms located in the hallways. Each hall bathroom has a shower, toilet, and sink, with a locking door to insure privacy. Cabin and tent residents use a shower house (one for men and one for women). The shower houses feature plenty of hot water, electric heat, and toilet and shower stalls for privacy. Our accommodations page has more information.
Is there soap, shampoo, conditioner and lotion in the rooms?
You should bring your own toiletries.
Do you have internet access for guests?
Yes. We have an internet room off the dining room with computers in it available exclusively to guests. We also have two internet access cables into which guests can plug their laptops. In addition, we offer wireless service in both Harmony House and Serenity House rooms.
Are there fridges in the rooms?
No, there are not refrigerators in the rooms. Guests in Serenity House have the use of a single half-fridge, a kettle, and a microwave in the Serenity House Lounge. This is not for meal prep, just for a cup of tea or similar. You also can get tea at any time in the Dining Room.
What is the difference between Ananda's Meditation Retreat and The Expanding Light?
The Meditation Retreat is 6 miles from The Expanding Light. It is a magical place, with wonderful and extensive gardens, filled with special places to experience the energy. It's a great retreat spot for personal retreat, silent retreat or seclusion. The Meditation Retreat also hosts some programs, and is sometimes available for Group Rentals.
Accommodations at the Meditation Retreat includes "bungalows", small, rustic cabins, and simple houses with kitchens. Meals are available in a common dining room.
I've never done yoga before. Will that be a problem?
Prior experience isn't necessary for most of our programs; our instructors will be able to adapt the poses for your own body. If you have serious physical limitations (heart disease, history of stroke, glaucoma, even very high blood pressure), please speak with one of our instructors when you arrive to determine how you should participate in the yoga postures.
Do any of your programs offer Continuing Education Credits?
Yes, many of our programs offer Continuing Education Credits for nurses through the California Board of Registered Nursing (we are Provider #10747). Most of our meditation programs qualify, as do some of our workshops. Call 800-346-5350 for specifics.
Do you have laundry facilities?
For our longer-term guests, we have coin-operated washers and dryers at the back of Serenity House. Walk around the building outside to reach it. There is a keypad code needed to open the laundry. See Guest Services for the code. Some machines take quarters. You can get some from Guest Services. For other machines you pay Guest Services. Laundry powder is provided. Please make sure the door is locked when you leave.
Can mobility-challenged people visit your facility?
Because The Expanding Light has several buildings at some distance from one another, it can be difficult for those with mobility challenges. The ground can be uneven. We do have a Deluxe room in Harmony House that is wheelchair accessible with a wheelchair shower. Our dining room and our teaching temple have ramps from the outside. The dining room ramp is around the back of the building. We have portable ramps to help when needed, for example, to go up or down several steps between the teaching temple and the dining room. Please give us a call if you would like to talk about this.
Please do not hesitate to call us at 800-346-5350 for any other questions you may have.
Get monthly news, tips for yoga and meditation, and stay up-to-date on our upcoming programs. Click here to subscribe.
Weather
Check Weather Report from Accuweather
We're located at a 2500-foot elevation in the foothills, not the mountains. We sometimes get a little snow, but winters are generally mild. In January it's common to have high temperatures in the 60s. We can't promise particular weather when you visit, but it is very rare for snow to cause travel problems.
About Us