Become A
Meditation Teacher Online
Ananda Meditation Teacher Training Online

10-Week Online Certification Course
Sep 4 – Nov 13, 2017
Feb 26 – May 7, 2018
Nursing CEU Eligible: 46 hours

For 40 years Ananda has been training teachers in meditation techniques grounded in the highest traditions of India, taught by Paramhansa Yogananda. With that experience, we have created an online meditation teacher training that has everything our in-person training offers — and perhaps even more personal attention and guidance from faculty. Add the regular post-training support, and you'll have all you need to become the best teacher you can be.
Share the benefits of meditation with people who are hungry for them. Help your students reduce stress, concentrate better, stay centered in the midst of challenges, become more effective—and above all, cultivate lasting happiness.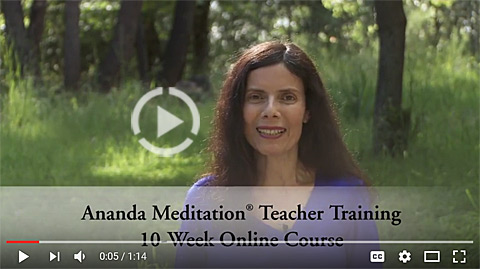 Ananda Online Meditation Teacher Training Intro
Comment from a recent graduates tell the story:
I was so impressed. It was the first on-line class I have taken because I never trusted the integrity of on-line classes, and because I seem to learn best in the presence of others. However, after taking your training I have changed my mind. It is highly professional, accommodates multiple learning styles, and keeps students accountable. I think the best part of it was the instructors. You all were so knowledgeable and respectful. Ananda is fortunate to have you. — K.K., Rhode Island
Become A
Meditation Teacher Online
Course Content
You'll receive a comprehensive course manual (in pdf format) as well as a broad spectrum other resources, including access to many videos. All through the course, you'll have opportunities to ask questions of Ananda's expert meditation teachers, both in "live" webinars and in online discussion forums. Here are some of the topics we'll cover:
In-depth practice and teaching of a classical meditation technique
Research-proven benefits of meditation
Ways to overcome mental restlessness
How to help each student find his or her best sitting position for meditation
The art of walking meditation
Techniques to enhance meditation: breathwork, energizing practices, chanting, affirmation, visualization
Helpful ways to bring individual creativity to classical meditation
How to engage the heart for deeper meditation
How to bring meditation into daily life, and help students respond to life's challenges in positive, effective ways
Answers to questions often asked by new meditators
Secrets of becoming an effective, magnetic, inspiring teacher
How to organize, set up, and market your classes
Your course experience
This course is hosted by Online with Ananda (which also handles registration). You'll benefit from today's best practices in distance learning, which will give you solid, comprehensive training in the practice and teaching of traditional meditation. In a typical week, you will:
Study course materials, both written and video. (The course includes more than 30 video presentations.)
Complete a self-quiz on the topics of the week. (Don't worry: it's designed to be a learning experience, not an exam.)
Participate in online discussion forums, in which you'll gain valuable insights into important issues in teaching meditation.
Complete a special assignment, such as practice teaching via Skype, making a video of your teaching, or working on a team project.
Practice meditation and related techniques in audio-guided sessions at least 5 days per week. (Course materials include more than 30 such sessions.)
Answer specific journaling questions about your experiences with the techniques and with teaching meditation.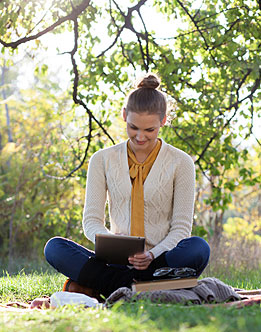 You will also have one or more webinars during the course; they will be recorded for the benefit of those who cannot participate "live." All other coursework can be done when it's convenient for you, provided it gets done during the week in which it is assigned.

Almost all course activities are asynchronous (not "live"), so you're free to do your coursework at the times of day that are most convenient for you. (See FAQs for more details.) Expect to spend 8–10 hours per week on coursework; 2–3 of those hours will be guided meditation practice.
Please note: All students must stay current with the weekly assignments, and have enough schedule flexibility that they can easily arrange one-to-one course activities with other students. See FAQs for more information.
Graduates receive certification as Level 1 Ananda Meditation® Teachers as well as credit for certain additional trainings (see below).
To Apply
Visit Online with Ananda where, in order to apply, you will need to set up a free account.
Additional credit from this course
Continuing Education for Yoga Alliance RYT's and E-RYT's: This course offers 80 hours of continuing education credit (non-contact hours).
This online version of Ananda Meditation Teacher Training counts toward Ananda Yoga Therapy certification, but not toward becoming an IAYT Certified Yoga Therapist. We expect that before long it will count toward both certifications, and when it does, we will note that here. However, even now the in-person version of Ananda Meditation Teacher Training counts toward both certifications.
Level 2 Ananda Yoga Teacher Training: Unlike the in-person Ananda Meditation Teacher Training, this online version does not count toward Level 2 Ananda Yoga Teacher certification, because Yoga Alliance does not yet acknowledge distance education.
FAQs
Q: Do graduates receive the same certificate as for the in-person Ananda Meditation Teacher Training?
A: Yes, exactly the same.
Q: I want to get a head start. Is there a way I can begin the coursework early?
A: Yes, and we recommend it! One assignment for Unit 1 of the course is to make and post online a 2–3 minute video in which you explain (to a hypothetical classroom of your future students) why you meditate. When you register for the course, you will receive instructions for making this video. It's easy to do, and you'll enjoy having done it in advance of the start of the course.
Q: My meditation background is different from the practices taught by Ananda. Is that okay?
A: It's okay with us if it's okay with you. This course takes place within the tradition of Paramhansa Yogananda, so participants should be interested in learning to teach the techniques that he taught. Those who come from a different tradition—or no tradition at all—should register as soon as possible in order to begin to learn and practice those techniques well before the course begins. Then your course experience will unfold much more naturally, and your teaching and personal practice will benefit much more
Q: What if some emergency comes up during the course, and I am late to finish an assignment?
A: We realize that emergencies or illness can arise. We will work with you to try to find a solution—and the more advance notice we receive, the more likely it is that we can find a solution. But please realize that, because all the students move through the course together, we can do only so much to accommodate late assignments, even for emergencies or illness.
Q: How much schedule flexibility do I need to have?
A: You will be free to do your coursework at whatever times of day suit your schedule. During several weeks of the course, you will need enough flexibility to be able to find a time to meet with a classmate via Skype video; this is usually very easy to do.
Q: I live in Europe [or Asia], and I might not be able to participate in the "live" sessions. What can I do?

A: We often have students from Europe and Asia, so don't worry: There are only 2 or 3 "live" sessions during the course, and they are video-recorded so those who cannot attend "live" can watch them later.
Q: Due to travel, I will be unable to participate for a short time during the course. Is that okay?
A: It depends on when, and for how long, you will be unable to participate. To resolve any questions about it, please write to our instructors.
Q: Does Ananda offer post-graduation support?
A: Absolutely. You will receive a periodic newsletter as well as have opportunities for online Q&A and other resources, individual mentoring (extra cost), and Level 2 Ananda Meditation Teacher Training courses. Ananda also offers a wide variety of other learning experiences — both online and in person — that will benefit your practice, your teaching, and your understanding of practical spiritual living.
Q: How can I decide whether to take the course online or in person?
A: Each format has its advantages. Here are a few:
In person: The uplifting environment of The Expanding Light promotes deep meditation; it cannot be duplicated fully online. You won't have all the distractions that happen at home. You'll have full, in-person access to the instructors every day. The personal connections that happen during the in-person course are enriching, beautiful, and often enduring.
Online: You won't have to uproot yourself from your day-to-day life. You'll have more time to assimilate the material and practice your teaching (particularly helpful for people who like to process their thoughts before expressing them). You'll have a few learning experiences that aren't included in the in-person course. The online course is less expensive.
Q: Is an online course a good fit for me?
A: To do well in an online course, you need to be organized and a self-starter. You also need to decide whether you can fit one more thing into your everyday life, because the course will require 8–10 hours every week. And finally, you need to be comfortable with the technology—it's not difficult, but it is part of the course. Speaking of which …
Q: I am concerned about some of the technological elements of the course: I've never done an online training, or used Skype, or made a video of myself and posted it online.
A: The course website is very easy to use and intuitive, and the site offers "how to" videos to help you. Also, these days everyone knows someone who can help them over such technological hurdles as using Skype, or making and posting videos. If you think you will need such help, we recommend that you find a helper soon rather than waiting until an assignment deadline approaches.
Q: When I make a video, how will the instructors see it?
A: You will post it on YouTube, Vimeo, Google Drive, Dropbox, or a similar service. Again, if you don't already know how to do that, you probably have a friend who can help you with the process. And don't worry about the privacy of your video: you can post your video in such a way that the general public will not be able to see it.
Q: Does Ananda offer technical support?
A: We offer technical support for using the website (OnlineWithAnanda.org) that hosts this course. We do not, however, offer technical training or support for using Skype (or a similar service), or for making videos or posting videos online. But surely you have a friend who can help you, because it is not difficult once you get the idea of it.
What is the most insightful advice an Ananda Meditation Teacher has presented you? Find Out...
What our students say:
Comments from two recent graduates tell the story:
Before signing up, I asked many questions, as I was a little skeptical to embark on a meditation teacher training online. The answers gave me the confidence that the course would be interactive, not dry and impersonal. The coursework was challenging but very informative, well organized, abundant, interesting, clear, and complete. Whenever I had a question, our instructors responded within a very short time. I think the most appealing aspect of this course is that you feel you are right there with the instructors. A direct line. I feel ready and confident to teach meditation.
— M.C., Colorado
Thank you for the excellent training. The class here in Cocoa Beach
began today, and the flow of it was very good. There were 38 primarily retired people with very little or no experience with meditation. We covered all of the basics of a first class, including five full minutes of silently observing the breath. There was a lot of enthusiasm to return for the remaining two classes and perhaps continue indefinitely as a meditation group. It was great, but I wouldn't have had the confidence or the competence without your wonderful training. —Mare
Costs (OMTT)
Special Introductory Offer:
$1095 $995
Yoga Alliance RYTs and E-RYTs receive a 10% discount on the total cost for Ananda Meditation Teacher Training Online. To receive the discount, please tell us when you register: your name as it appears in the Yoga Alliance registry, and your city/state/country.
Nursing CEU Eligible: 46 hours



What is the most insightful advice an Ananda Meditation Teacher has presented you?
Find Out...

Receive monthly news and inspiration.