Reservations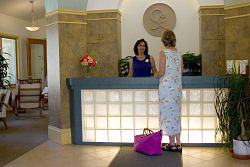 Once you have decided which program you would like to attend, you may make a reservation with us online, by calling us or email. See our calendar to help you decide which program you would like to attend.
Registering Online
Register online for Personal Retreat and most programs. For programs other than Personal Renewal, it is easier to register online from the page with the course's description. Just click on "Register Now" button.
Registering by phone
Please call 800-346-5350 or 530-478-7518 and charge your deposit on Visa or MasterCard.
Deposits
The deposit for your reservation is calculated per guest and depends on the cost of your stay:
| | |
| --- | --- |
| Up to $500 | $100 |
| $501 to $1,000 | $150 |
| $1,001 to $1,500 | $200 |
| $1,501 to $2,000 | $250 |
| $2,001 and up | $300 |
Please note:
The deposit for Meditation Teacher Training and Yoga Teacher Training is always $300/person.
These two programs and some others require an application to be approved before we can reserve your space.
When we receive your deposit, we'll send you a confirmation with a list of what to bring.
It is rare for the weather here to be bad enough that you can't easily get here. But if that does happen, you can roll your entire deposit over to another visit.
Canceling & Rescheduling
If you cancel or reschedule at least 7 days before your scheduled arrival, half of your deposit remains as a credit for one year and half is forfeited. If you cancel or reschedule with shorter notice, the entire deposit is forfeited.
For Yoga Teacher Training: If you cancel or reschedule at least 21 days before your scheduled arrival, $200 of your deposit remains as a credit for one year, and $100 is forfeited. If you cancel or reschedule with shorter notice, the entire deposit is forfeited.
To actually cancel your reservation call Guest Services at 800-346-5350 or 530-478-7518
Arrival and Departure
Our guest services staff will be here to greet you when you arrive at our reception desk.
Our office hours are: 8:30 am - 5:00 pm Mon through Thu, 8:30 am - 6:30 pm Fri, and 9:00 am - 5:00 pm Sat & Sun.
Check in whenever you like after 1:30 pm and enjoy the buildings and grounds. Your room will be ready no later than 3:00 pm. We strongly recommend that you arrive by 5:00 pm Wed-Fri and 4:00 pm Sat-Tues; it makes for a more relaxing start for your visit. Please call us if you plan to arrive after hours. If you arrive after hours, there will be no staff at the front desk to greet you, but we will leave you a key, map and welcome packet so you can get to your room.
Programs begin with dinner (usually at 6:30 pm) on the first day listed and end with lunch on the last day. Check-out time is 11:00 am. Guests, especially those from far away, who are enrolled in a particular program find it works best to arrive a day or more before the program begins to unwind and / or to stay a day or more afterward to integrate their experience. Contact us for nightly rates.
Guest Guidelines
In order to maintain our uplifting and peaceful atmosphere and ensure a serene and enjoyable experience for all, we have a few guidelines at The Expanding Light which we ask our guests to please observe:
No recreational drugs or alcohol during your stay.
Smoking is permitted ONLY outdoors and ONLY on the paved parking lots both out of consideration for our guests and to reduce fire hazard.
No pets on the grounds.
Quiet hours are from 9:00 pm to 9:00 am.
Music may be enjoyed with the use of headphones (no musical instruments).
Guests who snore need to reserve a private room unless they are coming with a roommate who doesn't mind. Unfortunately, guests who reserve a shared room and have to be relocated because of snoring will have to pay for a private room.
Weather
Check Weather Report from Accuweather
We're located at a 2500-foot elevation in the foothills, not the mountains. We sometimes get a little snow, but winters are generally mild. In January it's common to have high temperatures in the 60s. We can't promise particular weather when you visit, but it is very rare for snow to cause travel problems.
Reservations
"Your prices are an extraordinary bargain in light of what the participants receive."
— L.B., Tiburon, CA
Retreat Accommodations
Each guest room includes two twin beds, carpeting, heat, air conditioning, towels, and bedding. A limited number of queen-sized beds are available. Fresh linens and towels are available weekly – no daily maid service. Wi-Fi is available for all guests except those in cabins or tents. (We also have centrally located guest computers.) Limited handicap accessibility.
Deluxe
Standard
Tent / RV
The cost of a visit to The Expanding Light ranges from $75 to over $200 per night depending on your choice of accommodations and programs. Prices, listed in the right sidebar of each program description, are all-inclusive and cover the following:
classes or activities,
and course materials as appropriate.
We have discounted rates for seniors, longer visits, early-bird discounts and "Come back with a Friend". More...
Through scholarships, we are striving to make it possible for more and more people to experience The Expanding Light. These funds are limited, so if you are able to pay, please do not request aid so it can go to someone with a greater need. More...
Nurses can receive nursing continuing education credit by taking many of our courses. Look for the

logo on our Calendar page or on the individual course pages. More...
Do you know someone who is ready for a retreat? Would you like to share The Expanding Light with someone you care about? By giving a gift certificate you will be giving someone an experience they'll remember and cherish. More...
Yes, our retreat is a little out of the way. And once you get here, you'll be glad it is!
Transportation and Directions:
A true retreat is much more than a vacation—it can be a time of conscious, spiritual opening, of making an enjoyable effort to rise to an entirely new state of awareness. Here are a few tips for a retreat experience that is both relaxing and spiritually rewarding. More...
You will feel much more at home here than you can imagine. You will be welcomed with genuine interest in your highest needs. We honor your spiritual journey, no matter what path you follow. We look forward to serving you. More...
Answers to questions from what food we serve to what a typical day is like. More...
My account
The Expanding Light lets you:
Make reservations online
See your current and past reservations
Change your contact information
And more!
Already have an account
Don't have an account
If you have questions or need assistance please call 800-346-5350 or 530-478-7518 during business hours or contact us.