February 2017 Newsletter
Get monthly news, tips for yoga and meditation, and stay up-to-date on our upcoming programs. Click here to subscribe.

Dear friend,
I recall one of my sisters telling the story of how she was unable to lose weight no matter she did. Until she remembered to ask for divine help. Then she started dropping pounds. I'm not sure if she thinks of Christ, God, Universal Consciousness or another manifestation or expression. That isn't what is most important.
What is important is remembering to stay connected with the Divine. Paramahansa Yogananda said " To those who think me near, I will be near."
You are not alone! Quiet your heart. Speak to your favorite saint, your guru, to Divine Mother – or whatever expression of Divinity is most accessible to you.
The Bhagavad Gita says: "Whatsoever from a person worships, it is I who (uplift his heart) and make his devotion steadfast and true. Absorbed in his devotion, intent on worshiping that form, he derives true, spiritual benefits, and has his desires (his prayers) fulfilled. The blessings he receives come from Me alone."



Remember that you are blessed.
Nityananda


Are you looking to deepen your relationships with people? Do you want to serve others so that they can find inner peace? We invite you to explore your highest potential and learn to be an Ananda Meditation Teacher!

Option One: In–Person at The Expanding Light Retreat March 16 – 26, 2017
This uplifting certificate training will help you to become the meditation teacher you truly want to be. The in-person program offers you the joy of being at The Expanding Light in our ashram setting, a comprehensive 10-day certificate training, and inspiring and professionally presented classes taught by some of Ananda's finest and most experienced meditation teachers — with plenty of time for long meditations in our communities temples, shrines, and the Moksha Mandir. Graduates receive a Certificate of Completion and credits toward Level 2 yoga teacher certification (for Ananda Yoga Teacher Training graduates).

Join program teachers Gyandev & Diksha for an inspiring free introductory webinar on Monday February 27. Learn more here...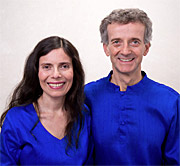 Based on years of experience and the use of new online learning technology we have created an online meditation teacher training that has all the instructions of our in-person training offers – and a great deal of personal attention and guidance from faculty. Our online environment is supported by onlinewithananda, a highly acclaimed online learning environment. Add to that regular post-training support, and you'll have all you need to become the best teacher you can be. Affordably priced.
"This online trainings was profoundly meaningful to me both personally and professionally. Personally, my own meditation practice deepened to an extraordinary level allowing me to experience an embodied understanding of the yoga teachings. Professionally, I feel totally prepared and confident in my teaching to others." - S.D., Massachusetts
Yoga Alliance RYT's and E-RYT's: up to 80 hours of continuing education credit (non-contact hours).
Inspiration from Yogananda
"As Yogananda wrote of his own Whispers from Eternity, and of his Cosmic Chants, he 'spiritualized them' by drawing, by deep repetition of them, a divine response. Any response from God that is generated superconsciously remains 'in the ether,' and can continue forever to convey special blessings."
from The Essence of the Bhagavad Gita, Crystal Clarity Publishers
Autobiography of a Yogi Superconscious Crossword Puzzle
If you would revel in the inspiration and delight of Autobiography of a Yogi–in a way that will also boost your brain cells–we have a treat for you: The Autobiography of a Yogi Superconscious Crossword. Every clue is an excerpt from the Autobiography, with one word missing. Your job is to supply the missing word. It's fun, and you'll get lots of hints.
Inspiration from Swami Kriyananda
"Where, in true prayer, is the need for fear or diplomacy? God knows our hearts; He knows better than we do whether we truly love Him."
From The Hindu Way of Awakening: Its Revelation, Its Symbols by Swami Kriyananda, Crystal Clarity Publishers
Let our social media inspire your life
Please Like and Share Our Facebook Pages - Aum!
Copyright © *|CURRENT_YEAR|* *|LIST:COMPANY|*, All rights reserved.
*|IFNOT:ARCHIVE_PAGE|* *|LIST:DESCRIPTION|*

Our mailing address is:
*|HTML:LIST_ADDRESS_HTML|* *|END:IF|*

Want to change how you receive these emails?
You can update your preferences or unsubscribe from this list

*|IF:REWARDS|* *|HTML:REWARDS|* *|END:IF|*
Archives:
No December eNotes, 2020
No April eNotes, 2020