August 2019 Newsletter
Get monthly news, tips for yoga and meditation, and stay up-to-date on our upcoming programs. Click here to subscribe.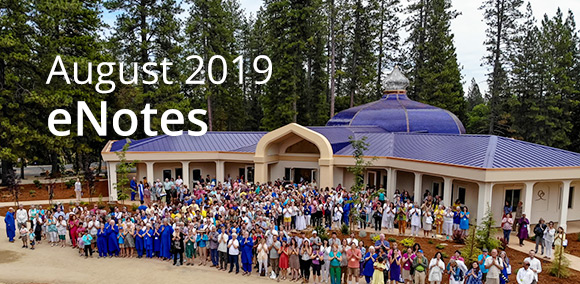 Devotees outside the NEW Temple of Light, Ananda Village






Dear Friends,


Now is the time. Make the commitment. Make your move.


Ananda has completed its first 50 years now. Hearing from the pioneers who have dedicated their lives to finding God and sharing how to find God was inspirational. Listening to the ways in which the teachings of this path are serving the Creator and the world gives us hope.

It only works individually if we take the steps ourselves. Is there something you are waiting for, before you commit yourself to spiritual growth? Take a step now. Growth happens wherever you are, whenever you decide. Be happier tomorrow. You don't have to be perfect. But you do want to be growing. This affirmation may help.

"God's light is within us, around us, and everywhere. With His grace, I will make my heart a temple of light, that I may become a beacon of blessings to all I meet."


Blessings to you,
Nityananda
50th Anniversary Event was a Great Success



In July, almost 900 of our nearest and dearest came together at Ananda Village to celebrate our 50th anniversary, and to launch our new Temple of Light. The entire week was extraordinary and filled with grace.

See a video of a flyover of our new Temple of Light.

How wonderful that in these challenging times, Ananda raised its energy to build a Temple designed to be a beacon of light and love into the world. And chose to celebrate and further share 50 years of service. Swami Kriyananda guided us well.

Click this link to see a few on the inspirational highlights:

Link to Online with Ananda Anniversary Week videos
Professional Yoga Therapy Training
This in-depth 7-day program is the first module of Ananda's Yoga Therapy Training. It will give you many practical foundational skills necessary for a safe and effective yoga therapy practice. You will also gain an understanding of the foundations of yoga therapy, which come from the ancient sciences of Yoga and Ayurveda.

Prerequisites:

The Chakras: Inner Guide to Self-Realization - August 9 - 11
Use visualization, affirmation, color and sound, music, breathing, and hatha yoga to help you attune more deeply to these astral energies.

Kriya Yoga Initiation - August 9 - 11
This program is for those who have completed Kriya Yoga Preparation, or equivalent course. Receive Kriya Yoga Initiation at a formal Vows Ceremony, a Kriya technique review, personal instruction, guidance with your practice, and continued support.



Achieving Inner Peace & Tranquilty

-

August 9 - 11


A Flow Series Retreat
This course is filled with experiential exercises, discussion, and living examples. It also includes the Full Circle Emotional Awareness Exercises.



Strengthen Your Kriya Yoga Practice Retreat

-

August 11 - 12


For those who've had Kriya initiation—guided practices, personal help, and extra support for taking the technique deeper.



Life, Death and Beyond

- August 16 - 18
Living Life More Fully
Taught by Nayaswami Mantradevi
Remove fear and sadness from your perspective of death, and gain tools for a more purposeful and fulfilling life.

Soul Activation - August 16 - 18
Manifest the life you were meant to live
A workshop that teaches you how to connect with your Higher Self physically, emotionally, mentally, and spiritually. Build a holistic framework to commune and communicate with your soul at any time.




Ananda Yoga® Therapy for Back and Joint Pain

- August 23 - 25


Yoga Therapist Nicole DeAvilla and experienced yoga teachers from the Ananda Yoga Therapist Training Program will evaluate and assist you in creating a personalized Yoga Therapy program to take home.

First Timers' Week - August 25 - 30
A well designed getaway—with a blend of relaxation, inspiration, yoga postures, meditation instruction, and delicious vegetarian food—in a beautiful atmosphere.

Law of Attraction - August 30 - September 1
Learn how to master the universal keys to becoming successful. Attract Your true purpose: A retreat to attain abundance.

Chakras and Relationships - August 30 - September 1
A Flow Series Program
Your chakras hold the keys to personal and spiritual transformation.

Ananda Yoga® to Awaken the Chakras - August 30 - September 1
Explore and connect with the chakras in your energy body during this special yoga retreat. Experience their power for overcoming obstacles and bringing peace and fulfillment to your life. Led by Badri.

How to Love God More Deeply - September 6 - September 8
Cultivating Devotion
Join one of Ananda's most inspiring ministers to explore opening your heart to God and deepening your spiritual life.

Learn How to Meditate - September 6 - 8
Techniques for Peace of Mind and Balanced Living
Taught by Nayaswami Mukti
Meditation is our daily practice due to the tremendous benefits in enhancing mental clarity, inner peace, creativity, and overall physical health.



ANANDA SCHOOL OF YOGA & MEDITATION:



Ananda Yoga® Therapy Training: Musculoskeletal 1




August 14 - 26

CEU

credits
Explore problems of the back, knees, hips and shoulders in great depth and detail. You'll learn to evaluate, communicate and teach safely, to help with pain relief and management—from the simplest situations to the more complex.



Ananda Yoga® Therapy Training: Principles




September 1 - 8

CEU

credits
This in-depth 7-day program is the first module of Ananda's Yoga Therapy Training. This course gives you practical foundational skills for a safe and effective yoga therapy practice coming from the ancient sciences of Yoga and Ayurveda.



Ananda Meditation® Teacher Training Online




September 4 - November 13

CEU

credits
Be the Change that the world needs. Meditation teachers are in great demand, especially those who can teach people from any background, from secular to spiritual. Catch the wave, and share your passion and knowledge!



Ananda Yoga® Therapy Training: Seniors & Bone Strength




September 8 - 11

CEU

credits
Yoga teachers and yoga therapists can provide a much-needed service by learning to help older people and those with bone strength issues.
Archives:
No December eNotes, 2020
No April eNotes, 2020