March 2017 Newsletter
Get monthly news, tips for yoga and meditation, and stay up-to-date on our upcoming programs. Click here to subscribe.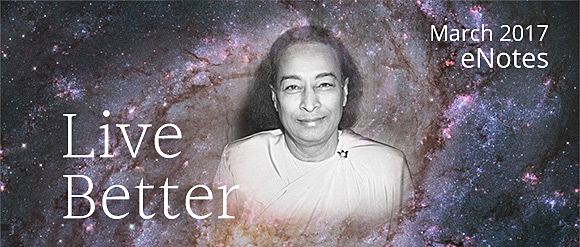 Dear friend,

Our retreat staff members strive to inspire and support you on your spiritual path. One way we do that is to provide very magnetic ways for you to stay connected with us on your mobile or laptop so you have our latest program news and free inspiration. Here are some new ways you can enjoy being in touch with us:

New Web design in process

We have recently begun the adoption of the beautiful new website template designed for the Ananda family of departments around the world. We've done our Home page and will continue to complete the website in its entirety by end of Spring.

A new Ananda School of Yoga & Meditation YouTube channel

We've launched a beautiful new YouTube channel that features many Ananda Yoga asana routines and guided meditations. Our playlists include one for Teacher Enrichment for yoga teachers, as well as for Ananda Yoga and Ananda Meditation. Our special thanks to Rachel Ebgi and Bryan McSweeny for making such beautiful videos and creating a glorious new channel page with our designer Sianda Lee.

Such a lovely place to be with soul friends

Thanks to our amazing designer Sianda Lee and new social media manager Prem Das Sills we are posting very inspirational and informative posts every week. Be sure to join us and share with friends.

Here are some samples of recent posts:
Blessings from The Expanding Light Staff
Copyright © *|CURRENT_YEAR|* *|LIST:COMPANY|*, All rights reserved.

*|IFNOT:ARCHIVE_PAGE|* *|LIST:DESCRIPTION|*

Our mailing address is:
*|HTML:LIST_ADDRESS_HTML|* *|END:IF|*

Want to change how you receive these emails?
You can update your preferences or unsubscribe from this list

*|IF:REWARDS|* *|HTML:REWARDS|* *|END:IF|*
Archives:
No December eNotes, 2020
No April eNotes, 2020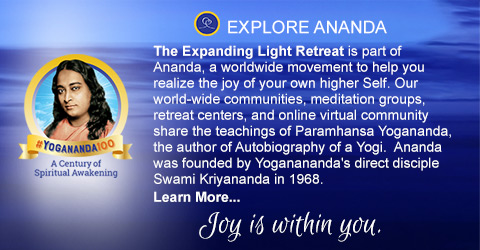 CONNECT
14618 Tyler Foote Rd
Nevada City, California 95959
Toll free 800-346-5350
Outside US 530-478-7518
SUBSCRIBE
Receive uplifting emails with inspirational content and news about our retreat programs, travels, and trainings.