Welcome to The Expanding Light Retreat
The Expanding Light Retreat, a non-profit organization, offers many public retreat programs – spiritual growth retreats, spiritual travels, yoga trainings – based on the universal teachings of Paramhansa Yogananda, the world-renowned author of Autobiography of a Yogi. Our retreat center is situated within the 700 beautiful acres of Ananda Village, just outside Nevada City, California.
Guests have visited here for almost 50 years, from all parts of the world, with many different spiritual perspectives, to learn more about the path of Kriya Yoga meditation, Ananda Yoga for physical and spiritual healing, and the contemporary application of Yogananda's teachings to help people realize their true potential.
Founded by Swami Kriyananda in 1969, Ananda Village is a spiritual cooperative community, an expression of one of Paramhansa Yogananda's ideals that people live together harmoniously, united in the goal of Self-realization. Ananda Worldwide has communities on the West Coast, and in Europe and Asia.
Ananda's primary goal is to help people achieve Self-realization: a state of consciousness that comes through shedding all outward self-definitions. Ananda has, therefore, created communities and centers that welcome all sincere seekers, regardless of race, religion, national origin, gender, sexual orientation, age, or disability. We are committed to providing an inclusive, welcoming environment for everyone to pursue the search for God.
MORE ABOUT US
Learn more about the Ananda Worldwide Movement
The Expanding Light Retreat:
Open 365 days a year
Personal retreat available, for those who want to follow their own schedule
More than 100 retreat programs offered annually, including teacher trainings in yoga, yoga therapy, meditation, and counseling
Karma Yoga, a service program, available
Group rental available
Vegetarian dining with 3 lovely meals served each day (gluten-free, dairy-free available)
Alcohol- and drug-free environment
Optional twice-daily guided practice of yoga postures, Energization exercises, and meditation
Massage and other personal services offered
Internet access
700 acres of beautiful rolling hills for walking in nature
We are dedicated to helping people on their spiritual quest, and honor each person's unique journey.
We sincerely thank you for your interest in The Expanding Light and for your willingness to help us share peace, hope, wisdom, and joy with all who wish to visit.
More about how to support The Expanding Light...
What will you find at Ananda Village?
Ananda Village, home of The Expanding Light, is an intentional community, with about 200 resident adults and children, situated on 700 acres of meadows and forests amidst the foothills of the Sierra Nevada Mountains in northern California, just outside of Nevada City. It is one of the most respected spiritual communities in the world, founded in 1969 by Swami Kriyananda, a direct disciple of Paramhansa Yogananda.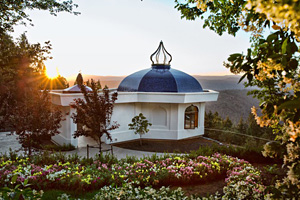 Members are disciples of Yogananda and students of Kriyananda: we are Kriya Yoga meditators, vegetarians, and represent many nationalities, races, and ages.
Ananda is organized like a village, with member-operated businesses, a school system, homes, and temples. Expanding Light guests are offered tours of the Village and are welcome to walk our acreage as you wish.
Crystal Hermitage gardens and shrines (including the new Moksha Mandir, the final resting place of Swami Kriyananda, who passed in 2013) attract thousands of visitors annually.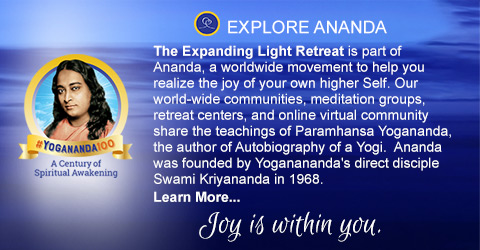 CONNECT
14618 Tyler Foote Rd
Nevada City, California 95959
Toll free 800-346-5350
Outside US 530-478-7518
SUBSCRIBE
Receive uplifting emails with inspirational content and news about our retreat programs, travels, and trainings.