About Us
Welcome to The Expanding Light Retreat
The Expanding Light Retreat, a non-profit organization, offers many public retreat programs – spiritual growth retreats, spiritual travels, yoga trainings – based on the universal teachings of Paramhansa Yogananda, the world-renowned author of Autobiography of a Yogi. Our retreat center is situated within the 700 beautiful acres of Ananda Village, just outside Nevada City, California.
Guests have visited here for almost 50 years, from all parts of the world, with many different spiritual perspectives, to learn more about the path of Kriya Yoga meditation, Ananda Yoga for physical and spiritual healing, and the contemporary application of Yogananda's teachings to help people realize their true potential.
Founded by Swami Kriyananda in 1969, Ananda Village is a spiritual cooperative community, an expression of one of Paramhansa Yogananda's ideals that people live together harmoniously, united in the goal of Self-realization. Ananda Worldwide has communities on the West Coast, and in Europe and Asia.
Ananda's primary goal is to help people achieve Self-realization: a state of consciousness that comes through shedding all outward self-definitions. Ananda has, therefore, created communities and centers that welcome all sincere seekers, regardless of race, religion, national origin, gender, sexual orientation, age, or disability. We are committed to providing an inclusive, welcoming environment for everyone to pursue the search for God.
Learn more about the Ananda Worldwide Movement
The Expanding Light Retreat:
Open 365 days a year
Personal retreat available, for those who want to follow their own schedule
More than 100 retreat programs offered annually, including teacher trainings in yoga, yoga therapy, meditation, and counseling
Karma Yoga, a service program, available
Group rental available
Vegetarian dining with 3 lovely meals served each day (gluten-free, dairy-free available)
Alcohol- and drug-free environment
Optional twice-daily guided practice of yoga postures, Energization exercises, and meditation
Massage and other personal services offered
Internet access
700 acres of beautiful rolling hills for walking in nature
We are dedicated to helping people on their spiritual quest, and honor each person's unique journey.
What will you find at Ananda Village?
Ananda Village, home of The Expanding Light, is an intentional community, with about 200 resident adults and children, situated on 700 acres of meadows and forests amidst the foothills of the Sierra Nevada Mountains in northern California, just outside of Nevada City. It is one of the most respected spiritual communities in the world, founded in 1969 by Swami Kriyananda, a direct disciple of Paramhansa Yogananda.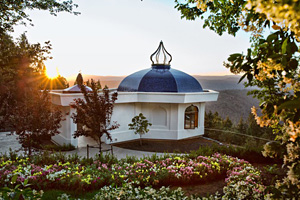 Members are disciples of Yogananda and students of Kriyananda: we are Kriya Yoga meditators, vegetarians, and represent many nationalities, races, and ages.
Ananda is organized like a village, with member-operated businesses, a school system, a market, homes, and temples. Expanding Light guests are offered tours of the Village and are welcome to walk our acreage as you wish.
Crystal Hermitage gardens and shrines (including the new Moksha Mandir, the final resting place of Swami Kriyananda, who passed in 2013) attract thousands of visitors annually.
Most of our teachers are Ananda Village residents and are dedicated to the path of yoga as expressed by Paramhansa Yogananda and his direct disciple Swami Kriyananda, founder of Ananda. Our teachers honor and respect all paths to God and strive to help each guest on their individual journey.
Each of our Hatha Yoga Teachers is trained in Ananda Yoga®, which is registered with Yoga Alliance, the international organization which sets the standards for yoga certification. In addition to offering their own unique backgrounds and specialties, all of our teachers are also Meditation Teachers.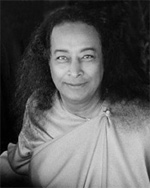 Paramhansa Yogananda (1893-1952)
All of our programs at The Expanding Light are based on the teachings of Paramhansa Yogananda. His practical approach is relevant today for helping people to have greater health, strenghth and vitality, spiritual wholeness and inspiration, harmony in relationships, and success in all aspects of life. He brought to the West powerful techniques of meditation to help create a life lived in higher consciousness and attunement to the Divine within.
Yogananda is a world-renowned spiritual teacher and author of the spiritual classic Autobiography of a Yogi, which was voted by a panel of scholars as one of the 100 best spiritual books of the 20th century.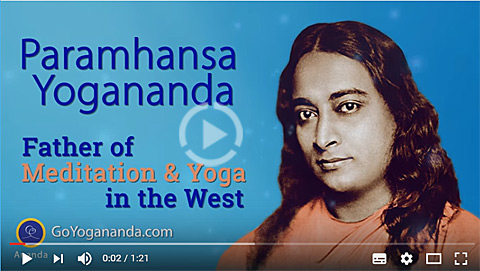 Yogananda came to the United States from India in 1920 to share the timeless teachings and techniques of yoga with the West, emphasizing direct inner experience of God, which he called "Self-realization." His teachings are nonsectarian and offer a practical approach to spiritual awakening.
Yogananda transcended cultural, social, and religious boundaries and thrilled American audiences with his emphasis on the possibility of knowing God through meditation. In 1927, he received an unprecedented invitation to the White House, where he was received by President Calvin Coolidge. In 1936, Mahatma Gandhi asked Yogananda to initiate him into Kriya Yoga, the highest technique on Yogananda's path of Self-realization.
Other of Yogananda's well-known admirers include Luther Burbank, Henry Ford, George Harrison, Steve Jobs, and Ravi Shankar.
Keep your expectations of life positive. Strive to live with unceasing happiness. Let not your possessions possess you, nor the petty details of worldly life invade with hordes of worry the stillness of your heart. Gain strength to rise above distraction by sipping frequently the nectar of inner peace, given you lovingly by angel hands as you grow silently toward Self-realization.
—Paramhansa Yogananda
To read more about our lineage of spiritual masters, see The Ananda Line of Gurus
Swami Kriyananda and Ananda: Fulfilling Yogananda's Mission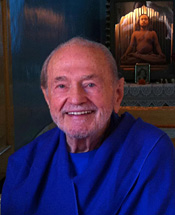 Swami Kriyananda, a direct disciple of Yogananda, founded Ananda Village in 1969 to fulfill Yogananda's vision of "World Brotherhood Colonies," or spiritual cooperative communities, where people could cooperate together in work, recreation, and family life, supporting each other in their spiritual lives.
Ananda has become the first successful implementation of Yogananda's ideals for intentional communities. More on Spiritual Communities
Swami Kriyananda (1926–2013) was a world-renowned exponent of Raja Yoga and Kriya Yoga, as well as a prolific writer and composer.
More about Swami Kriyananda...
Paramhansa Yogananda Photos and History
Enjoy this online photo album and historical information.
Books by Paramhansa Yogananda and Expanding Light programs based on them
We sincerely thank you for your interest in The Expanding Light and for your willingness to help us share peace, hope, wisdom, and joy with all who wish to visit.