Inner Renewal Retreat
Not scheduled at this time.
Living In God's Light
Led by Ananda Worldwide Spiritual Directors Nayaswami Jyotish and Nayaswami Devi
Inner Renewal Retreat is attended by guests from all over the world. The energy is very high spiritually, and is guaranteed to be a dynamic, uplifting experience.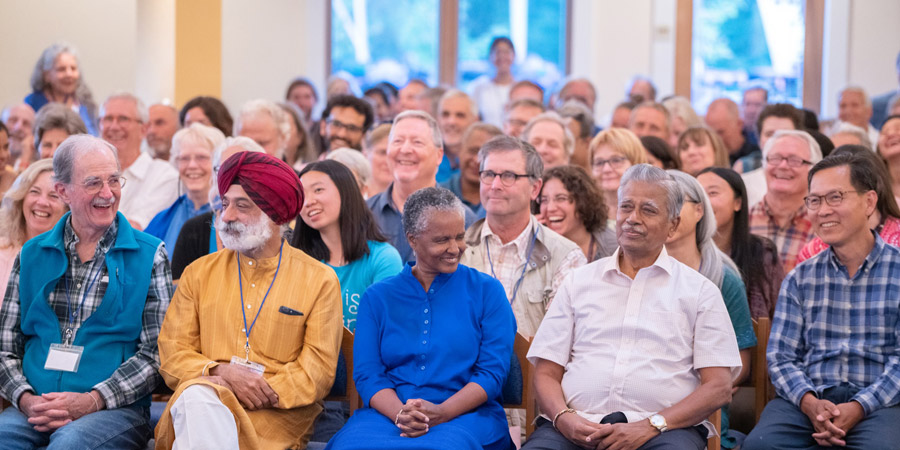 Refocus and Enliven Your Quest for God
with a 4-Day Spiritual Adventure into Your Inner Self

Inspirational speakers

Enriching satsang

Daily Sadhana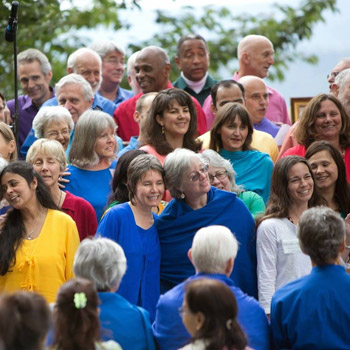 Some benefits of Inner Renewal Week:
Find answers to your deep spiritual questions and needs

Be inspired to discard limiting habits and manifest your dreams

Spend time with people from around the world who share your aspirations

Feel blessed by a tangible divine presence

Sadhana—Increasing the Light Within
With Nayaswami Jyotish and Nayaswami Devi
"Behind the wave of your consciousness is the sea of God's presence" —Paramhansa Yogananda
Evening: Live Kirtan

Seva—Spreading the Light through Service
With Nayaswami Jyotish and Nayaswami Devi
"I vow from this day forth to be true to my higher super-conscious self"
—Swami Kriyananda
Evening: Attunement Ceremony
Led by Nayaswami Ananta and Nayaswami Maria

Self-Offering—Offering the Light within to God
With Nayaswami Jyotish and Nayaswami Devi
"The time for knowing God has come."
—Paramhansa Yogananda
Evening: Questions & Answers
with Nayaswami Jyotish and Nayaswami Devi

Attunement—It's all in God's Light
With a Panel of Speakers:
Jitendra, Nayswami Maria, Tyagi Dhyan, Brahmachari Sagar
"I will make myself successful through my own efforts and the power of God in me" —Paramhansa Yogananda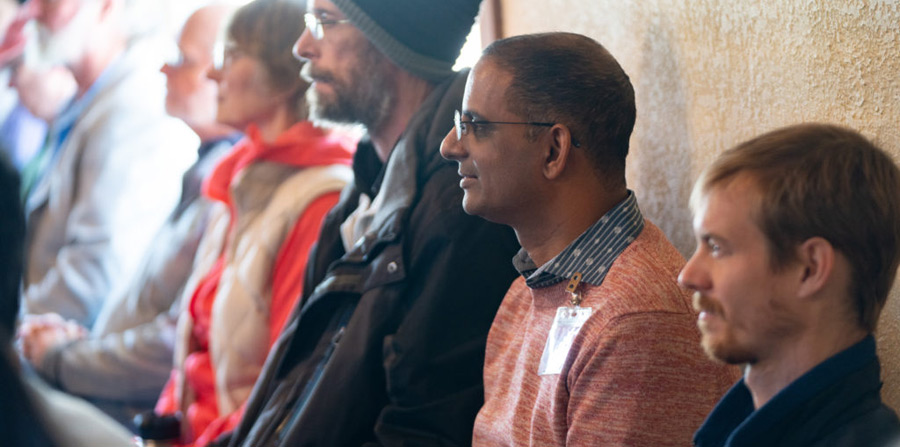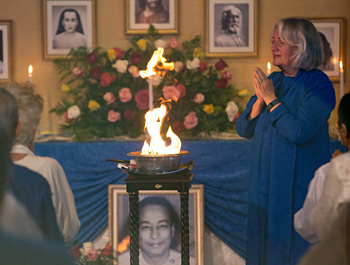 For KRIYABANS and those eligible for Kriya initiation
Directly following the Inner Renewal Retreat will be our Annual Kriyaban Retreat, also led by Nayaswami Jyotish and Nayaswami Devi, making both retreats into a full contiguous week of upliftment and joy! Sign up for both! See this page for information on the Kriyaban Retreat
Guest Comments:
"Jyotish and Devi's talks surpassed all expectations. I'm returning home with a deeper communion with God and a renewed commitment to extend my daily meditation. The uplifting environment of Ananda Village is so inspirational, as are all the residents. It is truly a privilege to visit at any time, but Inner Renewal Week was special to me." —G.A., Seattle, WA
"A pivotal week for me. Inspirational morning meditations and talks were followed by deeply calm afternons, which allowed neeed insights to percolate. The vibration of The Expanding Light makes it probably the easiest place on earth to open your heart to God!" —E.M., Palo Alto, CA
"I've been coming here over 20 years, and Inner Renewal Retreat is hands down my new favorite time to visit Ananda." —C.C., New York, NY

"What a blissful experience! Deep meditations, inspiring classes. This week has felt like being in the astral plane, living from higher consciousness with souls who share the same vision. This has truly been a deep "inner pilgrimage" for us all. We are renewed, recharged, reinspired and re-energized in our spiritual lives. —M.M., Chico, CA
"I have visited The Expanding Light many times during the past 20 years. I always love it, but 'Inner Renewal' might be the very best week I've ever spent there. As Jyotish said in one of his talks, when you're speaking to a group who already have established spiritual practices, you start at a deeper level. That was exactly true for me. We started deep and went deeper and deeper. I came away not only energized and recharged, but focused and centered in my spiritual life." — A long-time guest from Sacramento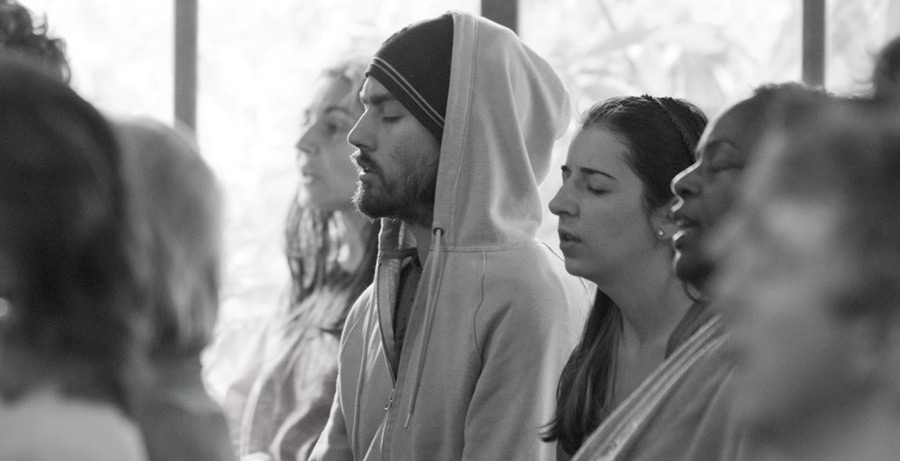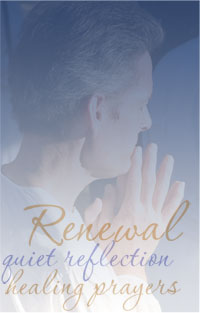 The key aspect of Inner Renewal Retreat is the opportunity to dive more deeply into your spiritual life.
In addition to the morning classes with Jyotish and Devi, your spiritual life will also be blessed by other activities:
For this special week, we offer daily meditations, 6:30 - 8:30 am. We encourage all Ananda Village residents to attend these.
The extraordinarily blessed Moksha Mandir and Swami Kriyananda's apartment will be open for personal meditation
Late afternoon guided practice of Yogananda's Energization Exercises, yoga postures, and meditation
Evening programs: Kirtan, Superconscious Attunement Ceremony, Questions and Answers with Nayaswami Jyotish and Nayaswami Devi, and more.
Time for walking, introspection, journal writing, massage
Throughout Inner Renewal Retreat, you will enjoy the warm, relaxed atmosphere for which The Expanding Light is noted: striving to meet the individual needs of each guest, honoring each person's spiritual journey, and sharing together the joy of the spiritual journey. You will also enjoy delicious, healthful and satisfying vegetarian fare.
Please join us!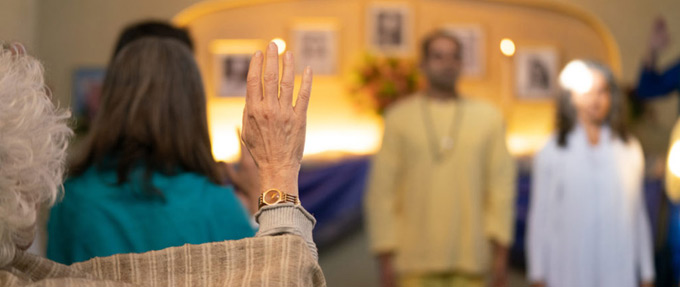 A Renunciate Order for the New Age
During Inner Renewal Retreat, we offer vows into the Renunciate Order started by Swami Kriyananda in 2009, for those who would like to make a deeper spiritual commitment in your personal relationship with God, whatever your path. There are several vows in the Nayaswami Renunciate order: Pilgrim, Brahmachari, Tyagi and Nayaswami. The Pilgrim Vow is given below. If you are interested in any of the other vows, please let us know when you phone for a reservation.
The Pilgrim's Vow of Intention
I understand, and intend from now on to live by my understanding, that life is a pilgrimage, of which the final goal is to find and merge back into God.
I will endeavor resolutely, therefore, to direct all my thoughts and actions toward that end.
I will offer up all material desires for purification in the fire of divine bliss.
I will offer up all attachments for purification in that cosmic fire.
I will search my heart daily for any lingering desires and attachments, and will offer them to Thee, my Cosmic Beloved.
I will strive to be an example to others of a pure, discriminating, and noble life.
I will offer the fruit of all my actions and labors to Thee alone.
Bless me, and direct my footsteps ever to the summit of Thy holy mountain.
During the week, classes will bring deeper understanding of this vow and the power of taking such a vow.
For more information, please send us a Question or Comment:

Receive monthly news and inspiration.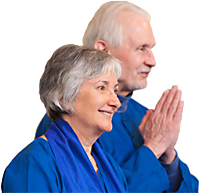 No dates scheduled for Inner Renewal Retreat at this time.
Prices are all-inclusive and cover accommodations, meals, classes or activities, and course materials.
Inner Renewal Retreat starts the afternoon of the first date listed and ends with lunch on the last date listed. Check-in is anytime between 1:30 p.m. and 4:30 p.m. at our Front Desk. Your room will be available by 3:00 p.m. Dinner is at 6:30. The first gathering of your group is after dinner.
Please see:
You can add extra personal retreat days before and/or after your program. Check availability and costs for the days and accommodations that you require.
Inner Renewal Retreat starts the afternoon of the first date listed. It's ideal to arrive before 4 pm, if you are able to. That way, you can join in the afternoon session of yoga and meditation, which begins at 4:45 pm. Dinner is at 6:30. The first real gathering of your group is at 7:30 pm. If you need to arrive here after 5 pm, that's fine, but it helps us if you let us know at 800-346-5350. We can also put aside a dinner for you if you need to arrive after 7 pm. The program ends with lunch on the last date. Please see our Daily Schedule.
See Transportation and Directions whether you are coming by plane, car, bus or train. Our Frequent Questions page answers many of the questions you might have about How to Go on Retreat.