September 2018 Newsletter
Get monthly news, tips for yoga and meditation, and stay up-to-date on our upcoming programs. Click here to subscribe.
Dear friend,
Listening to one of Swami Kriyananda's talks from Treasures Along the Path, his comment to "pray for devotion" caught my ear. What an interesting idea. I tend to think that devotion would cause me to pray. I suppose it is a virtuous cycle. The advice to pray for devotion may be less obvious than devotion leading one to pray.
Devotion draws God's grace and allows it to be received and perceived.
Jesus said: "Blessed are the pure in heart, for they shall see God." Swamiji explained that in the light of inner vision, God can come at any time, to souls whose hearts are pure and receptive to his grace.
Invite God's love and grace into your life, into your very self. Ask for devotion, express devotion. Hold a pure heart.
In Love,
Nityananda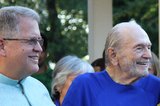 Take time to unplug outwardly and recharge your inner resources.
Personal Retreat PLUS gives you more programs, more services, more joy!
If you would also enjoy some inspiring activities, we offer the following and more (all optional):
Enjoy a Nature Mandalas guided activity
Class: Learn a simple, relaxing meditation technique
Experience devotional chanting in English & Sanskrit
Class: The 8 Stages of Self-realization
Tour of Ananda Village - enjoy our 700 acres, farms, gardens and more
Please take as much time to yourself as you would like and enjoy the twice daily Energization Exercises, yoga postures, meditation, and delicious vegetarian meals.
Ayurvedic Healing and Yoga Retreat in Kerala, India
February 1 – 13, 2019
Imagine the perfect vacation:
Deep relaxation and Ayurvedic healing treatments, combined with yoga and meditation guided by
Gyandev and Diksha McCord, plus a variety of delightful Indian cultural experiences – all at Kerala's finest seaside Ayurvedic retreat.


CEU

CEU for Yoga Alliance Members - 13 hours for 7 days or 24 hours for 12 days
Aging Gracefully


Gentle Ananda Yoga for Seniors


October 8 - 10


Experience how to use your body and mind together to keep you mentally positive and physically healthy. Learn a safe, accessible, and effective yoga practice modified to suit your body and stage of life.
Refer this program to a Senior Friend!
Ananda School of Yoga and Meditation
Archives:
No December eNotes, 2020
No April eNotes, 2020