COVID-19 Protocols
Effective December 5th, 2022
The Expanding Light Retreat at Ananda Village is overjoyed to be welcoming guests to our facilities again.
The health, safety, and comfort of our guests, staff and village residents are our top priority. Since our retreat center is connected to the Ananda Village residential community, we have made very conscious decisions about when and how to open our doors to the public in a safe manner.
We continue to monitor federal, state and local guidelines and data, and our protocols continue to evolve.
Protocol Highlights:
Reservation: All guests, including day and overnight guests, must have a reservation before visiting. We cannot accommodate walk-ins at this time.
Vaccination: Guests are not required to be vaccinated.
Testing: Guests are not required to test before visiting us.
Masks: Wearing a mask is optional in our public indoor spaces and classrooms.
Thank you for your cooperation and support. Read below for more details before your visit.
Vaccination & Testing Policy:
We welcome any guests, regardless of vaccination status, and we do not require guests to take any tests before visiting us.
We do however reserve the right to ask guests to take a rapid antigen test. As part of staying at The Expanding Light Retreat, you agree to take a test at any time if requested by Retreat staff and for any reason (including but not limited to possible exposure or exhibited symptoms).
Self-Monitoring:
We ask all guests to please be mindful of your health and the health of others. If you are experiencing any symptoms, please inform the Front Desk.
Face Masks:
Face masks are optional for all guests, employees and faculty for all indoor activities. Most opt to not wear a mask while on campus.
Cleaning and Sanitizing Practices:
We use cleaning products that meet EPA guidelines and are effective against viruses, bacteria, and other pathogens. We keep daily cleaning logs, which are inspected regularly by management.
Use of Public Facilities:
Yoga mats, meditation pillows and other items are provided in our teaching temple and other classrooms as needed. While these items are cleaned regularly, you might want to consider bringing your own yoga mat or meditation pillow.
Hand sanitizer is readily available throughout all of our facilities.
Dining with Us:
Our dining facilities will only be open to registered guests, registered day guests, staff and residents at this time.
We encourage our guests and staff to wash their hands before meals. Additionally, hand sanitizer will be provided in the dining room and on the dining room tables.
Accommodations:
We are allowing for both private and shared accommodation bookings.


Should you elect to stay in shared accommodations, you thus may be placed with another guest whom you do not know, and you are inherently assuming a slightly higher risk of exposure.
If you do not feel comfortable potentially rooming with another individual, please be sure to book private accommodations.

Depending on the level of accommodations chosen, you may or may not share a bathroom with a few other guests.
Rooms will be thoroughly cleaned and disinfected prior to your arrival, with particular attention to high-touch items.
We continue to evaluate ongoing improvements and we appreciate your understanding and support.
If you have any questions please call us at: 1 (800) 346-5350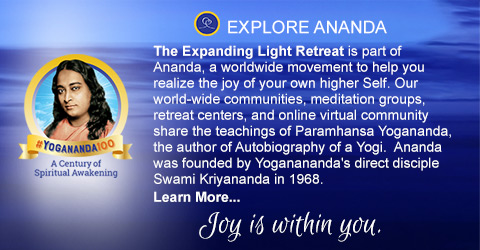 CONNECT
14618 Tyler Foote Rd
Nevada City, California 95959
Toll free 800-346-5350
Outside US 530-478-7518
SUBSCRIBE
Receive uplifting emails with inspirational content and news about our retreat programs, travels, and trainings.