COVID-19 Protocols
Effective October 1, 2021 (Last updated October 29, 2021)
The Expanding Light Retreat at Ananda Village is overjoyed to begin welcoming guests to our facilities again. The health, safety, and comfort of our guests and staff are our top priority. In compliance with guidance regarding the highly contagious Delta variant of Covid-19, the Expanding Light Retreat has implemented these protocols outlined below.
We will continue to monitor federal, state and local guidelines and data. We anticipate these protocols to evolve.
Protocol Highlights:
All guests, including day and overnight guests, must have a reservation before visiting. We cannot accommodate walk-ins at this time.
We ask that all guests, including day and overnight guests, be vaccinated at this time, and to email a photo of their proof of vaccination card to the Expanding Light Retreat a minimum of 48 hours before arrival.
See the Registration section of this document below on how to email us your proof of COVID vaccination.
Face masks must be worn by all persons at all times in public indoor spaces and classrooms except when actively eating or drinking in designated areas.
Thank you for your cooperation and support. Read below for more details before your visit.
Vaccination Policy:
Until further notice, we are asking that all staff, guests and visitors at the Expanding Light Retreat to be fully vaccinated against COVID-19. This is in accordance with the broader policy across all guest-facing facilities at Ananda Village. Vaccines must meet the requirements of CDC Guidelines. At this time, that list includes all US issued vaccines from Pfizer, Moderna, J&J/Janssen, AstraZeneca
We use the CDC definition to determine if you are fully vaccinated. You are fully vaccinated when:
A full 2 weeks have passed since your second dose in a 2-dose series, such as the Pfizer or Moderna vaccines, or
A full 2 weeks have passed after a single-dose vaccine, such as Johnson & Johnson's Janssen vaccine.
If you don't meet these requirements, then we cannot consider you fully vaccinated. We ask that you please choose another time to visit the Expanding Light Retreat.
Face Masks:
Face masks are required for all guests, employees and faculty for all indoor activities.
Face coverings are not required while outdoors, eating, drinking, while alone in a room or private accommodations.
Making a reservation (online or by phone):
Reservations must be made a minimum of 48 hours in advance prior to your arrival date, including day guests. Proof of vaccination via a photo of your vaccination card must be sent to the Expanding Light Retreat for your reservation to be approved.
You can send a photo of your vaccination card to us at this email address: info@expandinglight.org
Your proof of vaccination photo needs to be received a minimum of 48 hours in advance of your arrival.
We ask that you show your proof of vaccination card when you check in at Guest Services.
Our Staff:
All staff members are required to use face masks and practice frequent hand-washing and use hand sanitizer.
Our staff is trained on Covid-19 guidelines and adhere to a Covid-19 Prevention Program.
Cleaning and Sanitizing Practices:
We use cleaning products that meet EPA guidelines and are effective against viruses, bacteria, and other pathogens. We keep daily cleaning logs, which are inspected regularly by management.
There will be an increased frequency of cleaning and sanitizing in all public spaces with an emphasis on frequently touched surfaces.
Use of Public Facilities:
Yoga mats, meditation pillows and other items are provided in our teaching temple and other classrooms as needed. All of these items are cleaned and disinfected after use, however, might want to consider bringing your own yoga mat or meditation pillow.
Hand sanitizer is readily available throughout all of our facilities.
We have placed an emphasis on comfortable outdoor dining and ambiance. We encourage gathering in outdoor spaces whenever possible when the weather permits.
We monitor adequate ventilation in indoor locations, for example the dining room during meals, the teaching temple and other classrooms.
Dining with Us:
The Dining room will only be open to registered guests, registered day guests, staff and residents at this time.
We encourage our guests and staff to wash their hands before meals.
Hand sanitizer will be provided in the dining room and on the dining room tables.
Face masks are required to be worn by all guests and staff within the dining room except when eating or drinking at their table.
Accommodations:
All accommodations will be single occupancy unless you are registering with someone with whom you will share a room.
Depending on the level of accommodations chosen, you may or may not share a bathroom with a few other guests.
Rooms will be thoroughly cleaned and disinfected prior to your arrival, with particular attention to high-touch items. Hand Sanitizer will be placed in your room for your use.
We continue to evaluate ongoing improvements and we appreciate your understanding and support.
If you have any questions please call us at: 1 (800) 346-5350
from 9 - 5 PM seven days a week.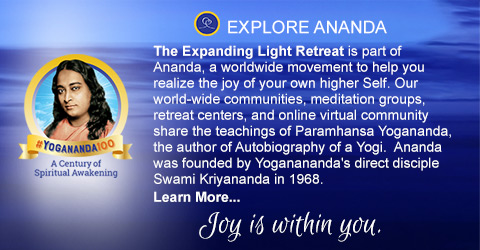 CONNECT
14618 Tyler Foote Rd
Nevada City, California 95959
Toll free 800-346-5350
Outside US 530-478-7518
SUBSCRIBE
Receive uplifting emails with inspirational content and news about our retreat programs, travels, and trainings.