Kriya Retreat: Taking Kriya for the First Time

by approval only
Oct 26 – 29, 2023
Nov 30 – Dec 3, 2023
Apr 4 – 7, 2024
Oct 24 – 27, 2024
Dec 5 – 8, 2024
with Devalila
Additional options to take Kriya for first time during Kriyaban Retreat (Feb 22–25, 2024) or Spiritual Renewal Week (June 23–30, 2024)
In order to attend this program one must have completed the first four steps of the The Path of Kriya Yoga and received approval from Ananda Kriya Sangha. Contact Devalila at Ananda Kriya Sangha for more information and approval. Once permission has been given, you'll be able to register online or by phoning 800-346-5350.
Paramhansa Yogananda taught Kriya Yoga as a comprehensive spiritual path, one that includes the technique of Kriya Yoga. This 3-day program brings together all of the elements that will give new Kriya initiates a strong foundation to get the best results from the Kriya technique they'll be learning on the weekend. It will also prepare new initiates to be the most receptive inwardly for the Kriya initiation, which for many people is the most important day of their spiritual life.
You will also review the techniques that are part of the Path of Kriya as well as instruction in deepening your discipleship to the line of Kriya Gurus. Kriya Yoga initiation is included in this 3-day course for those eligible.
Please note that for the Dec 1-3 weekend we can take day guests only.

Prerequisites: To attend this program, you must have already completed steps one to four on the Path of Kriya Yoga and received approval from Ananda Kriya Sangha. The steps are: Ananda Course in Meditation, Living the Principles of Self-Realization, Course on Discipleship, and Preparation for Kriya Yoga. The steps can be done either at an Ananda Center or through online classes, or some combination of online and in-person..E-mail Ananda Kriya Sangha for more information.
Note: During Inner Renewal Week and Spiritual Renewal Week, the Preparing for a Lifetime of Kriya classes are offered Thursday through Sunday (you need to arrive Wednesday night). Priority in housing is given to those who join us for the full 7 days. During Spiritual Renewal Week, you must register for a minimum of 4 days. The Kriya initiations are given on the Friday or Saturday evening of those weeks. We hope you can join us for the full weeks.
Yoga Alliance RYT's and E-RYT's: This course offers 10 to 15 hours of continuing education credit. Ask your instructor for documentation.
For more information, please send us a Question or Comment:

Receive monthly news and inspiration.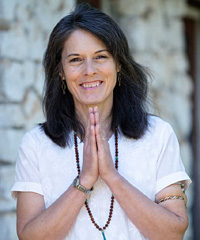 Devalila Veenhof, Director of Ananda Kriya Sangha for North and South America, has been practicing and sharing Paramhansa Yogananda's teachings for over 20 years. Devalila created and served as Director of Online with Ananda for nearly 10 years. In that role, she developed the Virtual Community, as well as generated and taught many online courses. She lives in Ananda Village with her husband, Vic. Devalila's great joy and gifts are in supporting and encouraging people, wherever they are spiritually, and helping them find their next step along their journey toward Self-realization.

or e-mail or call us at 1-800-346-5350
Costs (KPI)
Costs are on a per person basis.
Oct 26 – 29, 2023
Nov 30 – Dec 3, 2023
Apr 4 – 7, 2024
Oct 24 – 27, 2024
Dec 5 – 8, 2024
Tent
RV
Standard
Shared
Standard
Private
Deluxe
Shared
Deluxe
Private
$398
$527
$728
$674
$950
Prices are all-inclusive and cover accommodations, meals, classes or activities, and course materials.
Kriya Retreat: Taking Kriya for the First Time starts the afternoon of the first date listed and ends with lunch on the last date listed. Check-in is anytime between 1:30 p.m. and 4:30 p.m. at our Front Desk. Your room will be available by 3:00 p.m. Dinner is at 6:30. The first gathering of your group is after dinner.
Please see:
You can add extra personal retreat days before and/or after your program. Check availability and costs for the days and accommodations that you require.
Kriya Retreat: Taking Kriya for the First Time starts the afternoon of the first date listed. It's ideal to arrive before 4 pm, if you are able to. That way, you can join in the afternoon session of yoga and meditation, which begins at 4:45 pm. Dinner is at 6:30. The first real gathering of your group is at 7:30 pm. If you need to arrive here after 5 pm, that's fine, but it helps us if you let us know at 800-346-5350. We can also put aside a dinner for you if you need to arrive after 7 pm. The program ends with lunch on the last date. Please see our Daily Schedule.
See Transportation and Directions whether you are coming by plane, car, bus or train. Our Frequent Questions page answers many of the questions you might have about How to Go on Retreat.