Ananda Yoga® Teacher Training is a month long transformational experience, not just a teacher training. Students dive deep within and experience the power of yoga postures and meditation. Through participation in this program, you will experience spiritual growth and expansion on all levels.
Immerse Yourself in Yoga as a Way of Life
Our yoga teacher training is located in the beautiful foothills of the Sierra Nevada Mountains. Here you will have the opportunity to develop a personal sadhana (spiritual practice). This opportunity allows an experience of life enriched by a connection to higher consciousness. Students will find joy, spiritual friendship and dedication to yoga teachings with Ananda Yoga® Teacher Training. Join us for a transformative experience to expand and share your inner light. Ananda Yoga® is a spiritual approach to yoga.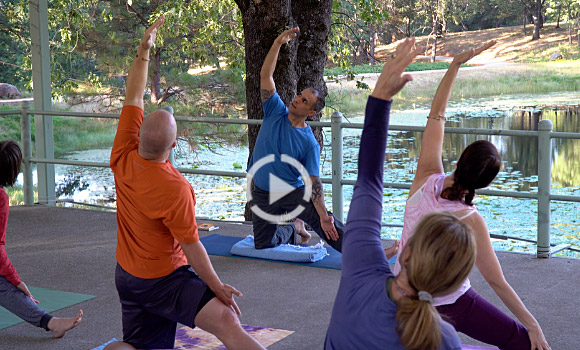 Online Course Assignments
This in-person course has a mandatory online component. A month before the program begins, you'll be given access to the AYTT online course webpage. There you will find additional assignments (video presentations, reading assignments, and self-quizzes), which you'll have access to throughout your stay with us. Expect to spend 1-2 hours each week during your 4-week stay, completing some online assignments. We encourage you to get started on these assignments early as your schedule will be busy while on campus.
Join us for a free info session on Saturday, May 6 at 10 AM PT to meet the teaching staff and learn more about Ananda Yoga Teacher Training.
Questions? Schedule a 15-min call with Program Director Melody Hansen



Nursing CEU Eligible: 86 hours

Become a
Certified Yoga Teacher
200-hr certification

in one month
You can split the course into 2 two-week segments
You'll learn to teach—and practice more effectively—a broad spectrum of yoga techniques, including:
30 asanas, including how to draw their spiritual benefits
Specific affirmations for each asana
Asana mechanics, safety cautions, and how to adapt asanas for student limitations
How to work directly with the body's subtle energy, including the chakras and kundalini
Classical pranayama (yoga breathing techniques)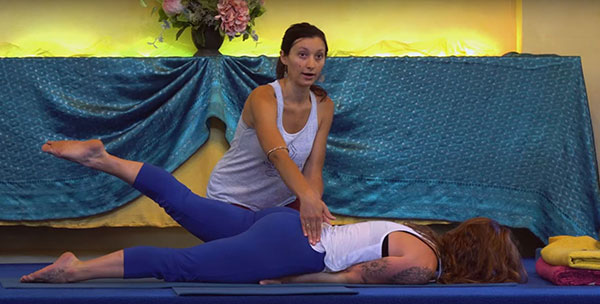 In addition, you'll learn and practice traditional yoga meditation techniques and Yogananda's renowned Energization Exercises. As in any ashram environment, you'll also have the option to participate regularly in chanting and prayer.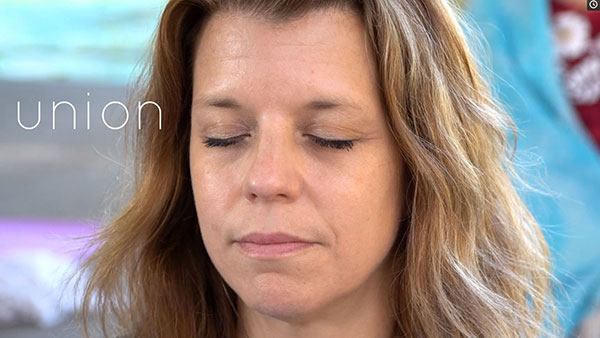 A Spiritually Dynamic Certificate Training
For more than 40 years, Ananda School of Yoga & Meditation® has been training teachers in the full range of the yoga tradition as taught by Paramhansa Yogananda—from asana, pranayama, and meditation, to health and yoga philosophy. This course experience is a dynamic blend of professional training and personal growth.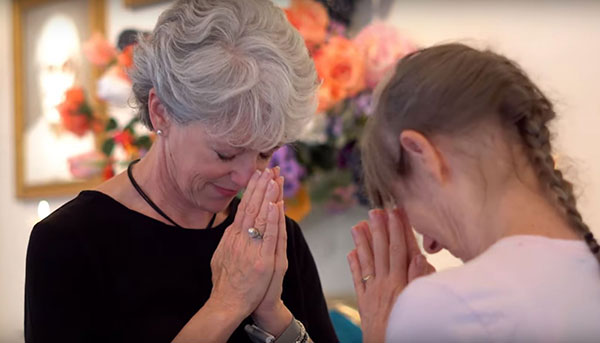 Go Beyond Techniques
This comprehensive curriculum includes:
Yoga philosophy, including Yoga Sutras, Bhagavad Gita, and more
Yoga lifestyle, including yogic diet and magnetic living
Anatomy and physiology for yoga teachers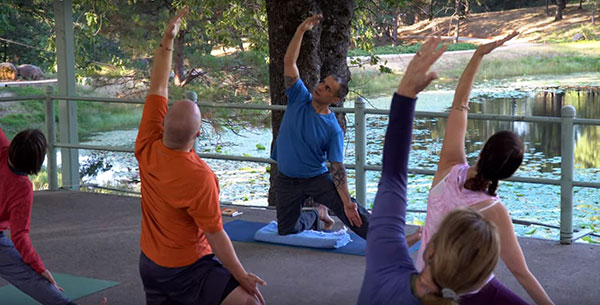 Become a Magnetic Teacher
Practice teaching for groups and one-to-one
How to assist and adjust students in the asanas
Guidance on how to refine your teaching, including a video recording session and personal teaching reviews
How to plan a class: structure and sequence; your own teaching style; marketing
"At my first class after the yoga teacher training retreat, one of my students said, 'You are different. I want what you have.' To me that is the best testimonial of my Ananda experience."

– C. S., Fresno, California
Additional Personal Benefits
Create a new direction in your life
Become much more personally empowered
Connect with your own highest self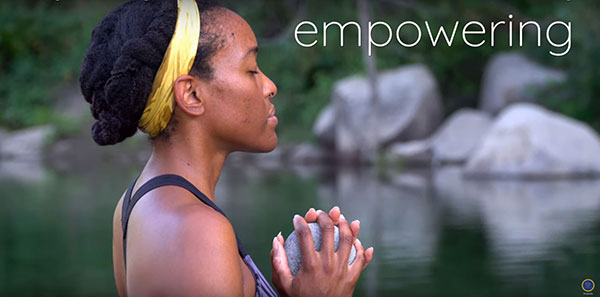 What was the most helpful advice an Ananda Yoga Teacher offered to you to help you succeed?
Receive Post-graduation Support
Newsletters, question and answer forum, student referrals, discounts on courses for 500-hour yoga teacher certification, and more
Register with Yoga Alliance
Graduates of this yoga teacher training in California can become Registered Yoga Teachers (RYTs) with Yoga Alliance, the national yoga teacher certification standard in the United States.
This designation will enhance your credibility as a teacher.
"My experience at The Expanding Light Retreat was ecstatic.… My personal practice has deepened, and I can confidently share my knowledge, feelings and practices with my students. "
– L. J., Lethbridge, Alberta, Canada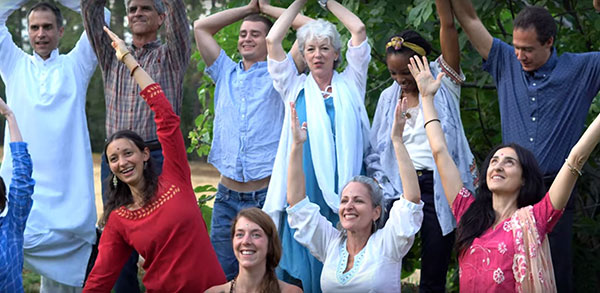 For more information, please send us a Question or Comment:

Receive monthly news and inspiration.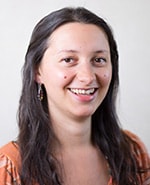 Director of Ananda Yoga® Teacher Training, Director of Restorative Yoga Teacher Training, Level 2 Ananda Yoga Teacher, E-RYT 500, C-IAYT, Certified Ananda Yoga Therapist, Ananda Meditation® Teacher
Melody is an extraordinary yoga teacher, who conveys her great knowledge of yoga asanas—from physical mechanics to spiritual upliftment—with a blend of graciousness, authority, and fun. One of Melody's greatest strengths is the purity of her transmission of Yoga. She has very little egotism to block the clear flow of inspiration she shares. Her inner life is committed and deep, and she's able to help students experience that depth in their yoga practice.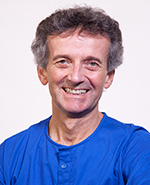 Co-Director of the Ananda Meditation® Teacher Training, Director of Ananda Yoga®, Level 2 Ananda Yoga teacher, E-RYT 500, Raja Yoga Teacher, Spiritual Travel Host, Writer and Lecturer, Ananda Minister
What is a nayaswami?
Combining a fun-loving spirit, keen insight into the spiritual life, and genuine warmth, Nayaswami Gyandev makes the inner quest seem both natural and doable. Since 1983 he has taught Ananda Yoga to thousands of students and trained hundreds of teachers around the world, often forging deep and lasting bonds of friendship and inspiration.
See all programs, articles, and full bio of Nayaswami Gyandev.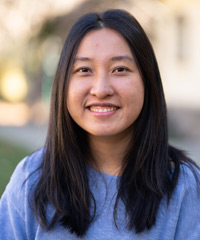 Arya Cheng is a gifted yoga and meditation teacher, and wonderful kirtan (spiritual chanting) leader. Her talents are varied, as she serves in several areas at Ananda Village.
Hi, my name is Arya! I live at Ananda Village and serve at The Expanding Light Retreat, Ananda Farms, and Ananda Communications departments. It's been my joy to share the powerful teachings of yoga and meditation, that have profoundly transformed my life. I've immensely enjoyed leading our summer youth program, Ananda Village Internship Program and teaching sadhana at The Expanding Light Retreat.

or e-mail or call us at 1-800-346-5350
Yes, you can split the course into 2 two-week segments
Costs (YTT)
Costs are on a per person basis.
Tent
RV
Standard
Shared
Standard
Private
Deluxe
Shared
Deluxe
Private
$3980
$5270
$7280
$6740
$9500
Prices are all-inclusive and cover accommodations, meals, classes or activities, and course materials.
Ananda Yoga® Teacher Training starts the afternoon of the first date listed and ends with lunch on the last date listed. Check-in is anytime between 1:30 p.m. and 4:30 p.m. at our Front Desk. Your room will be available by 3:00 p.m. Dinner is at 6:30. The first gathering of your group is after dinner.
Please see:
You can add extra personal retreat days before and/or after your program. Check availability and costs for the days and accommodations that you require.
Ananda Yoga® Teacher Training starts the afternoon of the first date listed. It's ideal to arrive before 4 pm, if you are able to. That way, you can join in the afternoon session of yoga and meditation, which begins at 4:45 pm. Dinner is at 6:30. The first real gathering of your group is at 7:30 pm. If you need to arrive here after 5 pm, that's fine, but it helps us if you let us know at 800-346-5350. We can also put aside a dinner for you if you need to arrive after 7 pm. The program ends with lunch on the last date. Please see our Daily Schedule.
See Transportation and Directions whether you are coming by plane, car, bus or train. Our Frequent Questions page answers many of the questions you might have about How to Go on Retreat.
The Dr. Dean Ornish Program for Reversing Heart Disease is currently looking for yoga teachers/stress management specialists trained by Ananda. Read more...
"This was the best month of my life – truly a life-transforming experience…"
– C. S., Fresno, California
How to Choose a
Yoga Teacher Training Program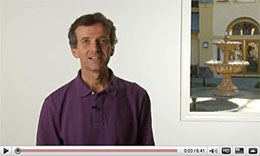 "My 4 weeks of Ananda Yoga Teacher Training was one of the most fulfilling and spiritually transforming periods in my life. All of the instructors, along with the entire Ananda community, were very supportive and nurturing."
– R. F., Lake Bluff, Illinois
Yoga Teacher Training Articles