First-Timers' Retreat
Nov 3 – 5, 2023
Feb 2 – 4, 2024
Jun 7 – 9, 2024
Aug 30 – Sep 1, 2024
Nov 8 – 10, 2024
with David Seybert and Miriam Rodgers
Rejuvenate in a Relaxed, Uplifting Setting
If you haven't yet taken a Retreat at the Expanding Light, it's time to try something new! Bring a friend, and have a sublime experience together. (Even 'old-timers' can attend these weekends with first time friends.)
It's easy to slow down, enjoy, and reconnect with yourself at The Expanding Light Retreat. Why? Because it's:
beautiful and comfortable
quiet and tranquil, with a stillness that makes it easy to meditate
out in nature, with woods, deer, birds and myriad wildlife
on land made sacred by 50 years of meditation and spiritual activities
filled with happy people
A Perfect Get-a-Way—with a blend of relaxation, inspiration, yoga postures, meditation instruction, and delicious vegetarian food—in a beautiful atmosphere. So much to experience in one weekend.
Explore spiritual principles that will make your life work better
Learn why and how to meditate -- or take your existing practice deeper
Gain tips for greater health and harmony in your life
Experience gentle yoga postures to improve flexibility of body, mind, and soul
Connect with our sustainable community - enjoy a dynamic tour of Ananda Village, one of the world's most respected intentional communities
Rejuvenate in our peaceful 700 acres of forest, farm, gardens, temples, and holy places
Relax in the company of other first-time visitors to The Expanding Light Retreat and Ananda Village
And…the food is delicious and healthy. You will return home uplifted, inspired, and energized.

What our guests say:
"Thank you so very much for your kindness and guidance. I truly came away learning so much and can't say enough about how beautiful and peaceful Ananda Village is. There is definitely a joyous and spiritual vibration. Even the animals feel it; I saw lizards playing with each other, deer relaxing in the shade under my porch, birds singing; it was all magical.
"I got exactly what I hoped out of the retreat and then some; quiet time, a chance to do yoga and meditation twice a day, eat healthy food, and even a taste of bliss. The divine spirit is available when one taps into the source through positive and healthy focus." —K.M., San Rafael, CA
"The structure of the program was excellent for me. I came knowing very little about this strand of spiritual philosophy and practice, so the many introductory sessions provided a good first scaffolding for me." —J.M., Olympia, WA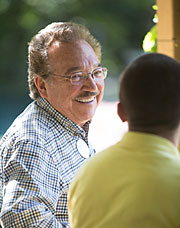 "All teachers and staff were inspiring. Everyone has joy and love in their hearts, and it radiates." Tara, Middletown, CA
"This program is beyond anything I imagined. I did learn how to do yoga and meditation, but beyond that, I learned that I am capable of self-love and devotion to God. Everything was so well done. Loved the accommodations, meals, cleanliness, and the organized approach." Sri, Milpitas, CA
"I wanted to thank you again for a wonderful and insightful tme at The Expanding Light. I really enjoyed being in your presence, and I'm grateful for the tools you've shared with me. I feel like I've finally caught a glimpse of the light inside of me—a light I've been chasing all of my life. As long as I can remember, I've sensed there was something very special and powerful inside of me, but I didn't know how to reach it. You have all truly blessed me with a deep and spiritual awakening. Ananda is a very special place, and I hope I can hold onto as much of it as possible." —Shauna, Oakland, CA —5-day program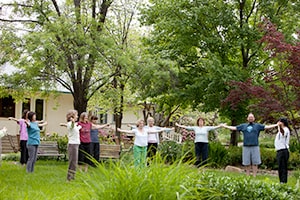 "I was surprised by how the whole philosophy and practice made so much sense. Being skeptical of religion, I am also surprised that I am leaving with a spiritual practice/belief. The information I learned and the practical methods gave me confidence in taking Yoga home with me. I am very thankful I found Ananda." —Elizabeth H.
"I had needs met I didn't even know I had! Every day was a new adventure, with something interestng and transforming. It almost felt like little miracles. The food was nutritious (begone cheeseburgers!) and very good." —P.T.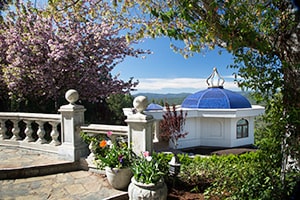 "No matter the point in your life upon arrival, you will leave uplifted and take with you that which speaks to your soul." —C.M., Danville, CA
"The perfect place to get to know yourself at deeper and higher levels. Everyone is welcoming and accepting of all. Don't miss out on the experience of getting to know yourself." —F.V., Toronto, Canada
"When people ask me about the retreat, I say 'They are living it.' Meaning you all are truly living a spiritual life and creating spiritual community in every way." —Teresa, Kentucky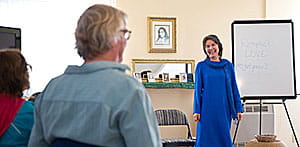 "My friend said that her time in Ananda and Expanding Light was the best present she has ever had in her life! I guess that says it all.... me too! We love you all and truly miss you! At 10 am I wanted to head over to our classroom for another fascinating, laughter-filled, and inspiring class."
—Pam, Redding, Ca - 5 day program
Here is a poem I wrote at Ananda during one of my last days with you all.
Awakened souls embrace me.
Nature's loveliness and serenity nurture me.
Attunement and energy surround me.
Now is all that matters.
Deep joy and inner peace flood my soul.
Abundantly blessed, I am forever grateful.
Blessings of love, joy and peace to you!
— Joyce, your sister from MN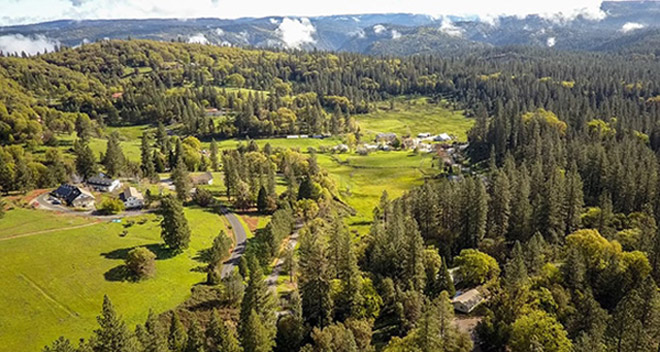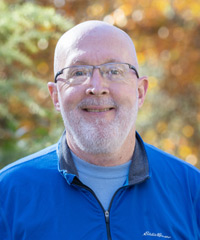 Certified Ananda Yoga and Meditation teacher. (Registered Yoga Teacher (RYT 200)
Warm hearted, with a delightful sense of humor, David is a certified Ananda Yoga and Meditation teacher. (Registered Yoga Teacher (RYT 200) with the Yoga Alliance.) He also teaches taiji and qigong. He lives at Ananda Village and is part of The Expanding Light Retreat team.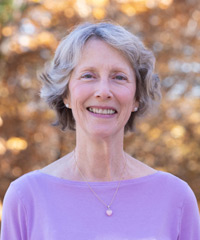 Certified Ananda Yoga teacher (RYT 200)
Miriam is warm and personally engaging, always willing to help others and listen to their needs. She is a certified Ananda Yoga teacher (RYT 200), registered with the Yoga Alliance. Miriam served as Ananda's founder, Swami Kriyananda's personal nurse, and was personally trained by him, through daily contact, during the last fourteen years before his passing. Over the past 20 years she has served in the U.S., Italy, and India, teaching meditation and helping establish spiritual communities.

or e-mail or call us at 1-800-346-5350
Costs (FTW)
Costs are on a per person basis.
Nov 3 – 5, 2023
Feb 2 – 4, 2024
Jun 7 – 9, 2024
Aug 30 – Sep 1, 2024
Nov 8 – 10, 2024
Tent
RV
Standard
Shared
Standard
Private
Deluxe
Shared
Deluxe
Private
$228
$314
$448
$412
$596
Prices are all-inclusive and cover accommodations, meals, classes or activities, and course materials.
First-Timers' Retreat starts the afternoon of the first date listed and ends with lunch on the last date listed. Check-in is anytime between 1:30 p.m. and 4:30 p.m. at our Front Desk. Your room will be available by 3:00 p.m. Dinner is at 6:30. The first gathering of your group is after dinner.
Please see:
You can add extra personal retreat days before and/or after your program. Check availability and costs for the days and accommodations that you require.
First-Timers' Retreat starts the afternoon of the first date listed. It's ideal to arrive before 4 pm, if you are able to. That way, you can join in the afternoon session of yoga and meditation, which begins at 4:45 pm. Dinner is at 6:30. The first real gathering of your group is at 7:30 pm. If you need to arrive here after 5 pm, that's fine, but it helps us if you let us know at 800-346-5350. We can also put aside a dinner for you if you need to arrive after 7 pm. The program ends with lunch on the last date. Please see our Daily Schedule.
See Transportation and Directions whether you are coming by plane, car, bus or train. Our Frequent Questions page answers many of the questions you might have about How to Go on Retreat.
First-Timers' Photo Gallery