November 2018 Newsletter
Get monthly news, tips for yoga and meditation, and stay up-to-date on our upcoming programs. Click here to subscribe.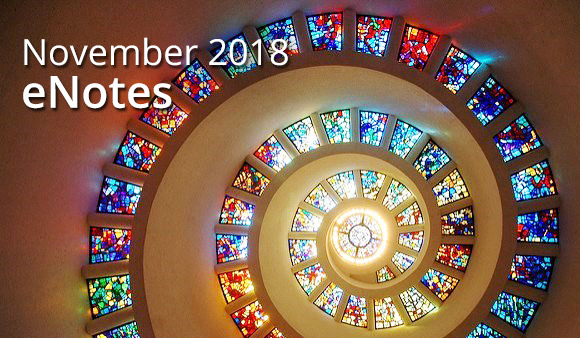 Dear friend,
Change. Things will change. People will change. We will change.

Are you buffeted by the changes, or are you driving them? Take charge of your goals, so you can mobilize your energies in the directions you really want. If you don't know where you are headed, you won't get there.

Change your mind. Change your brain. Quiet the primitive parts of your brain, grow the pre-frontal lobes and open up your potential. See the link below to watch Dr. Peter Van Houten's free talk about fulfilling your potential.

Learn how to do it better. Select one of the classes coming up. Read below the Inspiration from Swami Kriyananda, who did more in one lifetime than several people put together. Join one of the Ananda Travels journeys to deeply reorient yourself.

Live your life. Fulfill your potential. Take charge of the change.

Blessings along your path,
Nityananda

Learn from Dr. Peter van Houten how our brains are engineered to easily change so we can grow spiritually
Nayaswami Mantradevi has created a new series of programs to help you develop a dynamic way of living, for increased happiness, peace, tranquility, courage and confidence in all areas of your life.
Discover new and illuminating aspects of who you are
Learn to live from your deepest self
Identify and change what needs to be changed
Expand your capacity for joyful, fruitful living

Take one, or all, take them in any order – but take one soon and learn how to take more control of change in your life.

Achieving Peace and Tranquility Explore 26 different emotions, showing underlying causes plus effective techniques to work with each emotion.

Discover Your Own Happiness Get in-depth instruction to help make meditation part of your life, and discover meditation's role in true happiness

Life Transitions: What's My Next Step? Discard old habits, behaviors and mindsets which no longer serve you and find guidance from your highest intuitive knowing.

How to Have Courage, Calmness and Confidence You can live a victorious and harmonious life–make your choice each day, every moment, to embrace your noblest spiritual qualities.

The Next Step in My Relationships Generate inner strength, clarity, and understanding of how to think and act, accepting differences without compromising your values.
We invite you to join us in Kerala early next year as you take more control over your physical & emotional well being.
Healing Retreat in Kerala, India
February 1 – 13, 2019
Imagine the perfect vacation:
Deep relaxation and Ayurvedic healing treatments, combined with yoga and meditation guided by Gyandev and Diksha McCord, plus a variety of delightful Indian cultural experiences

–

all at Kerala's finest seaside Ayurvedic retreat.


CEU

CEU for Yoga Alliance Members

- 13 hours for 7 days or 24 hours for 12 days
Upcoming Programs

Many of our end of year retreats will help you mobilize your energies in better directions – we look forward to seeing you soon.
Ananda School of Yoga and Meditation
Restorative Ananda Yoga® Teacher Training


CEU

Wednesday, December 5 – Saturday, December 8

Restorative yoga is a popular way for beginning through advanced yoga students to experience true relaxation - often the most difficult skill to master.

"The restorative training really helped me rediscover my voice and confidence in my teaching ability and I feel completely prepared and re-inspired to serve my students."

—Alexandra, Grass Valley
Archives:
No December eNotes, 2020
No April eNotes, 2020