January 2019 Newsletter
Get monthly news, tips for yoga and meditation, and stay up-to-date on our upcoming programs. Click here to subscribe.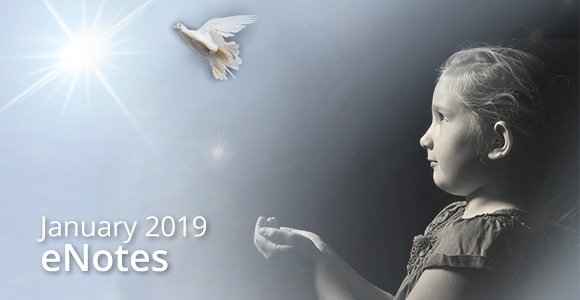 Dear friend,
Blessed are the peacemakers,
for they shall be called children of God.

This lovely beatitude, given to us by Jesus in the Sermon on the Mount, assures us that in feeling peace and in sharing it with others, we will be recognized as one of God's own.

Peace is one of the aspects of God. The feeling of peace alleviates anxiety and worry. What a powerful energy to share with others. Even more powerful if we share it with ALL others.

Experiencing peace opens the way to our also feeling calmness, another of the aspects of God. When we are calm, we have the power to overcome obstacles in our lives. When we remain in calmness, we can become invincible.

Be a peacemaker. Step up to being a true child of God.

May your new year be blessed. And may we bless others this year.
Nityananda

Inspiration from Swami Kriyananda - Peace Song
Therapeutic Yoga Retreat
Jan 4 – 6, 2019
Leave with a yoga routine designed for you, to help take your next step forward.
Ananda Yoga Intensive
Feb 15 – 17, 2019
Explore more challenging yoga postures, and take your asana practice to the next level.
Ananda Yoga® Therapy Training: Principles
CEU
Sunday, Jan 27 – Sunday, Feb 3, 2019
This in-depth 7-day program is the first module of Ananda's Yoga Therapy Training. This course gives you practical foundational skills for a safe and effective yoga therapy practice coming from the ancient sciences of Yoga and Ayurveda.
Ananda Yoga® Therapy Training: Seniors and Bone Strength
CEU
Sunday, Feb 3 – Wednesday, Feb 6, 2019
Yoga teachers and yoga therapists can provide a much-needed service by learning to help older people and those with bone strength issues.
Restorative Ananda Yoga® Teacher Training
CEU
Wednesday, Feb 6 – Saturday, Feb 9, 2019
Restorative yoga is a popular way for beginning through advanced yoga students to experience true relaxation - often the most difficult skill to master
Archives:
No December eNotes, 2020
No April eNotes, 2020