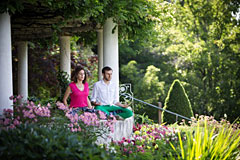 "Love is the very essence of reality." —Swami Kriyananda
"Realize that love is inside you. No one can ever rob you of your ability to give love. In loving others lies our true happiness." —Swami Kriyananda
It's time to celebrate and spiritually renew your marriage bond. This weekend is a time to re-focus your relationship on what matters most in your lives. Revitalize your marriage with new insights, and enliven the life you share together. Through this weekend you will take your marriage to a new, dynamic, and fulfilling level.
Relax and enjoy together in a beautiful and picturesque nature setting

Learn new and undiscovered facets of each other
Explore your divine, karmic purpose for being together
Practice meditation and (optional) yoga postures together
Share delicious meals and experiences with like-minded couples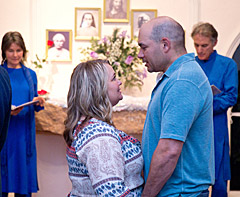 Through joyful discovery and guided activities, you will:
Rekindle your heart connection
Learn how to deepen and sustain your divine friendship
Expand your awareness and your understanding of one another
Gain tools for solutions and greater communication
Special Weekend Highlights
Two special experiences during this retreat are a marriage renewal ceremony in the beautiful Crystal Hermitage Chapel, with the Ananda Wedding vows, followed by a candlelight dinner in the exquisite setting of Crystal Hermitage. Deep, spiritual, and fun! This weekend retreat will help you take your relationship to a new level (even if it's a good relationship already) and to grow spiritually.
Retreat Leaders
Dhyan and Shyama are ideally suited to lead this retreat. They are both Ananda teachers who radiate loving kindness and joy. Happily married, they have shared their enthusiasm for meditation and the spiritual life with people from around the world.
With a playful and engaging spirit, they assist couples in experiencing a depth of love in relationship that goes beyond the ordinary.
A common comment made by guests after completing this program is that they wished it were longer. We recommend that you stay on an extra day as Personal Retreat guests to further absorb your experience and spend another great day with your spouse.
"Marriage should not be approached as a beautiful, but motionless, painting. Rather, it should be viewed as an opportunity for ever-further growth and development. Couples should seek fresh ways every day to express their love for one another, and to bring out the best in each other, and in themselves."
—from Self Expansion Through Marriage, by Swami Kriyananda
For More Photos and Testimonials
From Weekend Participants:
"This is the 3rd time we've come to this retreat- I think that speaks for itself! I catch a new fundamental insignt each time. I could see adding another day, and still it wouldn't be enough!"
"Krishnadas and Mantradevi are absolute gems. Their dedication shines through each word. My husband and I learn something new about each other every time. This weekend has made our marriage stronger and more loving." —SS and SS, Washoe Valley, NV
We cannot put into words how much our weekend together at The Expanding Light helped our marriage. We see each other in a different light now, a radiant, loving light. We try to put one another first and foremost and honor ourselves, as well as each other. What a beautiful feeling to be connected in such a way! Thank you for our weekend and inspiration. We hope to see you again soon!"
— L.W. and G.W., San Francisco, CA
'"The spiritual wedding ceremony was so sweet and powerful. There were 5 couples participating together. I felt the power of each step of the ceremony magnified by our collective participation."
"Krishnadas and Mantradevi's long time experience as a couple manifested through all their interactions; that modeling had as much of an impact as the verbal instruction." — BD and JD, Sacramento
For more information, please send us a Question or Comment:

Receive monthly news and inspiration.
No dates scheduled for Spiritualize Your Marriage at this time.
Prices are all-inclusive and cover accommodations, meals, classes or activities, and course materials.
Spiritualize Your Marriage starts the afternoon of the first date listed and ends with lunch on the last date listed. Check-in is anytime between 1:30 p.m. and 4:30 p.m. at our Front Desk. Your room will be available by 3:00 p.m. Dinner is at 6:30. The first gathering of your group is after dinner.
Please see:
You can add extra personal retreat days before and/or after your program. Check availability and costs for the days and accommodations that you require.
Spiritualize Your Marriage starts the afternoon of the first date listed. It's ideal to arrive before 4 pm, if you are able to. That way, you can join in the afternoon session of yoga and meditation, which begins at 4:45 pm. Dinner is at 6:30. The first real gathering of your group is at 7:30 pm. If you need to arrive here after 5 pm, that's fine, but it helps us if you let us know at 800-346-5350. We can also put aside a dinner for you if you need to arrive after 7 pm. The program ends with lunch on the last date. Please see our Daily Schedule.
See Transportation and Directions whether you are coming by plane, car, bus or train. Our Frequent Questions page answers many of the questions you might have about How to Go on Retreat.