Group Retreats
Group Retreats
Beautiful things happen
for groups who stay at The Expanding Light Retreat
We welcome spiritually-oriented groups to stay at The Expanding Light Retreat or Gaia House Retreat 12 months of the year. The Expanding Light facilities are only available for spiritual programs that are compatible with those of Ananda.
Let our staff help you craft the right retreat for your group. We will be happy to explain all of your choices in detail to best suit your needs.
For help in choosing a program for your group and reserving spaces, contact Krishna Das at 800-346-5350 ext 7091.
You can choose:
To base your group at the beautiful Expanding Light Retreat, with a variety of housing options, where we can sleep up to 50 people. OR
To enjoy a more private setting with just your own group at Gaia House, a lovely group home that sleeps 12—20-minute's walk or 5-minute's drive from The Expanding Light. OR
To use a combination of the above for a larger group.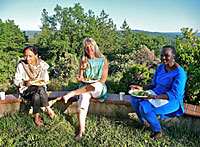 If you base your group at Gaia House:
You can run your own program entirely: fix meals in the spacious group kitchen, and enjoy classes and meals in the large living room, dining room, classroom, or beautiful gardens. OR
You can stay at Gaia and choose to take all or some of your meals in The Expanding Light dining room; enjoy morning and/or afternoon guided spiritual practices (Energization Exercises, yoga postures, and meditation), and even complete programs (see our calendar of activities) at The Expanding Light.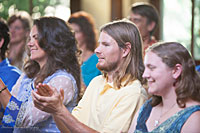 If you base your group at The Expanding Light, you enjoy:
3 exceptionally delicious meals in our dining room
Morning and/or afternoon guided spiritual practices (Energization Exercises, yoga postures, and meditation) — as you'd like.
Create your own class or meeting schedule OR
Take one of our guided programs as a group. See our calendar for many choices of topics.
Discounts for Bringing a Group
Depending on the number of people you bring, you will receive a discount for each person from the prices listed on our web pages. If the program you choose is already discounted, the following discounts do not apply:
Taking an Expanding Light Program
| | |
| --- | --- |
| 6 to 9 people | 5% off |
| 10 - 15 people | 10% off |
| 16 - 20 people | 15% off |
| 21 + people | 20% off |
Running Your Own Program
or Taking Our Personal Retreat Program
(Discounts taken from the Personal Retreat rate)
| | |
| --- | --- |
| 10 - 15 people | 5% off |
| 16 - 20 people | 10% off |
| 21 + people | 15% off |
An additional 5% discount will be extended if your group comes during the months of September, November, January, or February.
Group Retreats are ideal for spiritually-oriented:
• yoga classes
• family reunion
• like-minded friends
• church groups
• book clubs
• women's groups
• meditation groups
• cooking groups
• gardening groups
• teachers association
• non-profit staff
• parenting network
• ministers' retreats
• co-workers' groups
• permaculture groups
• caregivers' support network
Gaia House Retreat at Ananda Village,
Nevada City, CA.

provides an uplifting atmosphere that promotes inspiration and focus for small groups of up to 12
Our serene and architecturally unique environment lends itself to positive group interactions for your program's success. The house and grounds, located about 10 minutes from The Expanding Light Retreat, provide plenty of places for quiet time so individuals have a balanced experience and leave feeling renewed and inspired.

Rental house for small groups
Contact Krishna Das at
800-346-5350 ext 7091
to choose a program
or reserve a space.
www.gaiahouseretreat.com
"The women LOVED Gaia House as well as the wonderful vegetarian lunches and the privilege of walking around the grounds, the shop, and little museum at Crystal Hermitage. The accommodations were comfortable, and I know everyone was happy with the arrangements.
Thank you so much again for helping me with this! Planning my first retreat was a bit overwhelming but your patience and understanding got me through it with flying colors! I am already thinking about the next one and the thought of it doesn't scare me at all. That's saying a lot!
Thanks to you my first retreat was a great success!" - Cristie
"We absolutely loved our time at The Expanding Light, and in fact, all of our students were asking me if we would be sure to book the center again. It makes us so very happy to practice in an environment that matches the intentions of our own practice. We could all feel the wonderful practice that has created and developed Expanding Light; an honor and pleasure to practice within the realms of the community there.
"The service was outstanding. The harmony of the way people work together at Expanding Light is inspiring. I took a poll of all the students during our last meeting time, and everyone was astoundingly happy."
—Melissa and Chris, The Institute for Internal Transformation
"What a beautiful property. I so enjoyed the energy and tranquility of this place. The room was clean and met my expectations. The food was fabulous." —Janna, I.I.T.
"Amazingly welcoming, kind, and flexible staff." —Alex, I.I.T.
"I loved it all. So happy and appreciative of the Ananda Community and facility. We are a lucky group to have the opportunity to stay here. Tenting is a pleasure here."—Melissa, I.I.T.
"I feel so welome here and feel love everywhere. It is so peaceful and the tranquility of the entire environ so deeply healing." —Valerie, I.I.T.
"Conducting retreats at The Expanding Light has been an exceptional experience: The serviceful staff, beautiful environment, and powerful energy of the retreat center make it the perfect place to hold my ongoing retreats. All my participants love it there!"
— Vina, Sacramento, CA
"All of us just loved and truly enjoyed our stay at Ananda! We learned so much about Yoga and Meditation, our first goal of the visit, and felt so comforted and taken care of by the atmosphere and great teachers at the retreat center. We felt especially fortunate to have Maitri as our weekend guide; she was so gentle, informative, and caring and customized the retreat for our needs. Those of us who attended the Sunday Service were filled with love and joy. Thank you! We'll be back soon."
— P.W., Lake Almanor, CA
"During my stay at The Expanding Light, I was blessed to enjoy the delicious food they lovingly prepared for us day after day. The food was so good, AND good for me! I soon began to happily anticipate mealtime to see what delicious fare the divine kitchen staff had prepared for me next! Thank you Expanding Light Kitchen Staff!"