Guest Groups at Ananda Village
Let our energy uplift your group!
Ananda Village provides guest groups two extraordinary places to bring up to 85 guests. Our vision is to serve like-minded groups who will benefit from our spiritually energized and divinely blessed 700-acre intentional spiritual community.
The Expanding Light Retreat has been welcoming guests from around the world for over 45 years. Many types of groups have deepened their own mission and member experience by spending time in our uplifting corner of the larger Ananda Village. Our retreat campus includes a large community dining room, octagonal Teaching Temple, large outdoor piazza for dining and congregating, 4 large buildings with accommodations, our Guest Services building, cabins and large gardens and meadows.
Gaia House Retreat is a unique 2-story, custom designed house at Ananda Village made of rammed earth with tall ceilings and lots of light in all rooms. The house has 7 bedrooms and can sleep 15 adults. The 2-story layout provides ample and flexible first floor space including a beautiful kitchen, expansive dining area, and multi-use living area. There is a separate first floor 'teaching room' with dual aspect and tall ceilings. The second floor has 6 uniquely furnished rooms, some with shared baths, and three with en-suites.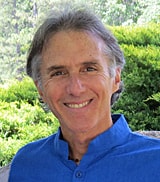 Get ready for an extraordinary group experience!
We invite group leaders to contact us to arrange a complimentary overnight stay at the Expanding Light Retreat hosted by Krishnadas LoCicero, Groups Manager. Enjoy in-depth tours of our two facilities, time to share your vision of your groups' program, and enjoy dining with us. Contact Krishna Das LoCicero at The Expanding Light Retreat.
Group stays include:
Extraordinary group leader support
Top-rated guest services, small boutique, small village market
Affordable pricing
Access to most of our 700 acres including holy shrines
Uplifting meeting rooms/spaces, including our Living Wisdom Center for large events
Delicious vegetarian meals at the Expanding Light Retreat with advanced reservations for the group
Optional attendance at morning yoga and meditation
Explore our peaceful gardens and lakes
Connection with the joyful energy which permeates our community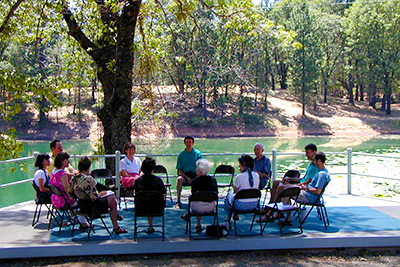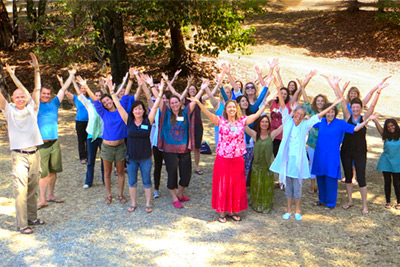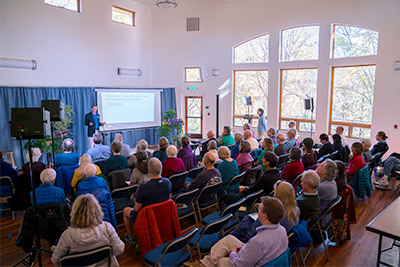 What our Guests Say
"The Ananda experience is a seamless slice of heaven. From the gracious staff, immaculate grounds and gardens, and high vibration meals. I've never been in an environment where every human smiles so warmly. My seminar participants glowed."
With Gratitude,
Jan, RN, MA, CMP — Sound and Light Healing Arts
"Thank you from the Chaplain Program of Unity Center of Davis California for an absolutely fantastic weekend at Gaia House Retreat. The peace and tranquility emanating from the grounds and people were the perfect backdrop for our retreat/training. We enclose a gratuity in thanks for the welcoming Spirit of Gaia House and The Expanding Light Retreat and the transformation you are bringing to our planet and people. Again, thank you. We all hope to return soon."
- Unity Center of Davis, CA.