Gaia House Retreat
Beautiful things happen for groups who stay with us
The quality of your group's retreat or training program is of the utmost importance to us. We have years of experience helping group leaders plan the most uplifting event for their retreat guests -- from initial in-person guided tours of our buildings and grounds, to room assignments and meal planning. We can also arrange arrival and departure shuttle service from the Sacramento airport.
Gaia House Retreat is a large and inspiring home that sleeps 12-15 guests, in 6 beautiful bedrooms. The sustainably built house is located in a private setting providing peace and privacy for your group at Gaia House Retreat.
You can run your own program. You have the option to fix meals in the spacious kitchen, and enjoy classes and meals in the large living room, dining room, classroom, or beautiful gardens. Gaia House is a 20-minutes' walk or 5-minutes' drive from The Expanding Light Retreat. If you prefer, you can take buffet vegetarian meals at our main campus Dining Room.

Highlights of Gaia House:
Set within the 700 acre Ananda Village a world renowned intentional spiritual community based on the teachings of Paramhansa Yogananda – celebrating our 50 anniversary in 2019
4700 sq.ft in a sustainably built custom house in very private setting
Dedicated Learning Suite in-house with wifi, and multiple other meeting spaces at Ananda Village
Sleeps up to 13 people, with overflow guests staying at The Expanding Light Retreat [up to 26 more], plus camping.
Family-style dining area and fully equipped kitchen, and option to take all meals at Expanding Light Retreat
Six uniquely furnished bedrooms and 3 1/2 bathrooms
AC over Summer

Larger group overflow accommodations at The Expanding Light Retreat
The Expanding Light Retreat can accommodate Gaia House groups larger than 12, up to 39 people. Sometimes we can add another location bringing the total to about 60. We offer a variety of housing options for the guests of your program, which should be compatible with our retreat mission – to uplift guests and support their spiritual growth towards higher consciousness.

We serve a delicious buffet of beautifully prepared hearty vegetarian meals 3 times each day in our uplifting dining room. Offering local organic foods, and many special diet options including vegan and gluten free.
The professional and uplifting support of our Groups Manager, Krishna Das Locicero who has worked with many types of groups over the years. Krishna Das and all of our Guest Services and support staff live at Ananda Village and can support your visit here to be the best possible.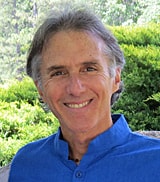 For more on Gaia House contact Krishna Das at 800-346-5350 ext 7091 to talk about prices and reservations.
Gaia House is located within Ananda Village. The Village is situated on 700 acres of meadows and forests amidst the foothills of the Sierra Nevada Mountains in northern California near Nevada City.
The easiest Airport to fly into would be Sacramento International Airport. For complete directions by car, plane or train, please click here.
There are many places to explore within Ananda Village, beautiful gardens and chapels, the permaculture garden, hiking trails, the village green, and more. No matter what the age group, you can enjoy a fabulous hike or find the perfect spot to relax, read a book or have a picnic.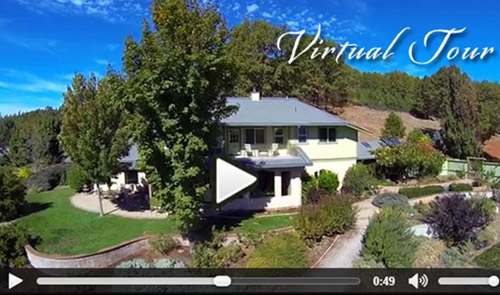 Gaia House Retreat provides your group with a number of gathering spaces at the house, and we offer additional meeting places in Ananda Village that can be used during your stay.
Bedrooms and Bathrooms at Gaia House
We have 6 uniquely designed bedrooms, each with its own nature theme. There are a total of 5 bathrooms: one full and one half on the first floor; two shared on the second floor where the bedrooms are located; one full ensuite with the Flower Room. All bedrooms have plenty of closet space, and linens and towels are provided.
The Flower Suite has a Queen bed, an armoire, a long desk, a private bathroom and a private deck.
Click on each photo for a larger image
The following 5 rooms share 3 1/2 baths.
The Tree Room has one double bed and one twin bed. The Bird Room has two twin beds and a desk.
The River Room has two twin beds. The Star Room has two twin beds and a large desk.
Meeting Spaces at Gaia House
Gaia House has a large living room/lounge area with easy to move furniture to create the best arrangement for your group. In addition, there is a dedicated space at the end of the house with plenty of space for meditation and meetings. A door leads directly into the gardens and we provide ample folding chairs, yoga mats & pillows, and a whiteboard for you to use as needed. There is a seperate, full bath directly outside the suite for easy access.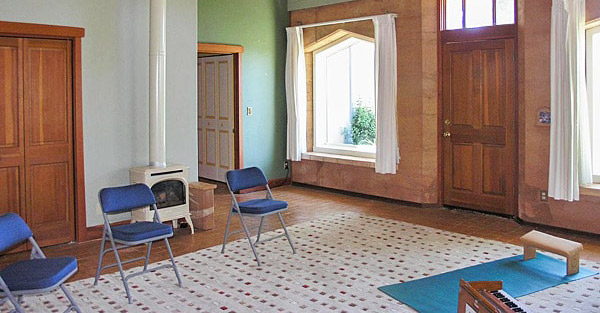 Additional Meeting Spaces at Ananda Village: A modest additional charge may apply for additional meeting spaces.
Ananda Village, the location of Gaia House Retreat, has additional spaces where guests of Gaia House may hold meetings or gatherings, with advance reservation. These spaces allow room for more guests than Gaia House can hold. For example, Gaia House sleeps 12-15 guests. Additional group members can stay at the nearby Expanding Light Retreat, up to a total of 39 guests. Then all group members can meet at any of these locations:
Living Wisdom Center: New sustainable construction. There is a State-of-the Art presentation hall with top-quality acoustics ideal for music presentations, dance, and for recorded talks. Seats up to 140. Various side rooms for smaller break-out sessions. Parking for guests. A 5 minute walk from Gaia House Retreat. No smoking or alcohol allowed at Ananda Village.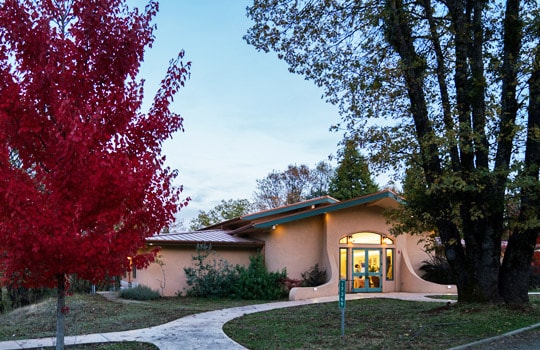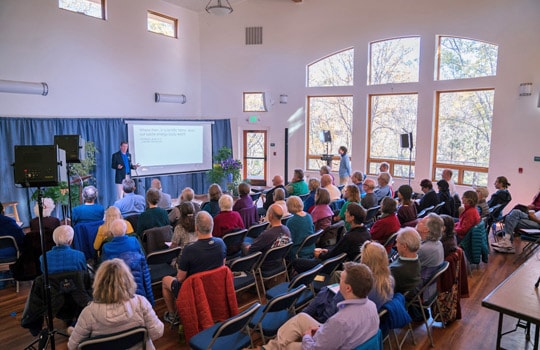 Hansa Temple: Located at Ananda Village, about a 3 minute drive from Gaia House or a pleasant walk. A main temple for Ananda Village. There is an altar with photos of the Kriya Yoga Master's of the Ananda lineage. A very comfortable room for floor or chair seating. A raised dais at front of room allows for nice speaker location. Ample room for projector and screen for presentations. Front entry foyer has plenty of room for coats and shoes - no shoes in Temple. Downstairs has two bathrooms and sink. Can seat 120 comfortably.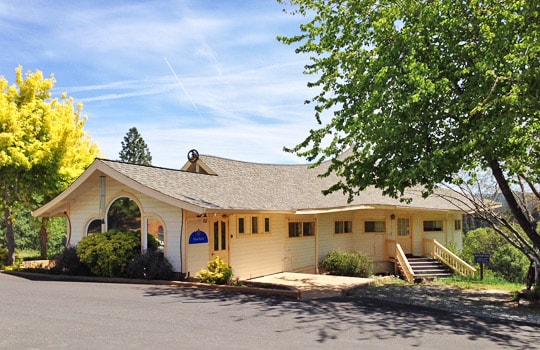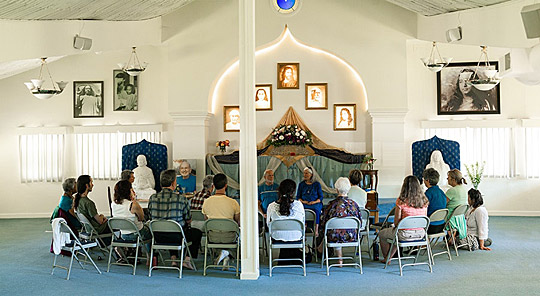 Serenity Lounge: Located in Serenity House, The Expanding Light's larger guest accommodation housing. Room has a sofa, coffee table, chairs, and dining table, with extra folding chairs, blankets & pillows. Sink and tea service. Holds 25 seated.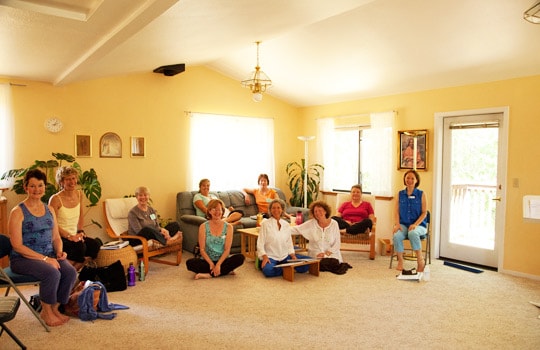 What our Guests Say
"We just wanted to say thank you for your incredible hospitality this weekend. Out of all the retreats we've done, and all the retreat sites we've been to, you were, by far, the kindest, most welcoming place we've ever been.
Gaia House was absolutely beautiful, the food was creative and delicious, and the grounds we were able to walk and explore were stunning. You have all done a wonderful job creating a safe space to hold retreats.
We also want to mention how helpful Lewis was during the weekend. He never hesitated to bring us what we needed and was quick to offer us a hand if need be. We could tell how passionate he was about your space and his love for the place truly showed.
We hope to work out another retreat with you next year. We can't wait to come back!
Thank you for everything. You all work hard, and take pride in your space, and it truly shows."
—Tessa Osborne, 300hr CYT
The Yoga Pearl, Manager
"The Ananda experience is a seamless slice of heaven. From the gracious staff, immaculate grounds and gardens, and high vibration meals. I've never been in an environment where every human smiles so warmly. My seminar participants glowed."
With Gratitude,
Jan, RN, MA, CMP — Sound and Light Healing Arts
"Thank you from the Chaplain Program of Unity Center of Davis California for an absolutely fantastic weekend at Gaia House Retreat. The peace and tranquility emanating from the grounds and people were the perfect backdrop for our retreat/training. We enclose a gratuity in thanks for the welcoming Spirit of Gaia House and The Expanding Light Retreat and the transformation you are bringing to our planet and people. Again, thank you. We all hope to return soon."
- Unity Center of Davis, CA.
"To stay at Gaia House is to be held and nurtured by the Great Mother in the physical sense of comfort, spiritual attunement, enlivening of the senses through beauty, and rich nourishment in the form of fresh and delicious food. The Ananda family (staff) have set up this space to anticipate your every need, and are available for you throughout. I have led two spiritual retreats there over the past year, and every person (including me) left feeling deeply nourished, restored, and glowing with a taste of deep ananda (bliss). I am profoundly grateful for the high vibration of love that resounds throughout the walls of Gaia House, the Ananda landscape, and afterwards, in my heart. Namaste."
- Andrea S., RYT, Women's Retreat, First Congregational Church of Auburn
"The women LOVED Gaia House as well as the wonderful vegetarian lunches and the privilege of walking around the grounds, the shop, and little museum at Crystal Hermitage. The accommodations were comfortable, and I know everyone was happy with the arrangements.
Thank you so much again for helping me with this! Planning my first retreat was a bit overwhelming but your patience and understanding got me through it with flying colors! I am already thinking about the next one and the thought of it doesn't scare me at all. That's saying a lot!
Thanks to you my first retreat was a great success!"
—Cristie
"We absolutely loved our time at The Expanding Light, and in fact, all of our students were asking me if we would be sure to book the center again. It makes us so very happy to practice in an environment that matches the intentions of our own practice. We could all feel the wonderful practice that has created and developed Expanding Light; an honor and pleasure to practice within the realms of the community there.
"The service was outstanding. The harmony of the way people work together at Expanding Light is inspiring. I took a poll of all the students during our last meeting time, and everyone was astoundingly happy."
—Melissa and Chris, The Institute for Internal Transformation
"What a beautiful property. I so enjoyed the energy and tranquility of this place. The room was clean and met my expectations. The food was fabulous."
—Janna, I.I.T.
"Amazingly welcoming, kind, and flexible staff."
—Alex, I.I.T.
"I loved it all. So happy and appreciative of the Ananda Community and facility. We are a lucky group to have the opportunity to stay here. Tenting is a pleasure here."
—Melissa, I.I.T.
"Conducting retreats at The Expanding Light has been an exceptional experience: The serviceful staff, beautiful environment, and powerful energy of the retreat center make it the perfect place to hold my ongoing retreats. All my participants love it there!"
— Vina, Sacramento, CA
The Gaia House Retreat lodges small groups of up to 15, with overflow available at The Expanding Light. We also have additional meeting spaces for larger group meetings.
Accommodations Pricing:
Program leaders and professionals please contact us for any additional information!
Ananda affiliated groups
should also contact us regarding
special discounts
!
Rates for stays beginning March 1, 2018
Standard rates discounted as shown below.
| | |
| --- | --- |
| Rate for 1 night | $1395 |
| Rate for 2 nights | $1279 |
| Rate for 3 or 4 nights | $1169 |
| Rate for 5 or 6 nights | $1069 |
| Rate for 7 - 13 nights | $995 |
| Rate for 14 nights plus | $950 |
Rentals are subject to a 10% "temporary occupancy tax."
Single night stay is only available to be booked within 8 weeks of stay.
$295 Tues, Wed or Thursday
$375 Fri, Sat, Sun and Monday.
Day Use:
Gaia House is sometimes available for day use only. Day use can only be booked within 6 weeks of the day you plan to use it.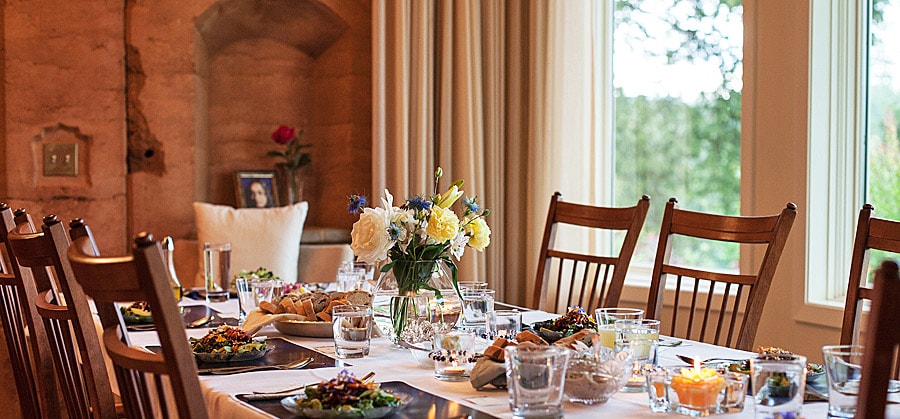 Meal Options:
Prepare your own - Using Gaia House kitchen (strictly vegetarian) - and/or
| | |
| --- | --- |
| 1 meal a day package | $10 per person |
| 2 meals a day package | $20 per person |
| 3 meals a day package | $28 per person |
Meals to be picked up at our main dining room, 5 mins drive away(at 20 mph!)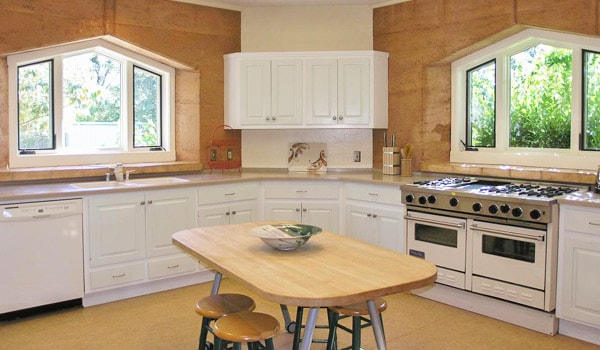 Notes:
Pricing to attend open programs that we run at Gaia House is set by the program. We are able to fashion a custom program for you if you wish. Additional pricing may apply but can be arranged contact us.
Amenities
4700 sq. feet of space
Separate room for classes/yoga
Wireless internet
AC over summer
Towels and linens supplied, laundry facilities also available
Family-style dining room and fully equipped kitchen
Large living room with re-arrangeable furniture
Outdoor fire pit and seating
Organic coffee, tea, and fruit available throughout the day
Dedicated to serving our guests and embracing them with the harmonious vibration that is Gaia House...
BE INSPIRED
Online Programs
Ananda Virtual Community
Subscribe to our Enotes



The Expanding Light Retreat


The Ananda School of Yoga and Meditation

The Ananda Worldwide Movement
About Paramhansa Yogananda
Free Autobiography of a Yogi
Ananda.org
Ananda Meditation APP
Ananda APP