April 2018 Newsletter
Get monthly news, tips for yoga and meditation, and stay up-to-date on our upcoming programs. Click here to subscribe.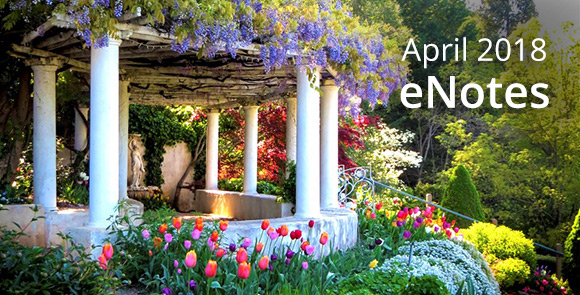 Dear friend,
What is love?
Love is kindness. Forgiveness. Holding a positive attitude.
Acceptance. Understanding.
Compassion. Caring. Sharing.
Supporting. Giving.
Saying you care, saying you love.
Working for a better situation for all, wherever you find yourself.
Praying for a better situation for others.
Wearing a smile.
Lifting the energy.
Providing solace. Holding a friend in pain.
Feeling joy.
It means doing these things now, in your current situation, with the people around you
Projecting these attitudes to people you don't know.
Letting go of that great hurt from decades ago.
And letting go of your hurt from yesterday when someone made that thoughtless comment.
Love is doing it all with our attention on our Creator.

What is Not Love?
Allowing yourself to be used. Being a door mat. Accepting inappropriate behavior.
Making yourself sick with worry.
Thinking poorly of yourself.
Being angry because another isn't "better."
Thinking you need to fix everything. Believing you need to save everyone.

Love is Now.
Live your life. Be a channel for God's light today. Now. How "evolved" you think you are doesn't matter.
Share the light that is in you. Now.


AUM,
Nityananda
Please read some of Paramhansa Yogananda's words on Love below.
Ananda Holistic Health Retreat
Achieving Glowing Health and Vitality
CEU Sunday, May 6 - Friday, May 11

Lift your energy toward love. Support your own well-being.

How would you answer the following questions?:

Are you giving your body what it needs for optimal health?

Do you have the energy and enthusiasm you need to make your life work?

Can you choose to be happy on a daily basis?

Do you have a way to experience deeper meaning in life and feed your spirit?

Ananda's Holistic Health Retreat will help you say YES to all of these questions.
2018 International Kriyaban Retreat
with Nayaswamis Jyotish and Devi
Wednesday, May 16 - Sunday, May 20

For Kriyabans worldwide to come together to energize and inspire our practice of Yogananda's Kriya Yoga practice.

A powerful retreat that can transform and permanently uplift your Kriya Yoga Sadhana!

During this 4-day weekend, you'll join together with other Kriya initiates, both new and longtime Kriyabans, as well as Kriyacharyas (Kriya ministers) to explore the depth and practice of the technique, how to deepen your life as a Kriya Yogi and to make your practice more effective.
Archives:
No December eNotes, 2020
No April eNotes, 2020