May 2017 Newsletter
Get monthly news, tips for yoga and meditation, and stay up-to-date on our upcoming programs. Click here to subscribe.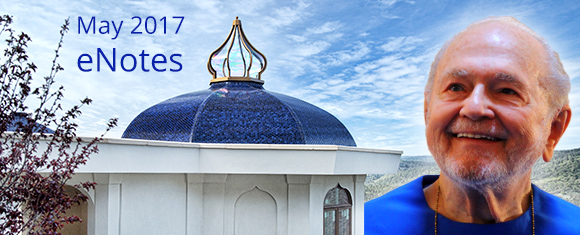 The only way to get good traction is if there is friction. We tend to think traction is good and friction is bad. But they go together. I'm not suggesting that friction between people of itself is a good thing. However, it does give us the opportunity to rise above it, by consciously feeling and expressing kindness. It is time to drop the idea that it is the other person's fault. I am responsible for me. You are responsible for you. How we manage ourselves is up to us - no one else.
When we find ourselves in situations that don't go smoothly, we have the opportunity to make real spiritual progress. If the friction is with another person, remember that in our essence we are all divine. Pray for that person. It is very hard to be angry with someone when you are praying for him or her. We truly are all very much in the same boat.
If I'm tempted to be impatient with someone, I think of the attitudes that Paramhansa Yogananda and Swami Kriyananda held of all of us. To call it patience doesn't do it justice. We have our models. Can we rise to the challenge?



Blessings,
Nityananda


This program is for all Spiritual Seekers, Registered Yoga Teachers, or anyone who wants to immerse deep into the science and practicality of Yoga and Meditation and this powerful scripture.
The instructors are Nayaswamis Gyandev & Diksha. Yoga Alliance RYT's and E-RYT's: This course offers up to 35 hours of CEU credits.
Inspiration from Yogananda

"Human life is beset with sorrow until we know how to tune in with Divine Will, whose "right course" is often baffling to the egotistic intelligence. God bears the burden of the cosmos; He alone can give unerring counsel."
Autobiography of a Yogi, Paramhansa Yogananda
Join us this Spring for many uplifting programs – see our online Calendar for our complete schedule.
Let our social media inspire your life
Please Like and Share Our Facebook Pages - Aum!
Copyright © *|CURRENT_YEAR|* *|LIST:COMPANY|*, All rights reserved.

*|IFNOT:ARCHIVE_PAGE|* *|LIST:DESCRIPTION|*

Our mailing address is:
*|HTML:LIST_ADDRESS_HTML|* *|END:IF|*

Want to change how you receive these emails?
You can update your preferences or unsubscribe from this list

*|IF:REWARDS|* *|HTML:REWARDS|* *|END:IF|*
Archives:
No December eNotes, 2020
No April eNotes, 2020