July 2019 Newsletter
Get monthly news, tips for yoga and meditation, and stay up-to-date on our upcoming programs. Click here to subscribe.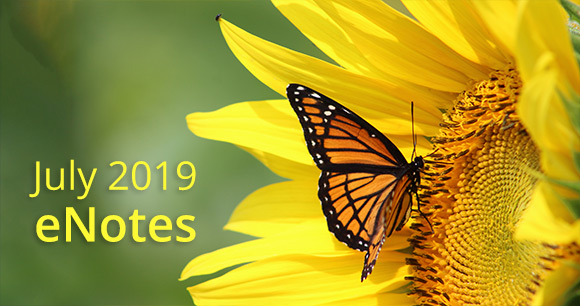 Dear Friends,
We often find ourselves thinking how much better the world and our individual lives would be "if only." If only I had a different boss. If only I had married that one from college. If only my talents were recognized. If only I had finished school. If only I were better looking.

What most needs improvement is actually our own outlook and attitude. It is our own eyes through which we view the world.

The single best way to make the world around us a better place is to work on our own improvement. We would love to have you join us for just that purpose. Find the right program for where you are right now. Please check out Mantradevi's Flow Series below, and other programs like Mukti's "Living from the Inside Out."

Blessings on your self-improvement program,
Nayaswami Nityananda
A Miracle is happening here at ananda Village


Our goal of raising $3.85 million dollars for building the Temple of Light is a mere $70,000 away from receiving a "Paid in Full" stamp. The Temple will serve Ananda Village and the greater community. The Temple building will include two meeting / teaching rooms, which will be used by The Expanding Light Retreat for our own programs, and by other departments within Ananda Village.

In next month's eNotes, we will share some highlights of the 50th Anniversary week.
Each retreat in the Flow Series focuses on a different facet of life, giving you the opportunity to develop strength and clarity in all areas.
Each retreat stands on its own and you can take them in any order.
Each retreat will reinforce your inner strength, clarify your mind and deepen your intuitive ability.
Each retreat will take you further and deeper into finding the keys to unlock your own unique treasure trove to flowing into your higher Self.

Reinvent, Discover, Go on an Inner Personal Transformational journey.
This series is specifically designed to give you information and techniques to access, flow into, and become your true higher Self.
Living from the Inside Out Retreat

- July 12 - June 14
Find Solutions to Life's Challenges
Learn and experience powerful laws of Spirit for discovering your highest potential and positive approaches to life.



How to be a Channel of Divine Grace & Healing

- July 19 - 21
Develop the ability to connect with divine presence more deeply in your life, and to share that with others. Course based on the teachings of Paramhansa Yogananda

First-Timers' Retreat - July 19 - 21
Taught by Kamran
A perfect getaway—with a blend of relaxation, inspiration, yoga postures, meditation instruction, and delicious vegetarian food—in a beautiful atmosphere. So much to experience in one weekend!

Free Yourself from Stress Retreat - July 26 - 28
Practice the techniques of Paramhansa Yogananda to help you to relax physically and mentally. Learn how to develop mental strength through concentration and meditation, to help you maintain calmness throughout the day.

Learn How to Meditate - June 26 - 28
Techniques for Peace of Mind and Balanced Living
Taught by Ganesha Kieran
Meditation is our daily practice due to the tremendous benefits in enhancing mental clarity, inner peace, creativity, and overall physical health. Make it yours!

First Time Kriya Preparation Retreat - August 7 - 9
For disciples of Yogananda: a review and deepening of your practices of AUM technique, Hong-Sau in the spine, and other advanced practices to prepare you for Kriya Yoga initiation.

The Chakras: Inner Guide to Self-Realization - August 9 - 11
Use visualization, affirmation, color and sound, music, breathing, and hatha yoga to help you attune more deeply to these astral energies.

Kriya Yoga Initiation - August 9 - 11
This program is for those who have completed Kriya Yoga Preparation, or equivalent course. Receive Kriya Yoga Initiation at a formal Vows Ceremony, a Kriya technique review, personal instruction, guidance with your practice, and continued support.



Achieving Inner Peace & Tranquilty

- August 9 - 11
A Flow Series Retreat
This course is filled with experiential exercises, discussion, and living examples. It also includes the Full Circle Emotional Awareness Exercises.


ANANDA SCHOOL OF YOGA & MEDITATION:



Ananda Yoga® Teacher Training




July 14 - August 11

CEU

credits
A dynamic program built over 30yrs. Experience Ananda's unique, integrated approach to working directly with the body's subtle energies. Join this life-changing journey!



Ananda Yoga® Assistantship




July 14 - 27

CEU

credits
This Level 2 program is for Yoga Teacher Training graduates. You will get hands-on experience and personal coaching in adapting poses for individual needs.



Bridge to Ananda Yoga®




July 14 - 21




CEU

credits
Move to Ananda Yoga! Teachers of other styles of yoga often want to transfer into Ananda's Level 2 Yoga Teacher Training or Ananda Yoga Therapy Training after they've experienced the gentle power and depth of Ananda Yoga.
Archives:
No December eNotes, 2020
No April eNotes, 2020