June 2021 Newsletter
Get monthly news, tips for yoga and meditation, and stay up-to-date on our upcoming programs. Click here to subscribe.






Dear friend,

Paramhansa Yogananda shared His Divine Light so that we might see more clearly our own spiritual path, and know how to share our joy with the world. 'The Road Ahead' is our theme for this year's Spiritual Renewal Week, a glorious week filled with Master's inspiration shared through our more than 20 presenters from around the world. We warmly invite you to attend online and celebrate with old and new friends as we connect our energies to open our hearts even more deeply to the profoundly optimistic teachings which Yogananda and Swami Kriyananda gave to us as spiritual gifts.

For many, the road ahead now includes learning more deeply how to share Master's teachings with others. This summer the Ananda School of Yoga + Meditation will offer the online Meditation Teacher Training and our Restorative Ananda Yoga Teacher Training, both in August – see more details below. If you would like a refresher course or new understanding about karma and reincarnation see the link below to the upcoming course with Bhramachari Sagar of Online with Ananda.

May your road ahead be filled with peace.


Jun 28 – Jul 4, 2021
Join Nayswami's Jyotish and Devi and 20 other worldwide presenters for a deeply inspiring week to explore Yogananda's guiding light on the path to the future. Sign up now
Ø Guided morning meditations
Ø Inspiring talks Monday – Saturday
Ø Kriya Initiation
Ø Concert and Kirtan
Ø Chat groups + special afternoon events
Online Restorative Ananda Yoga Teacher Training
4-Week Online Certification Course
August 25 – September 29, 2021 with Melody Hansen,ERT 500

You will have extensive, quality interactions with classmates and build a dynamic learning community. Plentiful interaction is a best practice in online learning, and this course is structured entirely around best practices.
Karma and Reincarnation Online Course
Combine deep philosophical insight with practical tools
Course Launch with Live webinar: Wednesday, June 16
Join Bhramchari Sagar in this online, interactive course designed to give you an inspiring and in-depth understanding of the laws of Karma and Reincarnation based on the teachings of Paramhansa Yogananda.
Sign up now and discover that the laws of karma and reincarnation are based on the principle of compassion, not retribution, and that, when understood correctly, they can explain many of life's mysteries and help accelerate your spiritual progress.
Archives:
No December eNotes, 2020
No April eNotes, 2020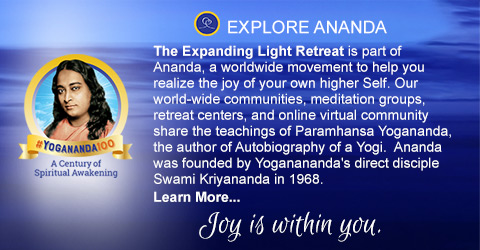 CONNECT
14618 Tyler Foote Rd
Nevada City, California 95959
Toll free 800-346-5350
Outside US 530-478-7518
SUBSCRIBE
Receive uplifting emails with inspirational content and news about our retreat programs, travels, and trainings.