Align with your higher self through deep learning and selfless-service
Take your practice off the mat and bring it into service for others. How do you bring joy and higher purpose to all things in life? What does it feel like to be an active member of a yoga and meditation community?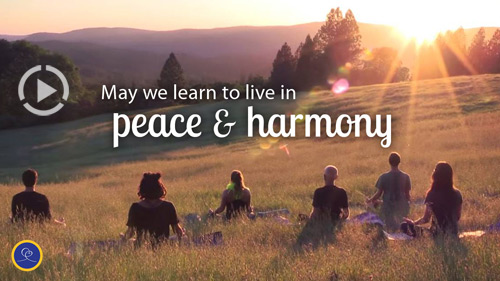 Our program includes a balance of selfless service, community participation, a comprehensive raja yoga curriculum, opportunities to learn and practice yoga and meditation more deeply, and spiritual fellowship with like-minded friends. Experience greater strength, health, and soul connection while gaining the skills to channel newly awakened consciousness into daily life.
The Karma Yoga Experience
Deepen your meditation through classes, supported daily practice, Ananda Yoga®, Raja Yoga, and techniques brought to the west by yoga master Paramhansa Yogananda.
Put your path into practice by bringing spirituality into all parts of your life.
Serve as an integral member of a spiritual team, building community and co-creating your environment.
Build your relationship with Spirit through balanced living, heart opening, and inner communion.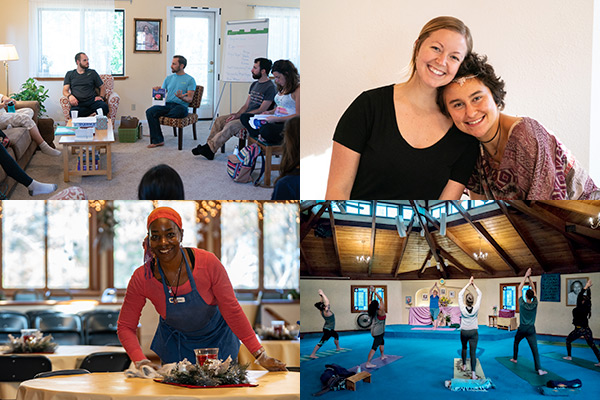 What is Karma Yoga?
Yoga through action leads to deep inner calmness and freedom, which helps to balance the ups and downs of chaotic living. Fulfillment in karma yoga is defined as mindful action in little things with the consciousness that everything is connected. The karma yogi becomes aware of the divine energy flowing through them as they act. This practice teaches that the spirit in which we serve is more important than the service itself. Nishkam karma—action without desire for the fruits of action is true karma yoga.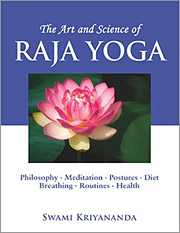 About Raja Yoga
Yoga literally means "union"—everything from self-integration to union of the soul and God. Raja Yoga, the "royal" yoga, takes the meditator to the central river to enlightenment, the pathway of the spine. It combines meditation along with Bhakti, Karma, and Gyana Yogas. Hatha yoga is an aspect of Raja Yoga.
About Spiritual Community
Yogananda used to say, "Environment is stronger than will power." This statement is an important encouragement to a seeker to find others of like mind, who will support you in your upward journey, and will inspire you by their examples.

Learn and Grow in an Ashram Environment
We offer the depth of nonsectarian Eastern spiritual teachings applied to practical, energetic living.
After their stay, some Karma Yogis choose to continue with Ananda's Experiential Internship Program.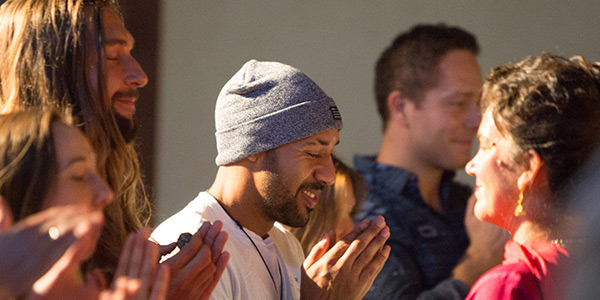 If you would like to know more, ask Megan and Trimurti a question using the form below.
For more information, please send us a Question or Comment:

Receive monthly news and inspiration.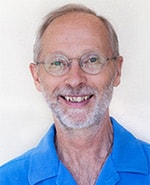 Ananda Minister, Director of Karma Yoga & Co-Director of Ananda's Residency Training Program
What is a nayaswami?
Nayaswami Trimurti is a Minister, the Director of the Karma Yoga Program at the Expanding Light and Co-Director of Ananda's Residency Training Program. Trimurti is ideally suited to lead a program in Karma Yoga (which means finding divine union through selfless action). By nature, he is an energetic, multi-talented, and generous person who delights in serving others.
Megan is currently assisting Trimurti and Barry with the day-to-day operations of the Karma Yoga Program. Her enthusiam and joy are a great example to others within this program of selfless service, the enrichment of life and experiences of the Karma Yogi's to grow and evolve.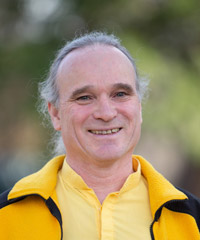 It was during Barry's first stay in the karma yoga program in 2013 that he became a disciple of Paramhansa Yogananda and received initiation in Kriya yoga. In 2016, while Barry was in the Experience Ananda program. he took Brahmachari vows of renunciation, becoming a monk. He now resides at the Ananda Monastery and is very pleased with the opportunity to work with the Karma Yoga program.
A Day in the Karma Yoga Program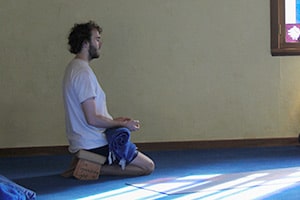 Participants in our Karma Yoga program contribute to the positive energy at our Retreat. The Karma Yoga schedule allows you to attend most of the sadhanas (morning and afternoon periods of guided Energization Exercises, yoga postures, and meditation).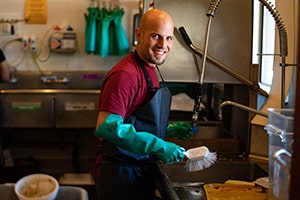 As a Karma Yogi you serve 5 or 6 hours a day, 5 1/2 days a week and become an important part in the day-to-day functions of The Expanding Light Retreat.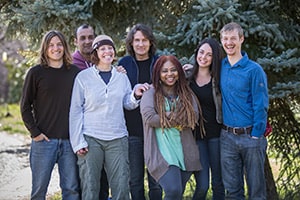 Service includes kitchen and dining room cleanup, dishwashing, housekeeping, and other projects—giving you the opportunity, as well as the guidance in how to maintain your spiritual practice in the activity of daily life.
Karma Yogis generally serve one or two of the karma yoga shifts every day (11 shifts per week), and have time free for other activities, such as reading, exploring the property's 700 acres of scenic beauty, visiting the historic Yuba River or Nevada City, or enjoying yummy treats at "downtown" Ananda's little whole foods store, Master's Market.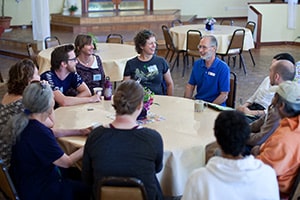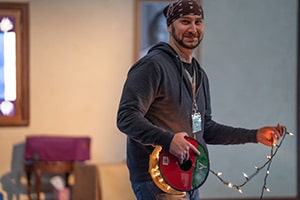 Here is sample Karma Yoga schedule:
6:30 - 8:30 am
Daily Sadhana* in EL Temple
8:30 - 9:00 am
Breakfast in silence
9:10am
Inspirational discussion and scheduling for the day
9:45 - 12 noon
Karma Yoga or Free Time
12:00 - 12:30
Meditation
12:30 - 1:30 pm
Lunch
1:30 - 4:15 pm
Karma Yoga or Free Time
3:30 - 4:30 pm
Class for Karma Yogis on Tuesdays and Thursdays
(we study Raja Yoga principles)
4:45 - 6:30 pm
Sadhana* in EL Temple
6:30 - 7:30 pm
Dinner
7:30 - 10:00 pm
Karma Yoga or Free Time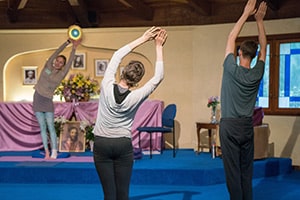 *Sadhana consists of Energization Exercises, yoga postures, chanting, and meditation, based on the teachings of Paramhansa Yogananda.
Join us for a two-week to three-month stay.
Each month in the Karma Yoga program costs $500, which includes room and board, wholesome vegetarian meals, courses in The Art and Science of Raja Yoga (used as a study guide during the program), yoga and meditation classes, daily sadhana, and 1-on-1 spiritual guidance and support.
We request a $100 deposit to make your reservation. (This is included in the $500 program cost.)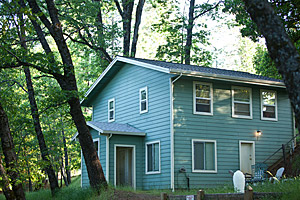 Cancellations: If you cancel or reschedule at least 7 days before your scheduled arrival, half of your deposit remains as a credit for one year and half is forfeited. If you cancel or reschedule with shorter notice, the entire deposit is forfeited.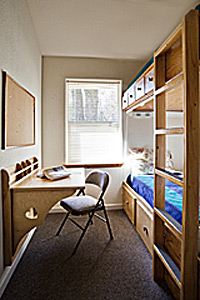 The Karma Yoga program is not able to accommodate families with children. Families who wish to explore being at Ananda Village are welcome to attend our annual summer Family Camp or to stay at the Ananda Meditation Retreat at selected times.
If you have questions please contact us online or call 800-346-5350 or 530-478-7518 ext. 7090.
Apply for Karma Yoga Program
Have questions? Please don't hesitate to contact us.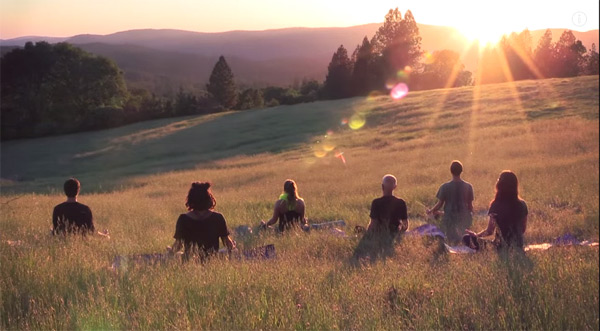 What aspect of the Karma Yoga Program has
influenced your life most deeply?

After almost two months in the Karma Yoga Program I truly learned the joy of service, and made many lifelong friends. I would say the most important thing I learned was... Find Out...
"[The Karma Yoga Program] has allowed me to open my heart to all that I meet and everything I do. The people I have met, the teachings I have come to understand, and the love that has grown within me are truly blessings from above."
– Past attendee
"The Karma Yoga Program has been a pivotal point in my life. Working with people who are here to serve God and the collective whole is truly inspirational. It has given me the opportunity to feel the flow of this amazing community. I'm indebted to this place."
– Michelle M., Eugene, OR
"I can't begin to express in words how grateful I am for the past three months with you blessed souls. Although I've always been drawn to spiritual matters, for the first time in my life I feel that I have truly found myself. I am no longer alone, and I know what I am seeking. Now I have people to share this joyful journey with and help me along the way. This is certainly the greatest blessing, and I can't thank you enough."
– Shana S., Verona, NJ
"The Karma Yoga Program at Ananda's Expanding Light was one of the most positive, life-changing experiences of my life. I never expected the transformation to be as powerful and to affect me on so many levels, in so many ways. Learning how to incorporate and apply ancient spiritual teachings into my daily life in a practical and integrated way has been invaluable. I am deeply grateful for the opportunity to be a part of such an inspiring spiritual community-and now family."
– Rachel, Los Angeles, CA
I had a wonderful experience at the Expanding Light Retreat's Karma Yoga Program. I feel that I have found a true spiritual home and I will return again and again.
—Avril
Before joining the Karma Yoga program, I had participated in the Yoga Teacher Training as well as Meditation Teacher Training here at The Expanding Light. Both YTT and MTT were amazing and transformational. Yet, in my experience, nothing has positively transformed my consciousness as much as the Karma Yoga program has. It has influenced me in two ways. First, getting in the flow of Karma Yoga shifts has helped me to become more aware and present in the moment, which has allowed me to be out of the thinking mode and in a state of joy more often throughout my days. Secondly, by being in a position of serving others through simple tasks, Karma Yoga has been a great tool for me to release the hold of ego on me. In the past, as well as during the teacher trainings here, I've concentrated too much on succeeding and standing out. Karma Yoga shifts have made it easy for me to shift my focus more on being in the divine flow of unity and merging with the group, rather than standing out. This feeling has intensified my happiness. Spiritually, I feel that I've grown tremendously through this process.
Outside of the shifts, the various activities and classes on the teachings of yoga that we have are fun, uplifting, and invaluable for spiritual growth. I enjoy the variety of teachers and the types of content that we have. The twice daily sadhanas, i.e., energization exercises, yoga postures, and meditation, are a great way to refresh and reconnect, to stay motivated, and to develop a long-term habit of daily spiritual practice. At the end of the day, it is the great people, both the staff and other Karma Yogis, as well as the high vibrations of Ananda Village, that make this experience truly special and unique.
—Hesam, Los Angeles, CA
Superconscious Living Articles
RELATED PROGRAMS