May 2018 Newsletter
Get monthly news, tips for yoga and meditation, and stay up-to-date on our upcoming programs. Click here to subscribe.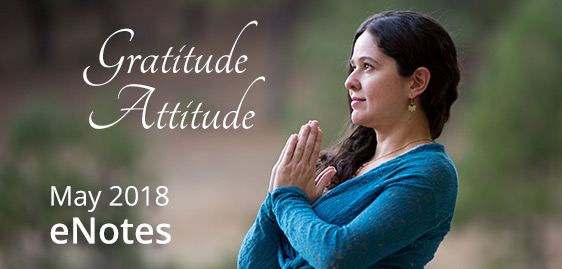 Dear friend,
Gratitude is the key. Develop your attitude of gratitude.
How about this: Spend one full day responding to EVERYTHING with gratitude. Wake up and be thankful for the roof over your head and for that comfortable mattress. Be thankful for your family. Don't have a family? Feel gratitude for the opportunity to live more quietly, so you can focus inside. Do you have a family that challenges you all the time? Be grateful for this chance to burn through the karma previously accrued. If instead, you get angry about it, you are not burning the karma. You will have to face those challenges repeatedly until you do.
Keep at it through the entire day. Thank you for this food. Thank you for this chance to lose weight. Thank you for this job. Got fired? Feel grateful for this door closing, so another can open. Admit it, you sort of wanted to get out of there anyway.
Getting good at anything takes practice. It you are not able to truly feel grateful, then try. Think about feeling grateful. Quiet yourself and try to open your heart so you can feel grateful. If you keep trying, there is a guaranteed result: You will feel gratitude.
If you do this one time, I expect that you will find yourself having better thoughts. You'll feel more calm and happy. Other people will become easier for you to work with. You will probably like yourself better. That will make it easier for others to be with you. It's a virtuous cycle.



How about tomorrow?
With deep gratitude for my opportunity to write these eNotes letters,
Nityananda
Spiritualize Your Daily Life Retreat
Attitudes for Everyday Joy and Success
Friday, May 11 - Sunday, May 13
Do you like the idea of blending a deep spiritual awareness with your job, family, and daily activities? Learn how to use simple tools to experience the hidden meaning, success and joy in everyday moments.
What you learn here can be used to transform your life on a daily basis. We look forward to sharing this time with you!
Ananda Yoga® to Awaken the Chakras
Friday, May 25 - Sunday, May 27
Within our astral, or energetic, spine are the seven centers of energy, the chakras–through which energy can flow either outward through the senses and activities, or inward and upward for spiritual awakening and personal growth. Led by Badri.
Ananda Yoga® in Nature
Friday, May 25 - Sunday, May 27

Absorb life force from the outdoors and through yoga, to feel yourself vibrant and ready for your next step in life. Watch this video of Vahini Om.
Archives:
No December eNotes, 2020
No April eNotes, 2020