November 2020 Newsletter
Get monthly news, tips for yoga and meditation, and stay up-to-date on our upcoming programs. Click here to subscribe.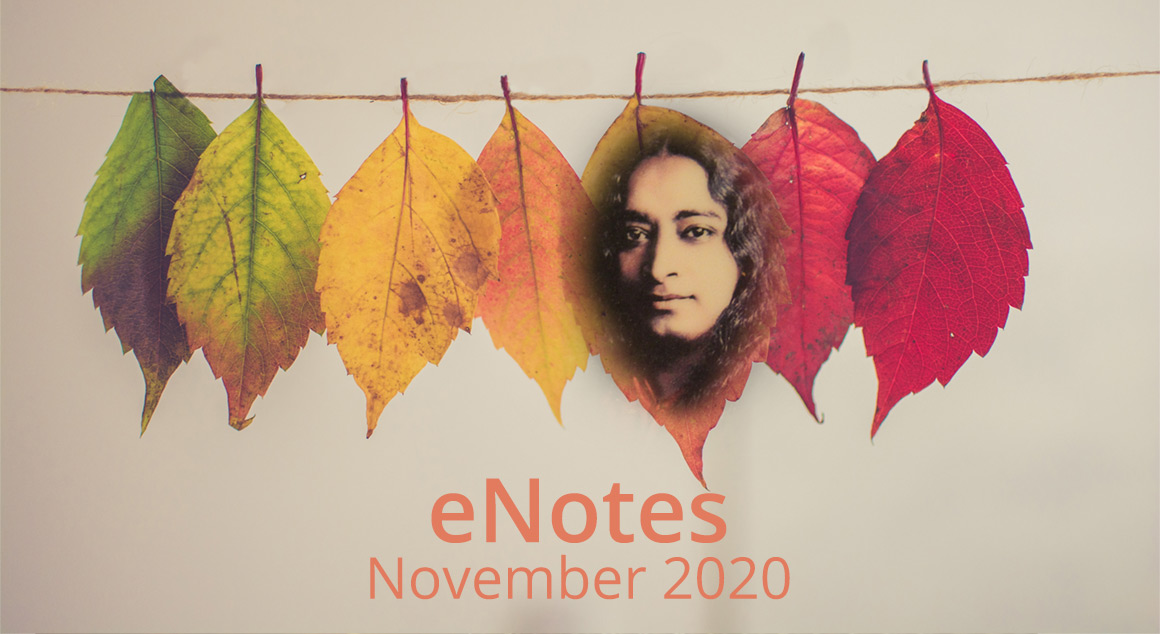 "You must not let your life run in the ordinary way; do something that no one else has done. something that will dazzle the world."
-Paramhansa Yogananda
Extraordinary online programs and trainings
The Inner Journey

- Conference for Self-Transformation
Dec 2 - 9, 2020
Join Jyotish, Devi and freinds for a weeklong exploration of the eight-fold Path of Self-Realization – the eight universal steps for higher consciousness. Customize your experience with many online interactive classes, guided Ananda Yoga sessions, and other inspirational material for fresh inspiration to live with greater harmony, confidence, and purpose. Join now and experience undreamed of potential within yourself.
New Years Program Online

: Find clarity, direction, and uplifting strength with Nayaswamis Gyandev and Diksha, and special New Years Eve Fire Ceremony host Nayaswami Krishnadas.

Leave behind the ho-hum (or raucous!) atmosphere of an ordinary New Year's, and let Nayaswamis Diksha and Gyandev lead you through an experience that's insightful, inspiring, and completely practical.
This perennial favorite—now offered online for the first time—is a perfect way to gain from your experiences of the past year, and empower yourself to achieve your goals in the coming year, all in a relaxed, supportive environment of other spiritual seekers.



Ananda Meditation Retreat Guided Silent Retreats in November


Nov. 5 – 8 and 19 – 22

Experience the nurturing quality of a Silent Retreat in a supportive COVID- safe group environment where you can still your mind and rejuvenate your spirit. Our meditation gardens and wild forest setting provide the perfect backdrop for you to go deep into silence and re-connect with your true reality… the soul's ever-existing Peace.
Take Charge of Your Life - Online

- January 16 - March 13 , 2021
led by Gyandev & Diksha McCord
This highly experiential course is perfect for you. You'll gain an entire toolbox of simple, yet powerful, techniques for working directly with subtle energy, the intelligent force that makes things happen in this world—and inside of you.

Watch this video for an introduction to this life-changing program.

Discover how to serve others super-consciously: 2021 Trainings and Special Programs
NEW!! Ananda Yoga Teacher Training ONLINE with Melody Hansen, Karen Buckner, Vahini Sleighter, and many other much-loved YTT faculty
January 14 - May 30, 2021 –

Now taking applications



A Transformative Experience to Expand and Share Your Inner Light
For more than 40 years, the Ananda School of Yoga & Meditation® faculty have been training students to become certified teachers of yoga, meditation, and spiritual counseling. The foundation of our approach is based in the full range of the yoga tradition as taught by Paramhansa Yogananda—from asana, pranayama, and meditation, to health and yoga philosophy. This online certificate training experience is a dynamic best-practice professional training focused on your own personal and spiritual growth.
Online Meditation Teacher Training

- January 20 – March 31, 2021 with Nayaswamis Diksha and Gyandev
Change your life—and help others find inner peace and joy
"I have greatly enjoyed Ananda's Meditation Teacher Training course. The instructors are fantastic, and the course itself is very well put together. I had reservations about doing a certification online, but after finishing the course, I highly recommend it. Anyone looking to teach meditation or to take their own practice to the next level will be able to do so after completing this course." — V. S., Ontario, Canada
This highly engaging online training utilizes the very best practices for learning online. We invited a wide range of people who want to teach meditation to others:
Dynamic individuals who plan to teach public classes
Professionals who want to broaden their skillsets as psychotherapists, life coaches, nurses (nursing CE available), and other healthcare providers, social service workers, yoga teachers & therapists, healers & counselors.
People who want to teach friends, family, or colleagues
Others who simply want to deepen their own practice, not teach it
Inner Renewal Week has been moved to late March and will be online only. Spiritual Renewal Week will take place Online June 21 - 27, more details to come in early 2021.

Archives:
No December eNotes, 2020
No April eNotes, 2020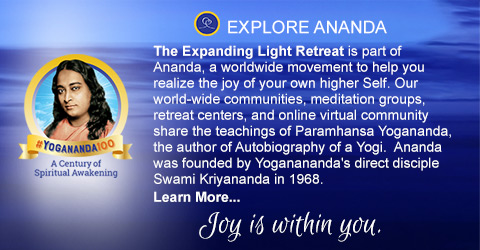 CONNECT
14618 Tyler Foote Rd
Nevada City, California 95959
Toll free 800-346-5350
Outside US 530-478-7518
SUBSCRIBE
Receive uplifting emails with inspirational content and news about our retreat programs, travels, and trainings.