July 2017 Newsletter
Get monthly news, tips for yoga and meditation, and stay up-to-date on our upcoming programs. Click here to subscribe.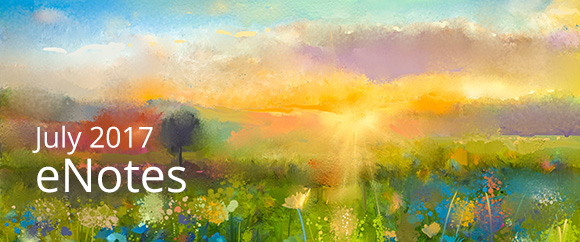 Dear friend,
We can't control a great deal of what happens in our lives. What we can have a lot of control over is how we respond to those things happening around us. Wishing and hoping won't get the job done. We need tools.
Happily, wonderful and proven tools are available. The teachings of Paramhansa Yogananda as shared by Swami Kriyananda provide just these tools. The teachers at The Expanding Light are living these practices and know how to share them with our guests. Is it time for you to visit or visit again? The upcoming programs listed below are geared toward helping you take more control of your life and live a more joy-filled life.
Are you often caught by negative thoughts? Once they grab you, it can be hard to shake them loose. Recognizing when our own thoughts have turned south is the time to turn them around. Breathe, raise your energy, focus between the eyebrows. Decide to live in positive energy and send blessings instead. Do that enough times and you'll find far fewer negative thoughts pulling you down.
Joy is ours to claim. Tools work only when we use them. Pick up a tool and use it. Your life will improve. That will make you want to pick up another tool.



Blessings,
Nityananda



Join us this summer and add some new powerful spiritual tools to work with to improve your life – here is a sample of 3 programs. More than 17 programs in July & August – plus Personal Retreat.
Spiritual Renewal Week August 6 - 13

Changing Consciousness: Transforming Your Life Through Meditation
"The feeling of openness and the welcoming nature of the Ananda environment and people made my experience so beautiful! ALL the classes and talks were helpful and inspiring. I felt great love and support from all of the staff and community members."


Come and join with hundreds of people from around the world in a week of joyful learning and practice of the teachings of Paramhansa Yogananda.

The Expanding Light is always filled with an atmosphere of divine joy that enhances spiritual development. During Spiritual Renewal Week these blessings are amplified. The heart and soul of Expanding Light retreats for over 40 years. Learn More...
Spiritualize Your Daily Life Retreat July 16 – 21, 2017
Attitudes for Everyday Joy and Success
Spiritualizing your day-to-day activities may seem elusive, but only when you look for happiness in the wrong place—outside of yourself. When you gain the simple tools to re-focus your energy inward, you discover that a deeply fulfilling happiness is part of your own nature. Learn More...
Every year we joyfully welcome hundreds of first time guests to The Expanding Light Retreat. We've crafted a number of programs that are especially supportive and expansive for first time guests.
First-Timers' Week Jul 16 –21 & First-Timers' Weekend Sept 1–3

Visit and learn about Ananda Meditation, Ananda Yoga, our holistic approach to wellness and spirituality. Come and Be Inspired by our uplifting staff and joyful environment at Ananda Village. Here is what one of our first time guests shared about their experience:

"I wanted to thank you again for a wonderful and insightful week at The Expanding Light. I really enjoyed being in your presence, and I'm grateful for the tools you've shared with me. I feel like I've finally caught a glimpse of the light inside of me—a light I've been chasing all of my life. As long as I can remember, I've sensed there was something very special and powerful inside of me, but I didn't know how to reach it. You have all truly blessed me with a deep and spiritual awakening. Ananda is a very special place, and I hope I can hold onto as much of it as possible."
— Shauna, Oakland, CA
Personal Retreat
Choose what dates work for you, and stay as long as you would like.
Many first time guests come for a personal retreat stay which offers a very flexible schedule of programs you can attend, or not. Three beautiful vegetarian meals each day, morning and afternoon guided gentle yoga and meditation, and a talented staff to answer your questions and direct you to walks in nature, visits to our gardens & shrines, and more. Your uplifting vacation awaits…
Our inspiration videos were created to help change the world!
Please Like and Share Our YouTube Channel - Thanks!
Archives:
No December eNotes, 2020
No April eNotes, 2020