June 2019 Newsletter
Get monthly news, tips for yoga and meditation, and stay up-to-date on our upcoming programs. Click here to subscribe.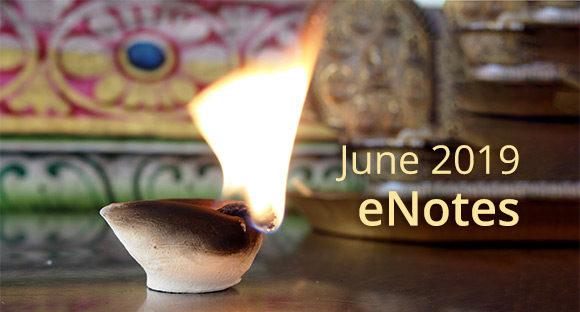 Dear Friends,
Nayaswami Devi once said "You can count on maya to never fulfill its promise." The solution is to attune to what God wants and to cooperate with that. God wants to flow through us.

By attachment to the world around us, we build our own prison. Through devotion to God and service to others, we free ourselves.

The great saints are often people who are living hundreds of years ahead of their time, to build energy and provide an example. They show us that we can live on a higher plane, wherever we are now.

Where are looking to find your happiness and fulfillment?

Blessings,
Nayaswami Nityananda
Can you help us by contributing to Ananda Village's new Temple of Light? We are about $425,000 short of what is needed. The Temple will serve Ananda Village and the greater community. The Temple building will include two meeting / teaching rooms, which will be used by The Expanding Light Retreat for our own programs, and by other departments within Ananda Village.

This residential yoga teacher training in California is much more than techniques. You'll be a full-time part of Ananda Village, one of the leading ashrams in the U.S. As you explore creative new ways to live your yoga, you'll be supported by the magnetism of an entire community of long-time yogis.
Of incomparable natural beauty, the Himalayas have been central to scriptures, myths, and legends of countless cultures and religions. Linked to Self-realized masters for thousands of years, these mountains embody spiritual aspiration and mankind's highest potential.

Watch the new video of the pilgrimage leaders, Nayaswamis Krishna Das and Mantradevi, talking about this very special experience. Please book soon.
The Chakras: Inner Guide to Self-Realization - June 7 - 9
Use visualization, affirmation, color and sound, music, breathing, and hatha yoga to help you attune more deeply to these astral energies.



Life Transitions: What's My Next Step?

- June 7 - 9
Gain important tools and insights for understanding yourself more deeply and better cooperate with the flow of your life. Learn how to move in a positive, growthful, and spiritually uplifting direction.

First-Timers' Week - June 9 - 14
A well designed getaway—with a blend of relaxation, inspiration, yoga postures, meditation instruction, and delicious vegetarian food—in a beautiful atmosphere.

Discover Your Own Happiness Retreat - June 14 - 16
Take a weekend for personal transformation. Learn how to experience happiness within you, and learn to find it amidst the many challenges of life.

Learn How to Meditate - June 14 - 16
Taught by Nayaswami Krishna Das
Meditation is our daily practice due to the tremendous benefits in enhancing mental clarity, inner peace, creativity, and overall physical health. Make it yours!

Cosmic Attunement: Summer Solstice - June 21 - 23
Clear Karma and Call Forth Your Greater Purpose
Cultivate your unique spiritual gifts and embody greater attunement with the heart's higher nature. Awaken inner senses, increase lifeforce, learn to harness and express divine power in every moment.

Therapeutic Yoga Retreat - June 21 - 23
Learn techniques of yoga to improve your health in body, mind, and spirit. Discover the healing power of posture, movement, energy flows, breath, self-talk, and focus.

How to Know and Trust Your Inner Guidance - June 28 - June 30
Intuition is a human faculty deeper than thought – the clear inner knowing of what is true, a skill that can be learned and developed.



Living from the Inside Out Retreat

- July 12 - June 14
Find Solutions to Life's Challenges
Learn and experience powerful laws of Spirit for discovering your highest potential and positive approaches to life.



The 50th Anniversary of Ananda Village and Dedication of New Temple of Light

- June 30 - July 7
50 Years of Spreading the Light
Join us for a glorious week that includes the dedication of Ananda's Temple of Light; the 50th anniversary of Ananda Village, birthplace of Ananda Worldwide; and elements of Spiritual Renewal Week rolled into one.





Upcoming Trainings with:


ANANDA SCHOOL OF YOGA & MEDITATION:



Restorative Ananda Yoga® Teacher Training




June 12 - 15

CEU

credits
Restorative yoga is a popular way for beginning through advanced yoga students to experience true relaxation - often the most difficult skill to master.



Ananda Meditation® Teacher Training




June 16 - 28

CEU

credits
Meditation teachers are in demand— why not become one? Gain the skills and confidence to share your knowledge with people from all paths and backgrounds. With a highly trained and experienced teaching staff.



Bridge to Ananda Yoga®




July 14 - 21




CEU

credits
Teachers of other styles of yoga often want to transfer into Ananda's Level 2 Yoga Teacher Training or Ananda Yoga Therapy Training after they've experienced the gentle power and depth of Ananda Yoga.
Archives:
No December eNotes, 2020
No April eNotes, 2020