December 2017 Newsletter
Get monthly news, tips for yoga and meditation, and stay up-to-date on our upcoming programs. Click here to subscribe.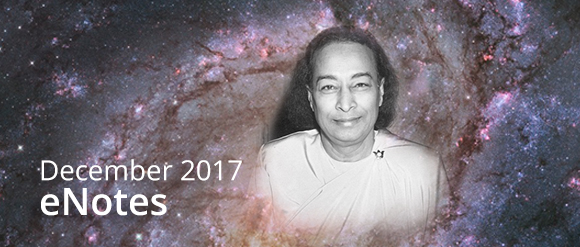 Dear friend,
Do you want to live a better life? Do you feel you are too often caught up in the challenges of modern living? Do you question whether you are good enough? Are you always worrying about whether you are going to "make it?" Do you want to live a happier life: more centered, more calm, more satisfying? There is a way.

Live for a higher purpose. You do not have to quit your job. You do not have to join a monastery. You do, however, have to consciously make some changes.

Change your priorities. Change what you think is most important. Dedicate yourself to a new direction. When you fall short, pick yourself up and keep going. Stop letting your emotions drive your life. It is not always easy. However, sustained effort always brings results. Make the commitment. Life is a challenge no matter what you do! Why not at least live it for better reasons? You'll be happier.

Take steps. Build your toolbox. Get some help.

Learn How to Meditate. Techniques for Peace of Mind and Balanced Living.
Live from the Inside Out. Find Solutions to Life's Challenges.
Join us for A Christmas of Inner Awakening. Experience Joy and Spiritual Community
Come to the Retreat for New Year Renewal: Relax, Recharge, Refocus.

One of the greatest moments of my life was when I became a disciple of Paramhansa Yogananda. I put my life in his hands. I do it again every day. It is so freeing!

No matter your path or your religion - put your life in God's hands. Live for more. As you move forward God's love will become more real for you. You will more deeply feel that you are secure in God. Then you can more deeply relax, and you'll find yourself finding more enjoyment in what you do.



Blessings on your path,
Nityananda

Sharing Inspiration

Ananda received the Global Ambassador Peace Award for "the inspiring ways Ananda brings Paramhansa Yogananda's spiritual wisdom to life today."
Nayaswamis Jyotish and Devi accepted the award from the Institute of International Social Development at the United Nations Church Center in New York City.
Join us today in sharing the exciting news!
Ananda Yoga® Therapy Training
Certification Training to become a Yoga Therapist
Are you a yoga teacher ready for a change? Would you like to use Ananda Yoga as a therapeutic approach to help more of your clients?
Imagine a career where ...
you help people find a completely new relationship with their bodies and minds, and soar to new heights spiritually
your clients leave happier and more balanced than when they arrived
you could work out of your home, in a studio, or a medical setting
you can be your own boss and set your own hours, part-time or full-time
Yoga and yoga therapy are becoming more popular and accepted. Growth over recent years has been almost exponential. The demand for highly trained yoga therapists is growing in a wide variety of fields, including schools, clinics, and hospitals. For more information

No matter where you are located, the Ananda Virtual Community will enrich and deepen your spiritual life. Live streaming of special events, book study groups, daily satsangs are all based on the teachings and inspiration of Paramhansa Yogananda and his direct disciple, Swami Kriyananda. Be the change and join us for a free 14-day trial, register here.

Archives:
No December eNotes, 2020
No April eNotes, 2020