Prerequisite: Level I Ananda Yoga® Teacher Training graduate, completed a 200-hour YTT with a Registered Yoga School, or permission of the instructor.
Yoga Alliance RYT's and E-RYT's: This course will offer continuing education credit. Details coming soon. This course is currently not a required part of either Ananda Yoga Teacher Training Level 2 or Ananda Yoga Therapy Training.
Ananda Yoga® Prenatal Teacher Training is Unique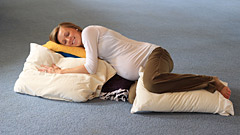 Our training distinguishes itself from other programs in that it gives you the opportunity to work hands-on with prenatal yoga students.
This means you'll immediately get to put into practice what you learn:
The anatomy and physiology you need to know
Practice teaching prenatal asanas and pranayama
How to support the spiritual and emotional needs of mothers-to-be
Safely assisting and adjusting your students
Private vs. group classes
Ananda® Yoga Prenatal Teacher Training is a comprehensive foundation program that will leave you feeling well able to support prenatal yoga students. This course will benefit both yoga teachers, and those who want to become prenatal yoga instructors.
Your first class for this course is at 4:30 pm.
Nursing CEU Eligible: 12 hours

Being a Prenatal Yoga Teacher is incredibly rewarding!
Experience the emotionally fulfilling work of being a Prenatal Yoga Teacher
Learn traditional yoga as well as the latest in scientific research and safety
Benefit from modifiable, successful class plans for group and privates classes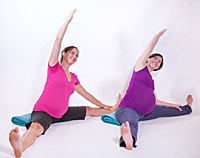 Empower your students with courage, love, and the yoga tools and techniques for a positive pregnancy, labor, and birth experience.
Help mothers bond with their infants
Learn when to refer
Create a community of support for your students
Learn Yoga remedies for common complaints/discomforts
Feel confident with newfound skills and mentoring
Observe experienced prenatal yoga teachers and yoga therapists in action
Receive online peer and mentoring support from your instructors after the course
This training may fulfill required or elective hours in some Yoga Therapist Training Programs. Please check with your Yoga Therapist program director to find out more.
Lead teacher, Nicole DeAvilla E-RYT 500, RPYT, RCYT, has been interviewed as a Prenatal and Postpartum expert in Prevention magazine and the San Francisco Chronicle. Nicole has also appeared on TV and blog talk radio as an author, yoga therapist, stress reduction expert, and has worked in Parent Education. She wrote the article Prenatal Yoga: Are You Ready for the Good News? .
One of the pioneers in prenatal yoga teacher training, Nicole, was on the Yoga Alliance Committee that wrote the Prenatal Yoga Standards. She also served on the International Association of Yoga Therapists Accreditation Committee.
Melody Hansen will co-lead the Ananda Yoga Prenatal Teacher Training Program with Nicole. She is a certified yoga therapist with I-AYT, who discovered her passion for prenatal yoga during her own pregnancy in 2013.
During this training, you'll observe Melody leading a prenatal yoga retreat program for mothers-to-be. You'll also have the opportunity to help assist and adjust prenatal yoga students in Ananda Yoga postures and restorative yoga. On the final day of the course you'll work one-on-one with a prenatal yoga student to help her develop a personalized home practice plan.
For more information, please send us a Question or Comment:

Receive monthly news and inspiration.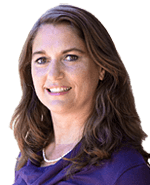 Registered Yoga Teacher, E-RYT 500, C-IAYT, Certified Ananda Yoga Therapist

E-RYT500, RPYT = Registered Prenatal Yoga Teacher, RCYT = Registered Children's Yoga Teacher
Nicole completed her initial Ananda Yoga(R) Teacher Training in 1984 at The Expanding Light Retreat. She has a background in Sports Medicine Research, chiropractic physiotherapy, dance, track, writing and parent education.


Pioneer yoga instructors in prenatal/postpartum yoga and yoga therapy. She teaches advanced teacher training in yoga therapy and prenatal/postpartum yoga and private instruction to yoga teachers. Nicole teaches students of yoga from beginners to advanced
Former member International Association of Yoga Therapists Accreditation Committee – charged with implementing the new Educational Standards for Yoga Therapists
Faculty for Ananda Yoga Therapist Training and Prenatal Yoga Training at the Ananda School of Yoga & Meditation
Yoga Researcher, Author of numerous articles and blog posts
Public Speaker

Accreditation:
E-RYT500 = Experienced Yoga Teacher having completed a minimum 500 hour training, has at least 2000 hours of teaching experience and has taught at least 4 years since graduating.

Nicole's hours, training and experience far exceed these minimum requirements with nearly 30 years of teaching and 25 years of training yoga teachers and yoga therapists she has over 10,000 hours of experience
RPYT = Registered Prenatal Yoga Teacher
RCYT = Registered Children's Yoga Teacher

Testimonials:
"Nicole is an excellent, attentive instructor. She is detailed oriented and creative, able to give exactly what I was asking about!"A.P.
"Nicole is an amazing teacher. She is very knowledgeable. I learned a lot more about yoga and proper alignment in one weekend than in my 5 years of yoga practice."A.C.
"Nicole is knowledgeable, informative, friendly, and a wonderful example of spirituality."KL
"I enjoyed the personal attention."


See all programs, articles, and full bio of Nicole DeAvilla.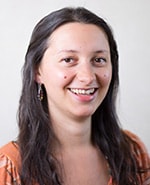 Director of Ananda Yoga® Teacher Training, Director of Restorative Yoga Teacher Training, Level 2 Ananda Yoga Teacher, E-RYT 500, C-IAYT, Certified Ananda Yoga Therapist, Ananda Meditation® Teacher
Melody is an extraordinary yoga teacher, who conveys her great knowledge of yoga asanas—from physical mechanics to spiritual upliftment—with a blend of graciousness, authority, and fun. One of Melody's greatest strengths is the purity of her transmission of Yoga. She has very little egotism to block the clear flow of inspiration she shares. Her inner life is committed and deep, and she's able to help students experience that depth in their yoga practice.
No dates scheduled for Ananda Yoga® Prenatal Teacher Training at this time.
Prices are all-inclusive and cover accommodations, meals, classes or activities, and course materials.
Ananda Yoga® Prenatal Teacher Training starts the afternoon of the first date listed and ends with lunch on the last date listed. Check-in is anytime between 1:30 p.m. and 4:30 p.m. at our Front Desk. Your room will be available by 3:00 p.m. Dinner is at 6:30. The first gathering of your group is after dinner.
Please see:
You can add extra personal retreat days before and/or after your program. Check availability and costs for the days and accommodations that you require.
Ananda Yoga® Prenatal Teacher Training starts the afternoon of the first date listed. It's ideal to arrive before 4 pm, if you are able to. That way, you can join in the afternoon session of yoga and meditation, which begins at 4:45 pm. Dinner is at 6:30. The first real gathering of your group is at 7:30 pm. If you need to arrive here after 5 pm, that's fine, but it helps us if you let us know at 800-346-5350. We can also put aside a dinner for you if you need to arrive after 7 pm. The program ends with lunch on the last date. Please see our Daily Schedule.
See Transportation and Directions whether you are coming by plane, car, bus or train. Our Frequent Questions page answers many of the questions you might have about How to Go on Retreat.
Yoga Teacher Training Articles