Dates
Jun 7 – 9, 2019
Aug 9 – 11, 2019
Nov 22 – 24, 2019
Tent
RV
Standard
Shared
Standard
Private
Deluxe
Shared
Deluxe
Private
$262
$340
$468
$430
$602
In this retreat, you'll learn more about what the chakras do, and you'll be guided through experiences of them on progressively deeper levels.
You'll experience how to:
Locate and un-block your chakras
Increase the flow of life-force in your astral body
Use your core energies for healing of body and mind
You will also receive a copy of of the Chakras Workbook by Savitri Simpson.
What our guests say:
I want to tell you what a fantastic experience I had at The Expanding Light this last weekend! I feel like a different person, and I am recommending The Expanding Light to others. The Chakras workshop was enlightening, and Maria is a wonderful person and instructor. I am sure I will return to The Expanding Light soon.—Bev A
Tip for tuning into The Chakras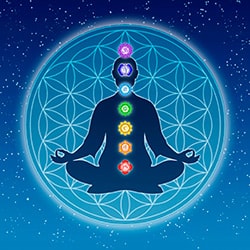 Here is a simple technique for tuning into this great source of power and enlightenment. Start at the coccyx center, at the base of the spine, and slowly work your way up, mentally chanting AUM at each chakra. As you do so, try to actually feel energy at that point. It will help if you feel that the sound of AUM and even your breath is emanating from that center. When you reach the point between the eyebrows, concentrate there for a time and then slowly work your way down, again mentally chanting AUM at each chakra. Do this, going up and then down, several times. End the final round at the spiritual eye, and then continue to meditate at that point for as long as possible.
Learning Online Option:
For those who need the convenience of taking this course online, you can also take this series with Nayaswamis Maria or Savitri through Ananda Online. Click here for the Chakras series.
For more information, please send us a Question or Comment:

Receive monthly news and inspiration.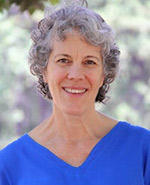 Nayaswami Maria McSweeney was born in Pacific Palisades, California. She attended Lewis and Clark College in Portland, Oregon, attaining a Bachelor's Degree in Biology. During college, she was an exchange student in Ecuador for 6 months.

or e-mail or call us at 1-800-346-5350
Costs (HECH)
Costs are on a per person basis.
Jun 7 – 9, 2019
Aug 9 – 11, 2019
Nov 22 – 24, 2019
Tent
RV
Standard
Shared
Standard
Private
Deluxe
Shared
Deluxe
Private
$262
$340
$468
$430
$602
Prices are all-inclusive and cover accommodations, meals, classes or activities, and course materials.
The Chakras: Inner Guide to Self-Realization starts the afternoon of the first date listed and ends with lunch on the last date. Please see:
Pick up & drop off at Sacramento Airport. Click links for details.
You can add extra personal retreat days before and/or after your program. Check availability and costs for the days and accommodations that you require.
The Chakras: Inner Guide to Self-Realization starts the afternoon of the first date listed. It's ideal to arrive before 4 pm, if you are able to. That way, you can join in the afternoon session of yoga and meditation, which begins at 4:45 pm. Dinner is at 6:30. The first real gathering of your group is at 7:30 pm. If you need to arrive here after 5 pm, that's fine, but it helps us if you let us know at 800-346-5350. We can also put aside a dinner for you if you need to arrive after 7 pm. The program ends with lunch on the last date. Please see our Daily Schedule.
See Transportation and Directions whether you are coming by plane, car, bus or train. Our Frequent Questions page answers many of the questions you might have about How to Go on Retreat.
RELATED PROGRAMS