Life Transitions: What's My Next Step?

Dates
Are you in a life transition? Is it time to find your next step or your life's true purpose? Are you drawn in a new direction but don't quite know how to make it come about?
We'll work with you to develop inner tools to:
Restore your energy and enthusiasm after a challenging time
Find guidance from your highest intuitive knowing
Open doors for new and creative ideas to come in
Magnetize what you truly want
You will experience and learn:
Meditation techniques for clearing and focusing your mind
How to work with subconscious thought patterns to make permanent changes
Affirmations and the power of directive thinking
How to introspect effectively
To call on and receive inner guidance
To differentiate between desire and true guidance
Techniques to increase your energy and magnetism
Life Transitions program will include classes, group discussions, introspection exercises, restorative yoga, and outdoor nature experiences. You will leave having created an action plan for your life transition.

Embracing the process, individually and with support, can help you intuit which door might be ready to open. It's time now to greet a life filled with the greatest blessings you can imagine.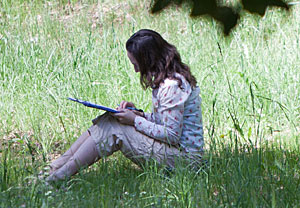 From previous participants in Life Transitions:
The weekend was very inspiring and provided a wealth of tools and techniques. Thank You, Mantradevi, for providing such a warm and stimulating atmosphere of learning. I have been making some changes in my daily routine in an effort to create some new habits! With time, meditation, and continued practice, I am hopeful that my next steps in my own Life Transitions will begin to manifest. —C.L., Fresno, CA
I really got a lot out of this weekend retreat. I was delightfully surprised how much ground was covered in such a short amount of time. Classes were filled with opportunities to discuss, meditate, write, think, and learn. There were exercises and activities to structure and focus a plan to move forward and the peace to work on it with a clear soul. The day I returned home, I was able to start implementing some of the things that I had worked on. — J.F., Alameda, CA
This was just what I needed to refocus and consider just what my Next Step shall be. Certainly it will include discarding old habits and behaviors and mindsets which no longer serve me. I'm also totally revamping my apartment into a soul serving soothing sanctuary. — J.V.B., San Francisco, CA
Mantradevi, thank you for creating a safe and nurturing environment where we could feel comfortable to share. That is why I keep returning year after year. The Expanding Light is the one place I feel I can be my true self and feel 100% safe, non-judged, nurtured, and supported in my life journey. —Alice J.
More details about your reservation for Life Transitions: What's My Next Step?

or e-mail or call us at 1-800-346-5350
Costs (NEXT)
Costs are on a per person basis.
Tent
RV
Standard
Shared
Standard
Private
Deluxe
Shared
Deluxe
Private
$252
$318
$450
$410
$592
Prices are all-inclusive and cover accommodations, meals, classes or activities, and course materials.
Life Transitions: What's My Next Step? starts the afternoon of the first date listed and ends with lunch on the last date. Please see: