Dates
Tent
RV
Standard
Shared
Standard
Private
Deluxe
Shared
Deluxe
Private
$272
$350
$478
$440
$612
Spiritualizing your day to day activities may seem elusive, but only when you look for happiness in the wrong place—outside of yourself. When you gain the simple tools to re-focus your energy inward, you discover that a deeply fulfilling happiness is part of your own nature.
You will learn and experience:
An extremely effective, classical technique of meditation taught by Paramhansa Yogananda.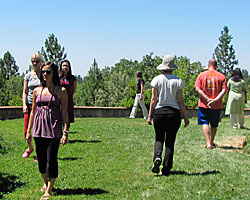 How to be positively magnetic using simple affirmations that re-train the brain
Walking meditation to draw more uplifted awareness and creativity to your life
Seeing the Divine Hand in your own life and in each person's unique expression
Guided sessions of Ananda Yoga that re-instill deep calm and rejuvenation to the body and spirit
Techniques to draw upon your own intuitive guidance.
Do you like the idea of blending a deep spiritual awareness with your job, family, and daily activities? Learn how to use simple tools to experience the hidden meaning, success and joy in everyday moments.
What you learn here can be used to transform your life on a daily basis. We look forward to sharing this time with you!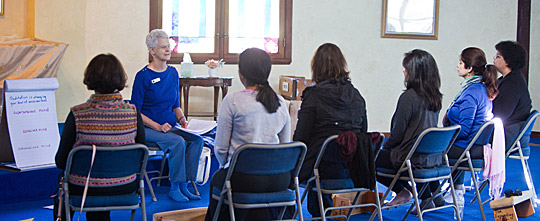 For more information, please send us a Question or Comment:

Receive monthly news and inspiration.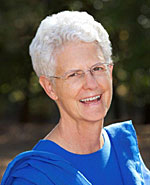 Ananda Minister and Counselor, Ananda Meditation Teacher
Nayaswami Mukti is a certified Ananda Meditation teacher and has worked for years in Ananda's ministry, teaching a variety of classes in Ananda meditation groups and in programs at The Expanding Light. Her warm and caring nature, her lively sense of humor, and her clear-minded and practical approach to applying the spiritual teachings in one's own life win her retreat weekends rave reviews.

or e-mail or call us at 1-800-346-5350
Costs (SYDL)
Costs are on a per person basis.
Tent
RV
Standard
Shared
Standard
Private
Deluxe
Shared
Deluxe
Private
$272
$350
$478
$440
$612
Prices are all-inclusive and cover accommodations, meals, classes or activities, and course materials.
Spiritualize Your Daily Life Retreat starts the afternoon of the first date listed and ends with lunch on the last date. Please see:
You can add extra personal retreat days before and/or after your program. Check availability and costs for the days and accommodations that you require.
Spiritualize Your Daily Life Retreat starts the afternoon of the first date listed. It's ideal to arrive before 4 pm, if you are able to. That way, you can join in the afternoon session of yoga and meditation, which begins at 4:45 pm. Dinner is at 6:30. The first real gathering of your group is at 7:30 pm. If you need to arrive here after 5 pm, that's fine, but it helps us if you let us know at 800-346-5350. We can also put aside a dinner for you if you need to arrive after 7 pm. The program ends with lunch on the last date. Please see our Daily Schedule.
See Transportation and Directions whether you are coming by plane, car, bus or train. Our Frequent Questions page answers many of the questions you might have about How to Go on Retreat.
RELATED PROGRAMS