Spiritualize Your Daily Life Retreat

Attitudes for Everyday Joy and Success
Not scheduled at this time.
with Nayaswami Mukti
Spiritualizing your day to day activities may seem elusive, but only when you look for happiness in the wrong place—outside of yourself. When you gain the simple tools to re-focus your energy inward, you discover that a deeply fulfilling happiness is part of your own nature.
You will learn and experience:
An extremely effective, classical technique of meditation taught by Paramhansa Yogananda.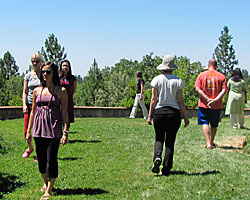 How to be positively magnetic using simple affirmations that re-train the brain
Walking meditation to draw more uplifted awareness and creativity to your life
Seeing the Divine Hand in your own life and in each person's unique expression
Guided sessions of Ananda Yoga that re-instill deep calm and rejuvenation to the body and spirit
Techniques to draw upon your own intuitive guidance.
Do you like the idea of blending a deep spiritual awareness with your job, family, and daily activities? Learn how to use simple tools to experience the hidden meaning, success and joy in everyday moments.
What you learn here can be used to transform your life on a daily basis. We look forward to sharing this time with you!
What previous guests have said:
"I just returned from a program run by Mukti called Spiritualizing Your Daily LIfe. I learned (and relearned!) many spiritual tools to use when dealing with life's challenges. Mukti taught the program in a very uplifting and positive manner. I would recommend this program for anyone wanting to bring spirituality into their daily activities." Geri
"I found the workshop to be most useful to me at this point in my life. It was a good follow-up for me to some difficult challenges I had last year which I'm still processing. Some things I had heard before but needed to hear them again. I very much enjoyed and benefited from the Four Pillars discussions and exercises. It gave me some concrete things to bring back with me and put into practice. The discussion and suggestions around using affirmations was particular pertinent to me right now. And I loved the walking affirmation. It's a wonderful new tool for me to use.
"I am feeling refreshed and renewed after my visit to Expanding Light. I have been there many times and each time is a little different. I find I always experience just what I need to experience while there.
"Thank you for your openness and giving nature." J.G.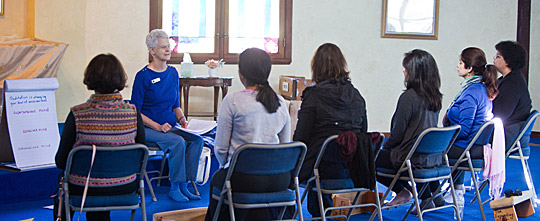 For more information, please send us a Question or Comment:

Receive monthly news and inspiration.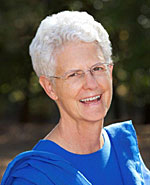 Inspirational teacher and retreat leader, Ananda Meditation Teacher, Ananda Minister and Spiritual Counselor
Nayaswami Mukti has been creating and leading a variety of inspirational retreats at The Expanding Light Retreat for the past many years. The themes and facets of her retreat programs reflect her own long-term and deep exploration to let every aspect of her life flow from a deep Kriya Yoga meditation practice. Her life has been one of uplifting service ranging from her full-time career as a speech therapist, to being a key member of the Ananda Music Ministry and to her out-reach to Ananda Meditation groups.
See all programs, articles, and full bio of Nayaswami Mukti.
No dates scheduled for Spiritualize Your Daily Life Retreat at this time.
Prices are all-inclusive and cover accommodations, meals, classes or activities, and course materials.
Spiritualize Your Daily Life Retreat starts the afternoon of the first date listed and ends with lunch on the last date listed. Check-in is anytime between 1:30 p.m. and 4:30 p.m. at our Front Desk. Your room will be available by 3:00 p.m. Dinner is at 6:30. The first gathering of your group is after dinner.
Please see:
You can add extra personal retreat days before and/or after your program. Check availability and costs for the days and accommodations that you require.
Spiritualize Your Daily Life Retreat starts the afternoon of the first date listed. It's ideal to arrive before 4 pm, if you are able to. That way, you can join in the afternoon session of yoga and meditation, which begins at 4:45 pm. Dinner is at 6:30. The first real gathering of your group is at 7:30 pm. If you need to arrive here after 5 pm, that's fine, but it helps us if you let us know at 800-346-5350. We can also put aside a dinner for you if you need to arrive after 7 pm. The program ends with lunch on the last date. Please see our Daily Schedule.
See Transportation and Directions whether you are coming by plane, car, bus or train. Our Frequent Questions page answers many of the questions you might have about How to Go on Retreat.