A Women's Retreat: Deepening Your Heart and Soul Strengths

A spiritual retreat that is refreshing beyond all other breaks—a revitalizing feast of Divine Mother energy. This marvelous weekend will focus on subjects that are unique to women. We will also reconnect with God and nature, and enjoy the 15,000 tulips blooming in the Crystal Hermitage gardens. The glorious tulips are radiant with light and incredibly healing and uplifting.
We'll share feminine wisdom and explore:
Balancing and increasing your energy

Ways to deal with reactions, emotions, feelings

Relationships of all kinds: personal, family, spouse, friends

Opening your heart and staying true to yourself

31 essential Secrets for Women (from the book by Swami Kriyananda)

Increasing your capacity for being a channel for wisdom and healing
Enjoy Divine Mother in Nature
Spend the afternoon renewing body, mind, and soul at Crystal Hermitage. Browse amongst the flowers and plants, enjoy tea and maple scones, and chat with newfound friends, or quietly enjoy the spectacular views.
This is an ideal weekend to share with a friend, a mother, or daughter and also to enjoy meeting newfound women friends. Yoga postures, meditation, and wonderful vegetarian food are staples of an Expanding Light visit.
If you've visited before and you bring a friend new to The Expanding Light, you both receive 15% off on your stay. Call 800-346-5350 to register.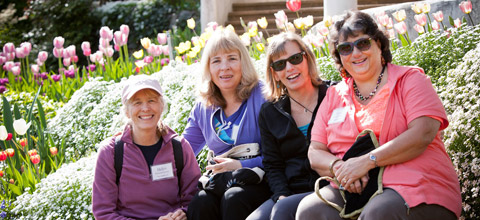 What do the flowers of Crystal Hermitage say to their admirers? They speak of a beauty and love that is beyond this world, of a peace and harmony that is an intrinsic part of our soul. —Devi Novak, spiritual co-director, Ananda
This retreat is led by Mantradevi. What she says about it: "Something magical happens when women gather together with a spiritual focus. The natural receptivity of the feminine heart quickly brings about a feeling of closeness to the Divine, and to each other. This type of retreat is definitely on my 'favorites list' to lead."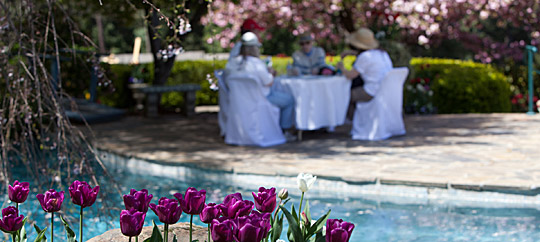 More details about your reservation for A Women's Retreat: Deepening Your Heart and Soul Strengths

or e-mail or call us at 1-800-346-5350
Costs (WRN)
Costs are on a per person basis.
Tent
RV
Standard
Shared
Standard
Private
Deluxe
Shared
Deluxe
Private
$252
$318
$450
$410
$592
Prices are all-inclusive and cover accommodations, meals, classes or activities, and course materials.
A Women's Retreat: Deepening Your Heart and Soul Strengths starts the afternoon of the first date listed and ends with lunch on the last date. Please see: