A Women's Retreat: Deepening Your Heart and Soul Strengths
Not scheduled at this time.
with Nayaswami Mantradevi
A spiritual retreat that is refreshing beyond all other breaks—a revitalizing feast of Divine Mother energy. This marvelous weekend will focus on subjects that are unique to women. We will also reconnect with God and nature, and enjoy the 15,000 tulips blooming in the Crystal Hermitage gardens. The glorious tulips are radiant with light and incredibly healing and uplifting.
We'll share feminine wisdom and explore:
Balancing and increasing your energy

Ways to deal with reactions, emotions, feelings

Relationships of all kinds: personal, family, spouse, friends

Opening your heart and staying true to yourself

31 essential Secrets for Women (from the book by Swami Kriyananda)

Increasing your capacity for being a channel for wisdom and healing
Enjoy Divine Mother in Nature
Spend the afternoon renewing body, mind, and soul at Crystal Hermitage. Browse amongst the flowers and plants, enjoy tea and maple scones, and chat with newfound friends, or quietly enjoy the spectacular views.

This is an ideal weekend to share with a friend, a mother, or daughter and also to enjoy meeting newfound women friends. Yoga postures, meditation, and wonderful vegetarian food are staples of an Expanding Light visit.
If you've visited before and you bring a friend new to The Expanding Light, you both receive 15% off on your stay. Call 800-346-5350 to register.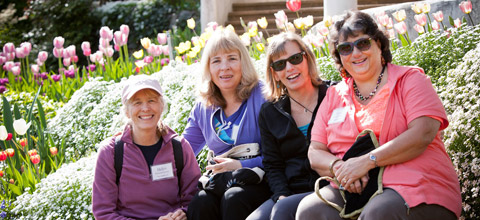 What do the flowers of Crystal Hermitage say to their admirers? They speak of a beauty and love that is beyond this world, of a peace and harmony that is an intrinsic part of our soul. —Devi Novak, spiritual co-director, Ananda
This retreat is led by Mantradevi. What she says about it:
"Something magical happens when women gather together with a spiritual focus. The natural receptivity of the feminine heart quickly brings about a feeling of closeness to the Divine, and to each other. This type of retreat is definitely on my 'favorites list' to lead."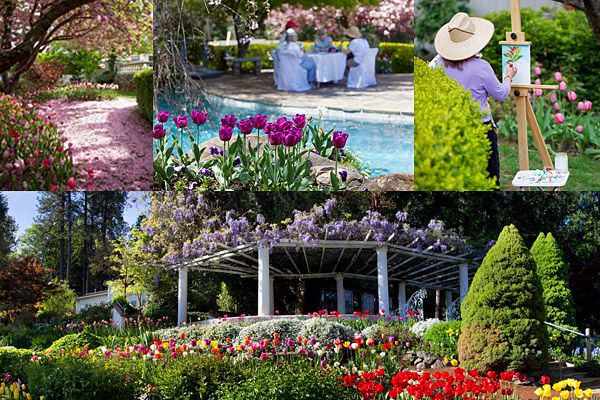 For more information, please send us a Question or Comment:

Receive monthly news and inspiration.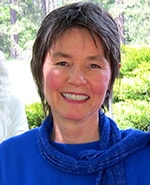 Personal Transformation Retreat Teacher, Spiritual Pilgrimage Leader, Ananda Minister and Counselor, Raja and Ananda Yoga® Teacher.
Nayaswami Mantradevi teaches with insight, clarity and joy, gained from over 35 years of meditating and sharing yoga philosophy. Her concern for others is one of her key qualities, and she has the innate ability to communicate and apply spiritual principles to real life situations. Her classes are creative and experiential, with humor and discussions keeping them lively and interactive.
See all programs, articles, and full bio of Nayaswami Mantradevi.
No dates scheduled for A Women's Retreat: Deepening Your Heart and Soul Strengths at this time.
Prices are all-inclusive and cover accommodations, meals, classes or activities, and course materials.
A Women's Retreat: Deepening Your Heart and Soul Strengths starts the afternoon of the first date listed and ends with lunch on the last date listed. Check-in is anytime between 1:30 p.m. and 4:30 p.m. at our Front Desk. Your room will be available by 3:00 p.m. Dinner is at 6:30. The first gathering of your group is after dinner.
Please see:
You can add extra personal retreat days before and/or after your program. Check availability and costs for the days and accommodations that you require.
A Women's Retreat: Deepening Your Heart and Soul Strengths starts the afternoon of the first date listed. It's ideal to arrive before 4 pm, if you are able to. That way, you can join in the afternoon session of yoga and meditation, which begins at 4:45 pm. Dinner is at 6:30. The first real gathering of your group is at 7:30 pm. If you need to arrive here after 5 pm, that's fine, but it helps us if you let us know at 800-346-5350. We can also put aside a dinner for you if you need to arrive after 7 pm. The program ends with lunch on the last date. Please see our Daily Schedule.
See Transportation and Directions whether you are coming by plane, car, bus or train. Our Frequent Questions page answers many of the questions you might have about How to Go on Retreat.