Prenatal Yoga Retreat
Not scheduled at this time.
with Melody Hansen
Empower and nurture yourself this weekend with the use of yogic tools and techniques for a positive pregnancy, labor, and birth experience.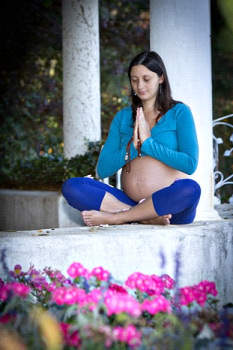 During this retreat you will:
Learn benefits and cautions of Prenatal Yoga
Learn remedies for common prenatal complaints
Connect more deeply with your baby through meditation
Learn how to breathe deeply and effectively to enhance overall health, and prepare for the challenge of birth
Learn positive affirmations to use while practicing yoga postures, and to use during pregnancy and labor
Practice two energizing and relaxing routines to work through resistance, and calm the body and mind
Learn bandhas or pelvic floor exercises (Kegals) specifically beneficial for expectant mothers and postpartum
Experience an evening of Restorative yoga to relax, unwind, and nurture your spirit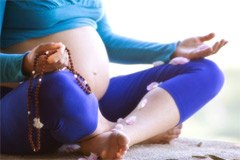 Many physical and emotional changes take place during pregnancy. Prenatal Yoga is about honoring these changes in ourselves and our body as we connect to baby throughout these nine months. In class, we will explore postures that stretch and strengthen our newly changing body in a safe way. We'll also work on finding focus through balance and the breath to connect mother and baby, and to prepare for a healthy, mindful, more natural approach to labor and birth.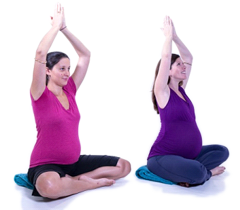 Doing prenatal yoga is a wonderful way to put time aside for yourself and your baby. This weekend offers an excellent opportunity to connect with other expectant mothers and to share information and experiences.
To complete the weekend, you'll receive two Take-Home modifiable Prenatal Yoga Routines to practice throughout your pregnancy. You'll also receive articles and a list of resources to help you prepare for childbirth and the joy of motherhood.
About the Instructor
Melody Hansen lives at Ananda Village with her husband, Kalidas, and their baby, Japa, who was born at home in January 2014. Melody has a unique natural birth story that she'll share with you during the program. Melody enjoys balancing her life as a new mother with daily meditation to help her stay even-minded and cheerful during the many duties of motherhood. She is grateful to share this special time with you.
What our guests say:

I came to this retreat to relax and spend some quiet, intentional time alone with my baby in utero. When I arrived I felt welcomed by the staff, and free to spend the afternoon as I pleased (which included taking a much-needed nap!) I noticed the first evening that I had trouble truly relaxing, but by the next day, I had left my "regular life" worries and concerns behind, and was able to relax and meditate more deeply than I have in years. Over the course of the weekend, thanks to Melody's wisdom and the atmosphere of the Expanding Light, I rekindled my connection to my spiritual self. That connection was a benefit I wasn't seeking or expecting, but it has helped me tremendously in getting back to my everyday life with a calm sense of purpose. After the retreat, I came home feeling more patient, kind, happy, and loving. I also felt more available as a mother, partner, and more grounded in myself. I would recommend this retreat to any expectant mother who wants to relax, feel nurtured, and connect with her baby and her own center. –Michelle, Portland, OR
Melody was wonderful. She was patient, kind, and nurturing, and had obvious passion and depth of knowledge for the material she taught. She also answered what I felt were some "BIG" questions with easy grace and wisdom. I am forever grateful for her guidance over my retreat weekend. –Kathryn, San Jose, CA
I was blessed to have a one on one prenatal yoga session with Melody a few weeks before my due date. I felt relaxed, rejuvenated and uplifted after just one hour. Not only was I able to give my body and mind a bit of much needed relaxation, Melody gave me tips to help me with my practice at home. I wish I had gone to prenatal yoga earlier in my pregnancy! The session helped me feel more comfortable and relaxed for the last couple weeks of pregnancy. Whether you have been practicing yoga for years or have never done a single yoga session, I am certain that you will enjoy and benefit from a class with her.
— Krishnabai, Nevada City, CA
Melody is not only an experienced teacher but also a caring friend and a mom herself. She lead our session with sensitivity, humor, and insight that only someone with those qualities could offer. I came away feeling more connected with my body, more relaxed, and confident in my capabilities. During pregnancy, I often felt like my limitations were emphasized by others. It felt empowering to be in an environment where instead, my body's differences and capabilities were honored. I feel grateful for the opportunity to interact with my body in a deliberate, meaningful way with Melody's guidance.
— Kristen, Auburn, CA
For more information, please send us a Question or Comment:

Receive monthly news and inspiration.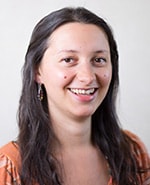 Director of Ananda Yoga® Teacher Training, Director of Restorative Yoga Teacher Training, Level 2 Ananda Yoga Teacher, E-RYT 500, C-IAYT, Certified Ananda Yoga Therapist, Ananda Meditation® Teacher
Melody is an extraordinary yoga teacher, who conveys her great knowledge of yoga asanas—from physical mechanics to spiritual upliftment—with a blend of graciousness, authority, and fun. One of Melody's greatest strengths is the purity of her transmission of Yoga. She has very little egotism to block the clear flow of inspiration she shares. Her inner life is committed and deep, and she's able to help students experience that depth in their yoga practice.
No dates scheduled for Prenatal Yoga Retreat at this time.
Prices are all-inclusive and cover accommodations, meals, classes or activities, and course materials.
Prenatal Yoga Retreat starts the afternoon of the first date listed and ends with lunch on the last date listed. Check-in is anytime between 1:30 p.m. and 4:30 p.m. at our Front Desk. Your room will be available by 3:00 p.m. Dinner is at 6:30. The first gathering of your group is after dinner.
Please see:
You can add extra personal retreat days before and/or after your program. Check availability and costs for the days and accommodations that you require.
Prenatal Yoga Retreat starts the afternoon of the first date listed. It's ideal to arrive before 4 pm, if you are able to. That way, you can join in the afternoon session of yoga and meditation, which begins at 4:45 pm. Dinner is at 6:30. The first real gathering of your group is at 7:30 pm. If you need to arrive here after 5 pm, that's fine, but it helps us if you let us know at 800-346-5350. We can also put aside a dinner for you if you need to arrive after 7 pm. The program ends with lunch on the last date. Please see our Daily Schedule.
See Transportation and Directions whether you are coming by plane, car, bus or train. Our Frequent Questions page answers many of the questions you might have about How to Go on Retreat.