Living from the Inside Out Retreat

Find Solutions to Life's Challenges
Jul 14 – 16, 2017
Dec 8 – 10, 2017
During this retreat, you will:
Learn meditation techniques to connect to your highest self
Explore tools and attitudes to maintain inspiration throughout the day
Look at attitudes that hold you back from higher awareness
Learn how to connect with your higher self—for better relationships, for harmony inwardly and outwardly, and to find solutions in daily life.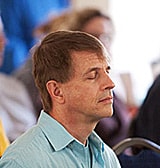 Don't be bogged down by negative emotions and old bad habits. A wonderful clarity and positive energy comes with dynamically connecting to your highest self. Even a little meditation and attention can open the door for you to discover a storehouse of solutions within yourself.
This will be a dynamic, joyful, and fun weekend, with tools to use for the rest of your life.
"Don't let others define you in their terms. Live by what you know of yourself, inwardly. Your abiding reality is the peace, love, and joy you have experienced in your own soul.
—Swami Kriyananda, Meditation for Starters
3 Tips for Living from the Inside Out
1. Take a few minutes of personal quiet time, noticing the flow of breath inside the nose, letting the world carry on without you. Make this a daily habit.
2. Notice negative thoughts and choose to release them. Discover new ways to approach a situation.
3. Place your index finger at the point between the eyebrows and concentrate (with relaxation) at that point. How do you feel?
From past guests:
"Wonderful, simple exercises that bring profound teachings. Clear, straightforward explanations." - Michael, Palo Alto, CA
"This coures is a well-sequenced, delightfully offered instruction. I felt at at ease while at the same time learning profoundly useful techniques. Interaction is offered with a kind invitation. We learned that this special gift of meditation is accessible to all, and that the skill is buildable with continued practice. We noticed this within the process of the class itelf, and so we can easily imagine how the practice can continue to grow one's connection to the superconsciousness or God in one's daily life. I highly recommend the class." - B.D., Sacramento, CA
"In a few simple descriptions, I understood the different types of influences within myself and techniques that could help me move toward higher consciousness. Very helpful and easy to understand." - K.S., Rescue, CA
"I gained a sense of peace, calmness, and insights for my personal practice - tools for balancing the inner and outer world, techniques to bring energy to higher consciousness." - V.H., Sacramento, CA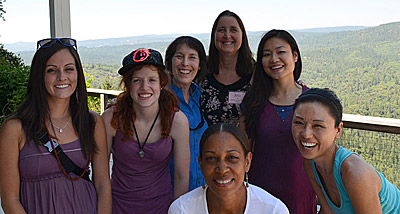 More details about your reservation for Living from the Inside Out Retreat

or e-mail or call us at 1-800-346-5350
Costs (SCL)
Costs are on a per person basis.
Jul 14 – 16, 2017
Dec 8 – 10, 2017
Tent /
RV
Standard
Shared
Standard
Private
Deluxe
Shared
Deluxe
Private
$252
$318
$450
$410
$592
Prices are all-inclusive and cover accommodations, meals, classes or activities, and course materials.
Living from the Inside Out Retreat starts the afternoon of the first date listed and ends with lunch on the last date. Please see: