First-Time Kriya Preparation Intensive
Not scheduled at this time.
with Devalila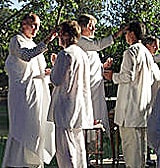 NOTE: To attend this program, you must have already completed steps one to four on the Path of Kriya Yoga and received approval from Ananda Kriya Sangha. The steps are: Lessons in Meditation, Art and Science of Raja Yoga, Course on Discipleship, and Preparation for Kriya Yoga. The steps can be done either at an Ananda Center, Online Classes, or Home Book-study —or some combination of those. E-mail Ananda Kriya Sangha for more information.
This dynamic, life-changing program is highly recommended for those about to take Kriya Initiation for the first time, as well as for Kriyabans who wish to recharge and deepen their Kriya practice. Kriya Initiation will be one of the most valuable steps in your life. This week will prepare you perfectly for your initiation. Kriya Yoga Initiation is included in this course for those eligible.
You will deepen your practice of all the techniques of our path (Energization Exercises, hong-sau, and AUM) and learn new Kriya preparation techniques, as well as immerse yourself in Yogananda's vibrations and the experience of Ananda Village.
Your week of spiritual upliftment also includes:
Classes on attunement, magnetism, and discipleship
Discipleship Renewal Ceremony in our sacred Lahiri Shrine
One-on-one personal Kriya Preparation consultation
Daily Kriya preparation meditations guided by Kriya ministers and other deep meditators
A special day of retreat before the Kriya Initiation Ceremony on Saturday
A personalized Kriya review and guided Kriya meditation after your initiation
If you have any questions about this program, please contact Devalila at the Kriya Sangha at 530-478-7624 or kriyayoga@ananda.org. We hope you will join us!
For more information, please send us a Question or Comment:

Receive monthly news and inspiration.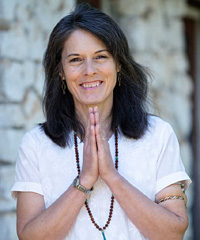 Devalila Veenhof, Director of Ananda Kriya Sangha for North and South America, has been practicing and sharing Paramhansa Yogananda's teachings for over 20 years. Devalila created and served as Director of Online with Ananda for nearly 10 years. In that role, she developed the Virtual Community, as well as generated and taught many online courses. She lives in Ananda Village with her husband, Vic. Devalila's great joy and gifts are in supporting and encouraging people, wherever they are spiritually, and helping them find their next step along their journey toward Self-realization.
No dates scheduled for First-Time Kriya Preparation Intensive at this time.
Prices are all-inclusive and cover accommodations, meals, classes or activities, and course materials.
First-Time Kriya Preparation Intensive starts the afternoon of the first date listed and ends with lunch on the last date listed. Check-in is anytime between 1:30 p.m. and 4:30 p.m. at our Front Desk. Your room will be available by 3:00 p.m. Dinner is at 6:30. The first gathering of your group is after dinner.
Please see:
You can add extra personal retreat days before and/or after your program. Check availability and costs for the days and accommodations that you require.
First-Time Kriya Preparation Intensive starts the afternoon of the first date listed. It's ideal to arrive before 4 pm, if you are able to. That way, you can join in the afternoon session of yoga and meditation, which begins at 4:45 pm. Dinner is at 6:30. The first real gathering of your group is at 7:30 pm. If you need to arrive here after 5 pm, that's fine, but it helps us if you let us know at 800-346-5350. We can also put aside a dinner for you if you need to arrive after 7 pm. The program ends with lunch on the last date. Please see our Daily Schedule.
See Transportation and Directions whether you are coming by plane, car, bus or train. Our Frequent Questions page answers many of the questions you might have about How to Go on Retreat.