Restorative Yoga Teacher Training

3-days
Yoga Alliance RYT's and E-RYT's: This course offers 19 hours of continuing education credit.
Jun 14 – 17, 2017
Sep 27 – 30, 2017
Nursing CEU Eligible: 19 hours

This program is for certified yoga teachers (200-hour), and requires a completed application and approval of instructor. If you are not a Level I Ananda Yoga® Teacher Training graduate, instructor permission is required.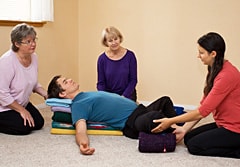 To register: Click the 'Register Now' button and create an account if you don't already have one. Then complete the application - we will get back to you quickly. You may also call us at 800-346-5350 or 530-478-7518, or e-mail us.
Expand Your Skill Set with Restorative Yoga
Restorative yoga is becoming increasingly popular as way for beginning through advanced yoga students to experience true relaxation – often the most difficult skill to master. As stress and tension are released, healing and upliftment are promoted in body, mind, and spirit. Whether you plan to offer one or a series of restorative poses, this Restorative Yoga Teacher Training can help you work more effectively with your existing students as well as attract new students.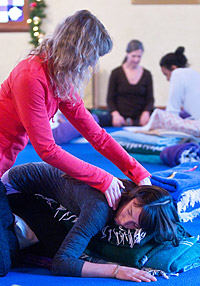 Learn to Teach Safely, Conscientiously, and Supportively
In Restorative Yoga Teacher Training you will learn:
How to teach 2 comprehensive Restorative Yoga routines, including how to guide and give instruction on breathing, proper alignment, and safety mechanics for asanas as well as their cautions and contraindications
How to sequence routines in a therapeutic way to enhance the well-being of the practitioner on all levels
How to work with a variety of props you'll actually be using in real-life situations
Recognize Your Students as Individuals
Restorative Yoga can be time consuming and prop-intensive for instructors. In this hands-on training you will explore the importance of knowing how to assist and adjust your students both carefully and efficiently. You will have the opportunity to:
Assist and adjust real yoga clients who need individual assistance
Observe the common complaints students may experience in restorative poses and offer students alternate ways to practice more safely and comfortably
Learn modifications and variations needed for students with special conditions
Student-teach restorative poses that focus on releasing specific physical and mental tensions
Experience the Depth
Yoga teachers love this training because they get to practice a lot of Restorative Yoga! They also get to feel what it's like to be nurtured and cared for in a Restorative class. During the course there will be time to: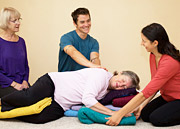 Experience the poses to understand the use of props and proper alignment
Use the breath to invoke the Relaxation Response
Practice teaching one-on-one and in groups
Learn beginning to advanced Restorative Yoga Poses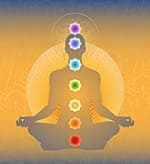 Heighten Your Teaching Ability
Learn to guide students in energy awareness
while teaching Ananda Yoga's unique Restorative routine for the Chakras
Use affirmations, visualizations, meditation, and music to deepen your own and your students' practice
Restorative Yoga Teacher Trainees will receive a thorough manual for the course, which includes fully illustrated photos of the asanas and their props, instructions and guidelines for: teaching, assisting and adjusting students in the asanas, cautions/contraindications and modifications, and more. All material that is covered in the course is available in the manual.
Ananda Yoga Teacher Training graduates will receive credits toward the 500-hour Level 2 Certification and also for Level 1 of Ananda Yoga Therapy Training.
This program begins with a special class at 4:30 pm.
Course is limited to 8 participants, so register early.

Course Schedule
Wednesday
4:30–6:00 pm Orientation & Introduction to Relaxation (at the St. Francis building)
7:30 pm Restorative Class
Thursday

9:30 am–12:30 Introduction to Restorative: The Basics & A Restorative Yoga Class
2–4:30 pm Review & Practice Teaching
7:10–9:15 pm Team Teaching
Friday
9:30 am–12:30 Restorative Yoga for the Chakras
2–4:30 pm Review & Practice Teaching
7:10–9:15 pm Team Teaching
Saturday
9:30 am–12:30 Quiz, Q & A, Other Poses, Home Practicum Assignment
For more information, see Course Syllabus.
"Melody is a gifted yoga teacher and a joy to learn from. She clearly articulates the essence of restorative yoga and how to guide others in a safe and supportive environment. Her enthusiasm for its benefits is infectious and will inspire you to share this treasure with your students."
— Michelle, Massachusetts
"In over 20 years of practice and 7 years of teaching yoga I have never encountered a technique more effective in calming, centering, and rejuvenating its practioner as Ananda Restorative Yoga. Through the excellent guidance of Melody I felt prepared, in a surprising short time, to incorporate Ananda Restorative Yoga into my classes. The benefits of calm, focus, and heightened awareness were immediate in my students and myself. This training greatly improved my teaching and my personal practice and I highly recommend it to yoga teachers of every style."
— Stephanie, Israel
Thank you Melody, for all of your energy, insight, and wisdom during our training this past weekend. I was feeling incredibly overwhelmed and nervous about beginning teaching this week after having such a long break since my 200-hr training. The restorative training really helped me rediscover my voice and confidence in my teaching ability and I feel completely prepared and re-inspired to serve my students.
—Alexandra, Grass Valley
More details about your reservation for Restorative Yoga Teacher Training

or e-mail or call us at 1-800-346-5350
Costs (YTTR)
Costs are on a per person basis.
Jun 14 – 17, 2017
Sep 27 – 30, 2017
Tent
RV
Standard
Shared
Standard
Private
Deluxe
Shared
Deluxe
Private
$399
$498
$696
$636
$909
Prices are all-inclusive and cover accommodations, meals, classes or activities, and course materials.
Restorative Yoga Teacher Training starts the afternoon of the first date listed and ends with lunch on the last date. Please see:


Restorative Yoga Teacher Training Testimonials
Read...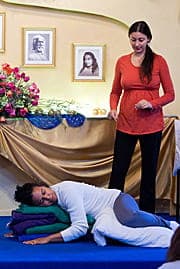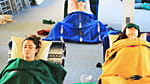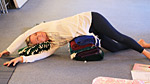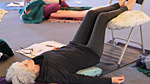 Receive monthly news and inspiration.
The yoga therapy components of these courses are based on our accreditation by IAYT, not derived from our status as an RYS with Yoga Alliance Registry.