We are not currently accepting new students in the
Ananda Yoga Therapy Training
Prerequisites:
This in-depth 7-day program is the first module of Ananda's Yoga Therapy Training. It will give you many practical foundational skills necessary for a safe and effective yoga therapy practice. You will also gain an understanding of the foundations of yoga therapy, which come from the ancient sciences of Yoga and Ayurveda.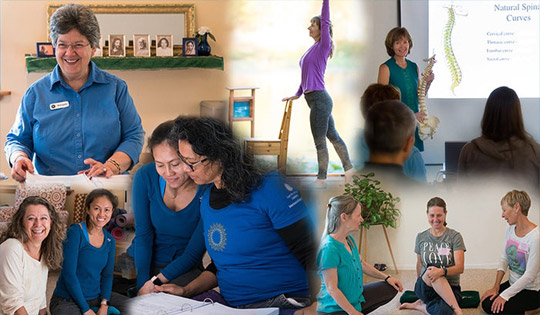 In this course you will:
Gain practical client assessment skills (including structural and functional assessment, basic Ayurvedic constitution assessment)
Learn how to take and document a client history
Learn to create, document, and evaluate individualized therapeutic yoga plans
Deepen your understanding of anatomy, physiology, and kinesiology
Learn how to design individualized yoga therapy regimes
Discover how Yoga and Ayurveda work together to promote well-being of body, mind, and spirit.
Deepen your understanding of the breadth of Yoga teachings (asanas, meditation, pranayama, diet, yoga philosophy, intuition, lifestyle, and more), and how they can be used to help a client therapeutically
Explore Energy Healing: how to send healing energy to others; the roles of prayer and intention; the power of the mind; the therapeutic use of affirmations, visualizations, and mantra
Explore important issues in conducting the business of yoga therapy
In short, by the end of the week, you will have been given the basic skills for creating your own yoga therapy practice. We hope you will take advantage of this rich opportunity!

In addition, you will learn how to communicate with health care professionals: how to generate and interpret referral information. You'll explore how to establish therapeutic relationships with your clients: how to set clear boundaries; what are professional and ethical boundaries; listening and communication skills.
This program is the foundation for all of our other yoga therapy programs. It is a prerequisite for the Musculoskeletal Yoga Therapy course and most of the other Core Ananda Yoga Therapy Training.
For more information, see Course Syllabus.
What students say:
The Ananda Yoga Therapist Certification program is so much more than I imagined. I have been teaching for 14 years and have wanted to expand and deepen my knowledge as well as work more therapeutically with my students.
The program is all embracing ~ asana, ayurveda, chakras, special health issues touching on body, mind, and spirit. The instructors were wonderful, knowledgeable, supportive, and enthusiastic. The environment is conducive to learning as well as personal growth.
—T. C., Palo Alto, CA
Ananda Yoga Therapy Training
For more information, please send us a Question or Comment:

Receive monthly news and inspiration.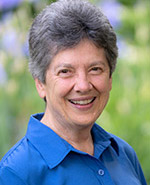 Director, Ananda Yoga®Therapy Training. Certified Yoga Therapist, Clinical Ayurvedic Specialist, Level 2 Ananda Yoga®Teacher, E-RYT-500
Director, Ananda Yoga Therapist Training
Nayaswami Mangala has an impressive background in yoga teacher training, Ayurvedic training and practice, and in-depth medical training and practice.
See all programs, articles, and full bio of Nayaswami Mangala.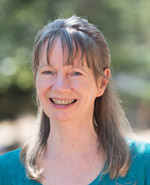 AnandaYoga®Therapist,Certified with International Association of Yoga Therapy, C-IAYT. Level 2 Ananda Yoga®Teacher, E-RYT-500, Ananda Minister, Counselor
Maitri's name means "Friend" in Sanskrit and well describes her extraordinarily kind and supportive nature. She directs our Ananda Yoga® Teacher Training Assistantship program, where she helps YTT grads take their teaching to the next level. She also helped pioneer our Ananda Yoga Therapy Training and is one of the primary instructors in that program. Maitri, brings great wisdom and experience to her many programs. Maitri is a certified Ananda Meditation and Yoga Teacher, as well as a registered nurse.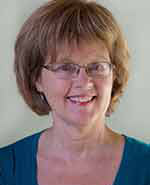 Level 2 Ananda Yoga® Teacher, E-RYT 500, Ananda Yoga® Therapist
Barbara is a Hatha Yoga teacher, a Registered Physical Therapist and a former gymnast. She brings all of her training together in her yoga teaching and helps people enjoy using their bodies in the healthiest way possible.
See all programs, articles, and full bio of Barbara Bingham.
No dates scheduled for Ananda Yoga® Therapy Training: Principles at this time.
Prices are all-inclusive and cover accommodations, meals, classes or activities, and course materials.
Ananda Yoga® Therapy Training: Principles starts the afternoon of the first date listed and ends with lunch on the last date listed. Check-in is anytime between 1:30 p.m. and 4:30 p.m. at our Front Desk. Your room will be available by 3:00 p.m. Dinner is at 6:30. The first gathering of your group is after dinner.
Please see:
You can add extra personal retreat days before and/or after your program. Check availability and costs for the days and accommodations that you require.
Ananda Yoga® Therapy Training: Principles starts the afternoon of the first date listed. It's ideal to arrive before 4 pm, if you are able to. That way, you can join in the afternoon session of yoga and meditation, which begins at 4:45 pm. Dinner is at 6:30. The first real gathering of your group is at 7:30 pm. If you need to arrive here after 5 pm, that's fine, but it helps us if you let us know at 800-346-5350. We can also put aside a dinner for you if you need to arrive after 7 pm. The program ends with lunch on the last date. Please see our Daily Schedule.
See Transportation and Directions whether you are coming by plane, car, bus or train. Our Frequent Questions page answers many of the questions you might have about How to Go on Retreat.
The yoga therapy components of these courses are based on our accreditation by IAYT, not derived from our status as an RYS with Yoga Alliance Registry.
Yoga Therapist Training Articles