Tap into the Universal and Highly Practical Spiritual Teachings of the Bhagavad Gita
Take your spiritual life into an entirely new dimension as you unlock the secrets of this powerful scripture.
This weekend retreat will take you into the teachings of the Bhagavad Gita in ways that willl help you understand them not only intellectually, but intuitively and practically.
Swami Kriyananda, a direct disciple of Paramhansa Yogananda and founder of Ananda, has called the Gita "the world's greatest scripture" — not that it is "better" than other scriptures, but that its teachings are so uniquely direct, accessible, and doable.
You'll explore how the Gita can help you:
Rise above the law of karma

Overcome obstacles that hold you back, spiritually

Develop valuable personal skills for spiritual growth

Fine-tune your own unique spiritual quest

Deepen your meditation practice — or begin one

Strengthen your relationship with God
You'll also enjoy:
A musical evening with chants and songs that focus on the Gita and Krishna

Riveting stories from the Mahabharata, the Gita's parent scripture, that illuminate the Gita's teachings

How-to-live discussions inspired by the Gita

Free time to relax and soak up the soothing vibrations of nature at Ananda
All of this in the supportive and uplifting retreat environment of Ananda Village: Delicious food, yoga postures, meditation, nature, and joyful people around you.
The Essence of the Bhagavad Gita
This weekend we will draw from the wisdom and teachings from the timeless book, The Essence of the Bhagavad Gita Explained by Paramhansa Yogananda.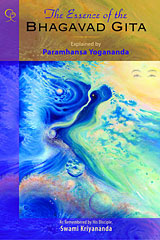 You might like to "warm up" for your retreat by reading the Gita. It's short, and you can get Swami Kriyananda's translation from Crystal Clarity (Ananda's publishing department) at a 30% discount with the code OWABGSLK30 for the ebook or paperback.
Program leaders Murali and Sagar will share with you their special affinity for the Gita. They combine clear, centered energy and insights with a great sense of inspiration and fun. They'll also illuminate the spiritual wisdom of the Gita by sharing some riveting stories from the Mahabharata, the Gita's parent scripture.
This is a one-of-a-kind program that you won't want to miss!

Testimonials from Students:
I want to share about my first visit to Ananda Village for the Bhagavad Gita retreat held at The Expanding Light. I'd been told how fulfilling this would be for me, but I did not anticipate just how incredibly profound that fulfillment would be.
The connections I made with all the beautiful souls I met (including mySelf) while there, along with the sacred embodiment of the grounds all factored into my experience. I found Ananda to be a place saturated in Love & Joy and Peace & Harmony that one cannot help but absorb. Consequently, I can now share those qualities more generously with everyone.
I recommend attending Sunday Service at the Temple of Light to join in the force of this community's dedication to spiritual expansion. It was so very uplifting for me! My gratitude to ALL who helped this experience come to fruition for me. —Annette McLeod, Pittsburgh, PA
This is an excellent course for anyone looking to get off the roller coaster of life's ups and downs. The discussion points were very accessible and equally engaging to those who had read the Bhagavad Gita and to those who had not. Would highly recommend.
the teachers are exceptionally knowledgeable on the topic. They are also very entertaining. The class flew by too quickly! — Kerstin A., Fullerton, CA
For more information, please send us a Question or Comment:

Receive monthly news and inspiration.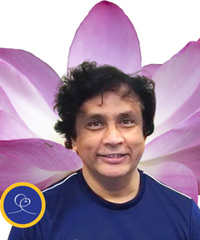 Murali Venkatrao has been teaching yoga since 2002, and is an active researcher studying Yoga's impact on diabetes, metabolic syndrome, obesity, and other metabolic disorders. He is currently the Director of yoga teacher programs at the Ananda Institute of Living Yoga in Bothell, WA, and a Professor of Yogic Physiology at Vivekananda Yoga University in Norwalk, CA.
See all programs, articles, and full bio of Murali Venkatrao.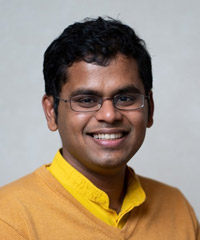 Sagar led Ananda's work in Mumbai for about five years and has served Ananda's work in India and the US as a teacher and counselor to students and as a meditation and stress-relief workshop facilitator for corporates.

Sagar currently serves in Ananda's Online Ministry. He is one of the principal instructors for the Ananda Course in Meditation and has helped create several such online offerings and webinars.
See all programs, articles, and full bio of Brahmachari Sagar.

or e-mail or call us at 1-800-346-5350
Costs (EBG)
Costs are on a per person basis.
Aug 22 – 25, 2024 with Murali and Sagar
Tent
RV
Standard
Shared
Standard
Private
Deluxe
Shared
Deluxe
Private
$468
$597
$798
$744
$1020
Prices are all-inclusive and cover accommodations, meals, classes or activities, and course materials.
Bhagavad Gita Retreat starts the afternoon of the first date listed and ends with lunch on the last date listed. Check-in is anytime between 1:30 p.m. and 4:30 p.m. at our Front Desk. Your room will be available by 3:00 p.m. Dinner is at 6:30. The first gathering of your group is after dinner.
Please see:
You can add extra personal retreat days before and/or after your program. Check availability and costs for the days and accommodations that you require.
Bhagavad Gita Retreat starts the afternoon of the first date listed. It's ideal to arrive before 4 pm, if you are able to. That way, you can join in the afternoon session of yoga and meditation, which begins at 4:45 pm. Dinner is at 6:30. The first real gathering of your group is at 7:30 pm. If you need to arrive here after 5 pm, that's fine, but it helps us if you let us know at 800-346-5350. We can also put aside a dinner for you if you need to arrive after 7 pm. The program ends with lunch on the last date. Please see our Daily Schedule.
See Transportation and Directions whether you are coming by plane, car, bus or train. Our Frequent Questions page answers many of the questions you might have about How to Go on Retreat.