Restore with Ananda Yoga® Retreat
Not scheduled at this time.
with Jitendra Guindon
This retreat provides a weekend of recharging your body, mind and soul through Ananda Yoga® asana sequences focused on helping you release tension, anxiety, and awaken calmness, peace and inner joy.
Explore the specific yogic teachings and practices as formulated by Paramhansa Yogananda, (author of Autobiography of a Yogi), and his direct disciple, Swami Kriyananda.
The weekend will have several components focused on providing methods that will help you deepen your understanding and experience of Hatha Yoga.
We will be learning several Pranayama techniques (yogic breathing and energy control) to eliminate toxins and calm the mind.
During your retreat, you will enjoy:
Guided Sadhanas (Yoga Routines suitable for all levels)
Guided Meditations based on the teachings of Paramhansa Yogananda,
Guided Affirmation based walking Meditation
Teachings of Paramhansa Yogananda and Swami Kriyananda
Incorporating Affirmations to deepen Asana.
Whether you are new to the practice of yoga or an experienced yogi, this retreat will be an experience to help you restore the awareness of your highest Self: Perfect joy and love.
Your retreat will be led by Brahmachari Jitendra, a gifted yoga instructor with a warm and engaging manner. A certified Ananda Yoga® and Meditation Teacher, Jitendra's depth of experience makes him a very popular instructor and retreat leader.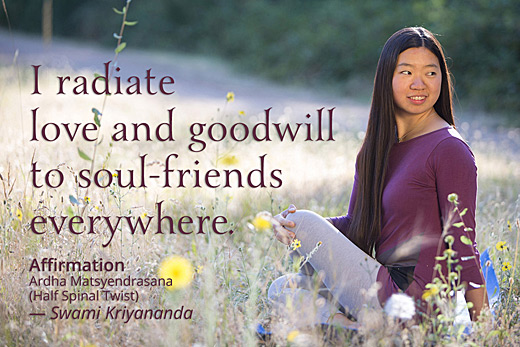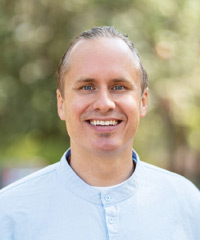 Ananda Yoga® Instructor. Ananda Meditation Instructor.
Brahmachari Jitendra Guindon is a certified Ananda Yoga® teacher with Yoga Alliance. He is also a certified and experienced Ananda Meditation teacher.
Jitendra Guidon, Director of Online with Ananda's Online Outreach ministry, is a disciple of Paramhansa Yogananda living at Ananda Village in Northern California. While serving with Ananda, he enjoys spreading the ancient teachings of Yoga to all truth seekers around the world and look forward to connecting with new friends from different backgrounds and affiliations.
See all programs, articles, and full bio of Jitendra Guindon.
No dates scheduled for Restore with Ananda Yoga® Retreat at this time.
Prices are all-inclusive and cover accommodations, meals, classes or activities, and course materials.
Restore with Ananda Yoga® Retreat starts the afternoon of the first date listed and ends with lunch on the last date listed. Check-in is anytime between 1:30 p.m. and 4:30 p.m. at our Front Desk. Your room will be available by 3:00 p.m. Dinner is at 6:30. The first gathering of your group is after dinner.
Please see:
You can add extra personal retreat days before and/or after your program. Check availability and costs for the days and accommodations that you require.
Restore with Ananda Yoga® Retreat starts the afternoon of the first date listed. It's ideal to arrive before 4 pm, if you are able to. That way, you can join in the afternoon session of yoga and meditation, which begins at 4:45 pm. Dinner is at 6:30. The first real gathering of your group is at 7:30 pm. If you need to arrive here after 5 pm, that's fine, but it helps us if you let us know at 800-346-5350. We can also put aside a dinner for you if you need to arrive after 7 pm. The program ends with lunch on the last date. Please see our Daily Schedule.
See Transportation and Directions whether you are coming by plane, car, bus or train. Our Frequent Questions page answers many of the questions you might have about How to Go on Retreat.