Restore with Ananda Yoga® Retreat

There are no dates currently scheduled.
This retreat provides a weekend of recharging your body, mind and soul through Ananda Yoga® asana sequences focused on helping you release tension, anxiety, and awaken calmness, peace and inner joy.
Explore the specific yogic teachings and practices as formulated by Paramhansa Yogananda, (author of Autobiography of a Yogi), and his direct disciple, Swami Kriyananda.
The weekend will have several components focused on providing methods that will help you deepen your understanding and experience of Hatha Yoga.
We will be learning several Pranayama techniques (yogic breathing and energy control) to eliminate toxins and calm the mind.
During your retreat, you will enjoy:
Guided Sadhanas (Yoga Routines suitable for all levels)
Guided Meditations based on the teachings of Paramhansa Yogananda,
Guided Affirmation based walking Meditation
Teachings of Paramhansa Yogananda and Swami Kriyananda
Incorporating Affirmations to deepen Asana.
Whether you are new to the practice of yoga or an experienced yogi, this retreat will be an experience to help you restore the awareness of your highest Self: Perfect joy and love.
Your retreat will be led by Brahmachari Jitendra, a gifted yoga instructor with a warm and engaging manner. A certified Ananda Yoga® and Meditation Teacher, Jitendra's depth of experience makes him a very popular instructor and retreat leader.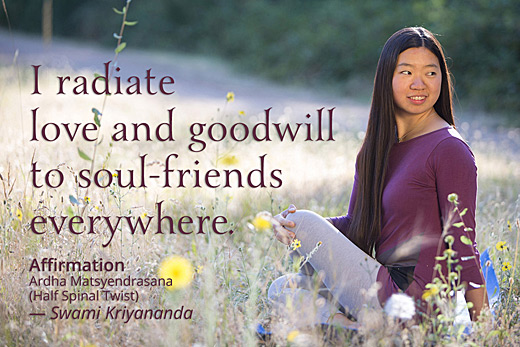 More details about your reservation for Restore with Ananda Yoga® Retreat