Dates
Tent
RV
Standard
Shared
Standard
Private
Deluxe
Shared
Deluxe
Private
$480
$612
$876
$796
$1160
Teachers
More Information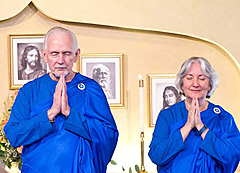 A powerful retreat that can transform and permantly uplift your Kriya Yoga Sadhana!
During this 4-day weekend, you'll join together with other Kriya initiates, both new and longtime Kriyabans, as well as Kriyacharyas (Kriya ministers) to explore the depth and practice of the technique, how to deepen your life as a Kriya Yogi and to make your practice more effective.
The Kriya Yoga path and techniques, for those who have received initiation into them, are the most precious part of the devotee's life. Kriya Yoga is a vast and deep subject.
This profoundly inspiring weekend will be led by Nayaswamis Jyotish and Devi.
Following the Kriyaban Retreat there will be a guided Kriyaban Seclusion program at the Ananda Meditation Retreat May 21-24. For more details please call 530-478-7557 to book a place.
2017 Kriyaban Retreat - Schedule for expanded 2018 program coming soon!
Thursday, May 18
7:30 Orientation and Inspiration with Anandi
Friday, May 19
6:30–8:30 Pray, chant, meditate in Expanding Light Temple - dedicated to Swamiji, led by Hriman and Padma
10:30–12 Class by Jyotish and Devi: " The Life of a Kriyaban"
Noon –meditation led by Jyotish and Devi
2–3 Q and A – for First Kriya, led by Dhyana in EL Temple
3-4 Q and A - for Second Kriya, led by Pranaba in EL Temple
3-4 Q and A - for Third/Fourth Kriya, led by Devarshi in Serenity Lounge
Afternoon sadhana choice:
4:30–6:30 Ananda Yoga and Pranayama to Deepen Your Kriya, led by Gyandev in EL Temple OR
4:30–6:15 Energization and meditation led by Ananta and Maria at Crystal Hermitage Dome
7:30 Celebrating Swami Kriyananda's Birthday with Jyotish and Devi
Saturday, May 20
6:30–8:30 Pray, chant, meditate with Dharmarajan and Dharmini in Expanding Light Temple
10:30–12 Panel of Kriyacharyas: Devarshi, Gyandev, Dhyana
Noon meditation led by the panel of speakers
Afternoon at Crystal Hermitage – To enjoy meditating in the Moksha Mandir and Swami Kriyananda's apartment and meditation room
Saturday evening – First, Second, and Third/Fourth Kriya Yoga Initiations
First Kriya led by Bharat and Anandi, Hansa Mandir
Second Kriya led by Devarshi and Dhyana, Meditation Retreat
Third/Fourth led by Jyotish and Devi, Expanding Light Temple
Sunday, May 21
6:30–8:30 am Separate reviews for each of the Kriyas, as well as Kriya checking
First Kriya Review led by Hriman and Padma, Hansa Mandir
Second Kriya Review led by Dharmadas and Nirmala, Serenity House
Third/Fourth Review led by Parvati, Expanding Light Temple
10–12:30 Purification and Sunday Service led by Jyotish and Devi
This Kriyaban Retreat we hope to make an annual tradition to help all of us go more deeply into the sacred practice of Kriya.
Comments about Kriyaban Retreat 2016:
"The Kriya retreat weekend was incredibly special and deep. I can't tell you how much I enjoyed all the classes, meditations, and events of the weekend. It was enormously recharging." M.B., Portland, OR
"It was the most incredible Kriyaban weekend I have ever experienced (and there have been many). The talks on Friday by Nayaswamis Devi and Jyotish were of the usual exceptional caliber – very moving. After the talks on Saturday by Nayaswamis Jaya, Dharmadas and Dhyana, I was moved to blissful tears. The predominate thought that came to my mind was, "if ever I needed living proof that the Kriya yoga of our Masters works – I had just witnessed it in a way that was beyond all doubt. Of course I had witnessed it in our beloved Swamiji, too, but now I was seeing it and hearing it with my own eyes and ears in my gurubhais who have grown into shining examples of the light that is the fruit of the practice of Kriya yoga. All kriyabans who can, should listen to the talks and should plan to be at the Kriyaban retreat next year!"—Nayaswami Jayanti
"All I can say is every moment was exquisite. I now see many brilliant facets of the sacred diamond, Kriya Yoga, that I had never seen before. I came away grateful and having reverence for the sacred blessing and responsibility of our discipleship and Kriya initiation. I was awed by the level of wisdom, insight, and inspiration each speaker shared, revealing the extraordinary fruit of their spiritual practices. It ignited my Kriya practice!" —M.H., Nevada City, CA
"I felt the speakers delivered 'the experience', all fresh and with new approaches to deepening our Kriyas. Bimal and I drove home on Monday and talked about this for about 8 hours straight! We loved every minute of it." —P.W., Portland, CA
"I thought this Retreat was the best I have come to. But then every event now gets better and better! I am sure the Saturday panel's talks were the best I had ever heard." —C.B., Palo Alto, CA
"I heard exactly what I needed to hear at the Kriyaban Retreat. Have been doing my Kriyas regularly since returning home. Had gotten sick back in the winter and let my practices get sparse. I felt like it was a mini Spiritual Renewal Week." —M.F., Texas
"A blessing indeed. My heart was bursting more than once. The first thing that comes to mind was the class with Jaya, Dharmadas, and Dhyana—Incredible, rich, loving. Huge heart opener. Gyandev's class reminded me of the power of Yoga in general, and for our Kriya practice. Very helpful. It re-inspired my practice. I can never get too much of Jyotish and Devi. God's gift to us, everytime. It was a great weekend. This is the same review I write for every weekend: Inspiring, Helpful Joyful. Blessed, truly."—M.M., Lake Tahoe, CA
"I really loved the Kriya weekend and felt both inspired and uplifted. The talks were beautiful. I love group meditations -- they really help me meditate deeper and longer, something that is more challenging at home." —L.L., Mt Shasta, CA
"The concentrated time helped me to open and deepen my attunement with Master more strongly. And receiving initiation was the perfect culmination that again strengthened my connection with God and Guru."—J.P., Nevada City, CA
For more information, please send us a Question or Comment:

Receive monthly news and inspiration.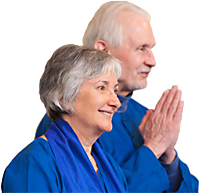 Nayaswamis Jyotish and Devi Novak are the Spiritual Directors of Ananda Worldwide. Longtime devotees of Yogananda, Jyotish and Devi have worked closely with Swami Kriyananda since 1969 and before.

or e-mail or call us at 1-800-346-5350
Costs (KRIYA)
Costs are on a per person basis.
Tent
RV
Standard
Shared
Standard
Private
Deluxe
Shared
Deluxe
Private
$480
$612
$876
$796
$1160
Prices are all-inclusive and cover accommodations, meals, classes or activities, and course materials.
Kriyaban Retreat with Nayaswamis Jyotish and Devi starts the afternoon of the first date listed and ends with lunch on the last date. Please see:
You can add extra personal retreat days before and/or after your program. Check availability and costs for the days and accommodations that you require.
Kriyaban Retreat with Nayaswamis Jyotish and Devi starts the afternoon of the first date listed. It's ideal to arrive before 4 pm, if you are able to. That way, you can join in the afternoon session of yoga and meditation, which begins at 4:45 pm. Dinner is at 6:30. The first real gathering of your group is at 7:30 pm. If you need to arrive here after 5 pm, that's fine, but it helps us if you let us know at 800-346-5350. We can also put aside a dinner for you if you need to arrive after 7 pm. The program ends with lunch on the last date. Please see our Daily Schedule.
See Transportation and Directions whether you are coming by plane, car, bus or train. Our Frequent Questions page answers many of the questions you might have about How to Go on Retreat.
RELATED PROGRAMS