How to Be a Channel of Divine Grace & Healing
Not scheduled at this time.
with Nayaswami Maria
This weekend retreat is for people who already have a meditation practice and would like to deepen their personal spiritual life.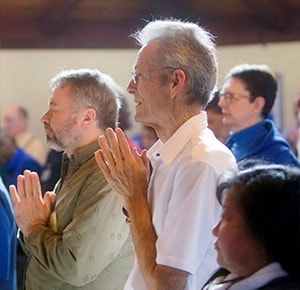 This weekend you'll learn how to:
Raise your energy and attune to a higher Source
Use healing prayers effectively
Draw on deep inner resources and allow them to flow through you
The weekend will include lecture, guided experiences, and discussion. Some of the topics we'll discuss:
How to tune into guidance
How to open a channel within you for divine grace to flow to others
Can your prayers help others?
How to use meditation, visualization, and affirmation to help others
How to transmit cosmic energy and divine love from a distance
Using the hands, eyes, and voice to transmit energy, comfort, and hope
How to strengthen your aura and protect yourself from negativity and burnout.
How to be loving and effective without becoming emotionally and egotistically involved
Nayaswami Maria is one of Ananda's most beloved teachers and ministers. She is a powerful, compassionate, and experienced example of exactly what she is teaching this weekend..
During this weekend, you'll learn how to connect with the source of divine grace, and become a channel for a power far beyond your human strength and knowledge.
Paramhansa Yogananda said, "The instrument is blessed by what flows through it." As you feel God's energy flowing through you to others, you will be blessed by that very energy.
The weekend schedule:
Friday
evening: Introductions and exploration: Where are you in your spiritual journey? How would you like to better serve and give to others?
Saturday
morning: What does it mean to be a channel for divine grace? And how to raise our energy in attunement to divine grace. The morning will also include discussion and experiential techniques to deepen our attunement to the highest within us and to channel purely the energy of the heart.
afternoon: At Crystal Hermitage's Shrine of the Masters. In the vibration of this sacred shrine and the inspiration of great Masters and saints, we will open ourselves to our own highest potential as instruments of grace and blessing as we practice Yogananda's healing prayer techniques, sharing with others through them.
4:30 pm: Special guided practices for recharging spiritually.
evening: Evening of informal discussion in the home of Nityananda and Lalaan
Sunday
morning: A chance to re-explore the deepening of your own spiritual journey.
"The feelings experienced when the heart is restless are like a storm in a thimble compared to the oceanic love that bursts upon the soul when the heart is calm. Only when you relax your heart's feelings can you channel them upward. And only then will they expand to embrace Infinity."
—Paramhansa Yogananda
From past guest:
"As a longtime leader in the Ananda spiritual community, Maria brings enormous depth and knowledge to her program, How to Be a Channel of Divine Grace. Her intention is to help people receive what they need and want, not from her, but from God, and she truly lives that credo. I would strongly recommend this retreat to anyone."
—Luc B., Tiburon, CA
For more information, please send us a Question or Comment:

Receive monthly news and inspiration.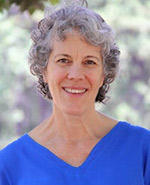 Inspirational teacher of Ananda meditation & yoga philosophy; Ananda Minister & Spiritual Counselor. What is a nayaswami?
Nayaswami Maria is a deep soul who rests her life in the Divine Spirit - her service to others as a teacher, spiritual guide, musician, gardener are all roles she plays while centered in her heart. Over more than 40 years she has studied yoga philosophy such as the Bhagavad Gita and teachings of Paramhansa Yogananda and then she has lived those teachings through a lifestyle of daily Kriya Yoga meditation and service to others. Maria's grounded and open heart allow her to make new friends easily as she gently meets people wherever they are at in their lives as they seek to grow their spiritual path.
See all programs, articles, and full bio of Nayaswami Maria.
No dates scheduled for How to Be a Channel of Divine Grace & Healing at this time.
Prices are all-inclusive and cover accommodations, meals, classes or activities, and course materials.
How to Be a Channel of Divine Grace & Healing starts the afternoon of the first date listed and ends with lunch on the last date listed. Check-in is anytime between 1:30 p.m. and 4:30 p.m. at our Front Desk. Your room will be available by 3:00 p.m. Dinner is at 6:30. The first gathering of your group is after dinner.
Please see:
You can add extra personal retreat days before and/or after your program. Check availability and costs for the days and accommodations that you require.
How to Be a Channel of Divine Grace & Healing starts the afternoon of the first date listed. It's ideal to arrive before 4 pm, if you are able to. That way, you can join in the afternoon session of yoga and meditation, which begins at 4:45 pm. Dinner is at 6:30. The first real gathering of your group is at 7:30 pm. If you need to arrive here after 5 pm, that's fine, but it helps us if you let us know at 800-346-5350. We can also put aside a dinner for you if you need to arrive after 7 pm. The program ends with lunch on the last date. Please see our Daily Schedule.
See Transportation and Directions whether you are coming by plane, car, bus or train. Our Frequent Questions page answers many of the questions you might have about How to Go on Retreat.