Advanced Pranayama
Not scheduled at this time.
Faculty Melody Hansen
Prerequisites:
This program will be offered in person and online. Click here for more details.
This powerful week will include:
Extensive practice of advanced breathing techniques, bandhas, mudras, and hybrid techniques.
How to integrate asana, pranayama, and meditation.
How to awaken and raise kundalini energy.
Karma, reincarnation, and the subtle body.
A deeper understanding of the anatomy & physiology of breathing.
How to work with students who have respiratory problems due to asthma, emphysema, bronchitis, cardiac disease or obesity.
How to correct breathing irregularities, such as reverse breathing, uneven breathing, rapid breathing, chest breathing, and more.

What our students say:
This course not only taught me some techniques that I will probably use for the rest of my life. It provided an environment for me to have some real experiences. As a yoga instructor, I felt the material presented in this course was vital to my understanding of the essence of yoga. —B.A., Grass Valley, CA
This has been the most wonderful and self-transforming yoga training of my life! I feel deeply grateful to Gyandev and Diksha for their teaching ability to bring my knowledge of Ananda Yoga to a deeper level. —C.L., Modena, Italy
This was an amazing learning experience that can only enhance my own practice and give me more tools to assist growth in my students. —E.J., Redondo Beach, CA
Advanced Pranayama is a unique gem of a class! Since returning home, I have found that my Kriya practice has deepened, and my experience of the Hong-Sau technique has become much sweeter. By taking the time to slow down and really concentrate on the breath, I realized that there were some subtle aspects of both techniques that I had been missing. This course created the time and space I needed to focus with deeper concentration and awareness on the power of the breath, and on the connection to Spirit which lies in the space between inhalation and exhalation. I highly recommend this course to anyone who would like to deepen and refine their meditation practice!—K. M., West Kingston, RI
This program has had a profound impact on me personally that I know will shine through into my personal practice as well as all of my future teaching. This course was very healing and illuminating. —S.H., North Bend, OR
Coming from the city from a very busy life, I found this course perfect to release stress and step into deep meditation. It has helped me to observe, to still my mind, to calm my breath, and to go into a new level of stillness. —A.G., Elche, Spain
When I revisited the Adv. Pranayama course—having taken it years before—the depth of "how to" energize and breathe had such profound effects that my Ph.D. neurotherapist released me from 2 1/2 years of weekly, sometimes daily, brain treatments for depression and anxiety. —Gratefully Anonymous
Learn to move with purpose and to breathe with purpose—maybe more.A "Wow!" experience that will be long lasting.
—B.V. Sequim, WA
What a wonderful surprise to discover how deepthe breathing practices truly are, and the depth of exploration possible by engaging the bandhas. What in the past had looked to me as such an outward practice, was really a pathway to inward experience. —J.S., Charlestown, RI
The Advanced Pranayama workshop seems to be the owner's manual for breath and controlling prana. We laughed, talked, meditated and found stillness. I feel as if I now have the experience of the ancient rishis to guide and assist me in my meditation practice. —A.S., Fresno, CA
For more information, please send us a Question or Comment:

Receive monthly news and inspiration.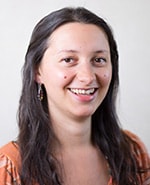 Director of Ananda Yoga® Teacher Training, Director of Restorative Yoga Teacher Training, Level 2 Ananda Yoga Teacher, E-RYT 500, C-IAYT, Certified Ananda Yoga Therapist, Ananda Meditation® Teacher
Melody is an extraordinary yoga teacher, who conveys her great knowledge of yoga asanas—from physical mechanics to spiritual upliftment—with a blend of graciousness, authority, and fun. One of Melody's greatest strengths is the purity of her transmission of Yoga. She has very little egotism to block the clear flow of inspiration she shares. Her inner life is committed and deep, and she's able to help students experience that depth in their yoga practice.
No dates scheduled for Advanced Pranayama at this time.
Prices are all-inclusive and cover accommodations, meals, classes or activities, and course materials.
Advanced Pranayama starts the afternoon of the first date listed and ends with lunch on the last date listed. Check-in is anytime between 1:30 p.m. and 4:30 p.m. at our Front Desk. Your room will be available by 3:00 p.m. Dinner is at 6:30. The first gathering of your group is after dinner.
Please see:
You can add extra personal retreat days before and/or after your program. Check availability and costs for the days and accommodations that you require.
Advanced Pranayama starts the afternoon of the first date listed. It's ideal to arrive before 4 pm, if you are able to. That way, you can join in the afternoon session of yoga and meditation, which begins at 4:45 pm. Dinner is at 6:30. The first real gathering of your group is at 7:30 pm. If you need to arrive here after 5 pm, that's fine, but it helps us if you let us know at 800-346-5350. We can also put aside a dinner for you if you need to arrive after 7 pm. The program ends with lunch on the last date. Please see our Daily Schedule.
See Transportation and Directions whether you are coming by plane, car, bus or train. Our Frequent Questions page answers many of the questions you might have about How to Go on Retreat.