Life, Death, and the Astral World

Living Life More Fully
Not scheduled at this time.
with Nayaswami Mantradevi
Life, to the spiritual seeker, is a preparation for leaving this world in the highest consciousness possible. In our final moment, as we leave this world, we want to be free from negativity or any limiting thoughts, aware of ourselves as children of the Infinite. Each day, we have the opportunity to prepare ourselves. Remove fear and sadness from your perspective of death and gain insight into living the most purposeful and fulfilling life.
During this weekend retreat, we will discuss important questions, according to the wisdom of Paramhansa Yogananda, as well as gain tools for self-transformation:
How can we live our lives so that we leave them in freedom?
What tools and techniques can help us become free of negativity, attachment, fear, and other unpleasant emotions?
How can we face our own death with inspiration, not fear?
What dies?
What happens at death?
What happens after death?
What is heaven or the "astral world" like?
In 2019, this weekend is led by Nayaswami Anandi in March and Nayaswami Mantradevi in August.
Yogananda's teachings on all of the above topics bring calmness, strength, and a positive focus for change.
3 Tips for Looking at Death (Life, Death, and Beyond)
1. Develop a daily practice of inner silence, where you experience a part of yourself deeper and more real than the body.
2. Don't nurse grievances or regrets. Release these first within yourself and, if possible, also with others.
3. Practice joy and love every day, in ever circumstance.
These teachings can profoundly change your life for the better.
Our guests say:
"I found the class exceptional. As you are aware, I have attended many classes in Ananda and found this to be, if not the best, certainly one of the top two. I say that because it did two things, it brought about a level of comfort and understanding relative to death as well as a feeling of excitement about life. Confirming that what we do really matters and that it is important to not only follow your heart to serve but also to maintain a passion towards learning and growing as individuals." —A.P., Reno, NV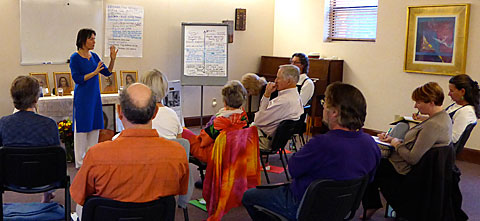 For more information, please send us a Question or Comment:

Receive monthly news and inspiration.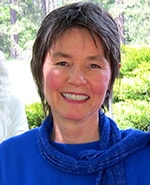 Personal Transformation Retreat Teacher, Spiritual Pilgrimage Leader, Ananda Minister and Counselor, Raja and Ananda Yoga® Teacher.
Nayaswami Mantradevi teaches with insight, clarity and joy, gained from over 35 years of meditating and sharing yoga philosophy. Her concern for others is one of her key qualities, and she has the innate ability to communicate and apply spiritual principles to real life situations. Her classes are creative and experiential, with humor and discussions keeping them lively and interactive.
See all programs, articles, and full bio of Nayaswami Mantradevi.
No dates scheduled for Life, Death, and the Astral World at this time.
Prices are all-inclusive and cover accommodations, meals, classes or activities, and course materials.
Life, Death, and the Astral World starts the afternoon of the first date listed and ends with lunch on the last date listed. Check-in is anytime between 1:30 p.m. and 4:30 p.m. at our Front Desk. Your room will be available by 3:00 p.m. Dinner is at 6:30. The first gathering of your group is after dinner.
Please see:
You can add extra personal retreat days before and/or after your program. Check availability and costs for the days and accommodations that you require.
Life, Death, and the Astral World starts the afternoon of the first date listed. It's ideal to arrive before 4 pm, if you are able to. That way, you can join in the afternoon session of yoga and meditation, which begins at 4:45 pm. Dinner is at 6:30. The first real gathering of your group is at 7:30 pm. If you need to arrive here after 5 pm, that's fine, but it helps us if you let us know at 800-346-5350. We can also put aside a dinner for you if you need to arrive after 7 pm. The program ends with lunch on the last date. Please see our Daily Schedule.
See Transportation and Directions whether you are coming by plane, car, bus or train. Our Frequent Questions page answers many of the questions you might have about How to Go on Retreat.