Dates
Apr 5 – 7, 2019
Aug 30 – Sep 1, 2019
Dec 6 – 8, 2019
Tent
RV
Standard
Shared
Standard
Private
Deluxe
Shared
Deluxe
Private
$272
$350
$478
$440
$612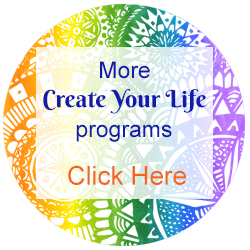 A Create Your Life Series Program:
Relationships are the most powerful motivators for inner growth. They are an unparalleled way to understand yourself. In the mirror of others you have the opportunity to see your own choices and patterns. Learn about the part your chakras play in the way you relate to yourself and others.
Fearless Loving: Deepening and Finding Relationship Fulfillment
Everyone has a need for harmony, love, openness, communication, and deep friendship in all relationships. Subtle energies often guide the success or difficulty in relationships. Your chakras hold important information, and can be the key to self-understanding and self-transformation.
Balanced Energy Brings Balanced Relationships
Each chakra represents certain essential qualities and attitudes and can give you an understanding of your strengths and weaknesses. Learn how to dynamically redirect your energy for greater happiness and freedom, in relationships of all kinds.
Explore Both External and Internal Aspects of Relationships
When the structure falls apart where do you turn? Living or working in a difficult situation: is it time to move on or stay and tough it out? How do you generate inner strength and clarity on how to think and act? Learn where happiness comes from and how to live in harmony with higher powers.
Qualities of the Chakras for Relationships
Security: develop the right sense of self-esteem so you can give and receive
Ever new: stay interested and creative, find new dimensions to relationships
Conflict of will: you may love each other, but how do you live or work together?
Expressing love: open the heart, overcome fear, respond appropriately, stay in touch with what is real for you
Self-expansion and communication: balance commitment with the need for growth and change, speak appropriately
Spiritual attunement: base your relationships on shared ideals
More things to explore in this weekend retreat:
Understanding the principles for successful relationships
Dispersing fears that create obstacles in relating to others
Clarifying what is working and what isn't
Identifying what all relationships have in common
Dealing with difficult people
Tuning into intuitive feelings; listening to inner guidance
Accepting differences without compromising your values
Developing unconditional love
One short weekend can dramatically change your ability to find fulfillment within yourself and in your relationships.
This weekend retreat will feature practical concepts, reinforced with experiential exercises, to help you understand yourself in all your relationships -- with yourself, others, and the Divine.

"The class was really a heart opener. It gave me concrete life tools to change and improve my relationships and actions. The material provided reinforced the presentations and will be a continued resource. Thank you!" — Carol W., Elk Grove, CA
"This course was so central to my higher self. Thank you for providing the knowledge and practical life skills to improve my life in so many ways." —Lorna K, Sacramento, CA
"I know that all I have learned will encourage my growth as well as strengthen my relationships with my family, friends, and everyone I meet along the way." —C.G., Real Estate Consultant, Santa Monica, CA
"I was kind and compassionate and giving before. But at times I would get angry and resentful because I would have expectations for all the nice things I was doing. I'm sure I would outwardly project that. You cleared up that entire issue for me." —L.B., CA
"I recommend this for anyone seeking deeper understanding of their nature, behavior and to develop happy relationships—both with yourself and with others." —E.A., Davis, CA
"My whole relationship with my husband has changed. And the only thing that has changed is me. As a result of me changing he has changed." —C.W., CA
Mantradevi, thank you for creating a safe and nurturing environment where we could feel comfortable to share. That is why I keep returning year after year. The Expanding Light is the one place I feel I can be my true self and feel 100% safe, non-judged, nurtured, and supported in my life journey.
A.J., Lincoln, CA
Mantradevi's classes are a delight – laughter, fun, depth of knowledge – all in an embrace of unconditional love. C.M., Concord, CA

For more information, please send us a Question or Comment:

Receive monthly news and inspiration.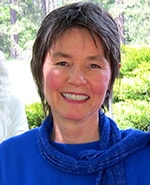 Ananda Minister and Counselor, Raja and Hatha Yoga Teacher, Spiritual Travel Host
What is a nayaswami?
Nayaswami Mantradevi teaches with insight, clarity and joy, gained from over 35 years of meditating and sharing yoga philosophy. Her concern for others is one of her key qualities, and she has the innate ability to communicate and apply spiritual principles to real life situations. Her classes are creative and experiential, with humor and discussions keeping them lively and interactive.

or e-mail or call us at 1-800-346-5350
Costs (NSMR)
Costs are on a per person basis.
Apr 5 – 7, 2019
Aug 30 – Sep 1, 2019
Dec 6 – 8, 2019
Tent
RV
Standard
Shared
Standard
Private
Deluxe
Shared
Deluxe
Private
$272
$350
$478
$440
$612
Prices are all-inclusive and cover accommodations, meals, classes or activities, and course materials.
The Next Step in My Relationships starts the afternoon of the first date listed and ends with lunch on the last date. Please see:
Pick up & drop off at Sacramento Airport. Click links for details.
You can add extra personal retreat days before and/or after your program. Check availability and costs for the days and accommodations that you require.
The Next Step in My Relationships starts the afternoon of the first date listed. It's ideal to arrive before 4 pm, if you are able to. That way, you can join in the afternoon session of yoga and meditation, which begins at 4:45 pm. Dinner is at 6:30. The first real gathering of your group is at 7:30 pm. If you need to arrive here after 5 pm, that's fine, but it helps us if you let us know at 800-346-5350. We can also put aside a dinner for you if you need to arrive after 7 pm. The program ends with lunch on the last date. Please see our Daily Schedule.
See Transportation and Directions whether you are coming by plane, car, bus or train. Our Frequent Questions page answers many of the questions you might have about How to Go on Retreat.
RELATED PROGRAMS