Himalayan Adventure Pilgrimage
Sunday, Sep 29 – Sunday, Oct 20
Join us in exploring the most sacred spiritual sites in India. Linked to Self-realized masters for thousands of years, these mountains embody spiritual aspiration. Together we'll ascend the extraordinary Himalayan heights!
We are refining plans for this 2019 trip. Updated information will be loaded as soon as we develop it.
Inviting you to experience the exquisite beauty and spiritual power of Ladakh, Badrinath, and Rishikesh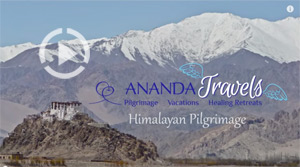 These highest and most remote of mountains exert a universal magnetic attraction. On this trip we'll experience the high Himalayas firsthand, as few people have.
Of incomparable natural beauty, the Himalayas have been central to scriptures, myths, and legends of various cultures and religions. Linked to Self-realized masters for thousands of years, these mountains embody spiritual aspiration—and mankind's highest potential.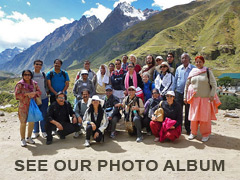 We'll travel to Ladakh, Badrinath, and Rishikesh—not by days of trekking, but directly by train, plane, and car. This pilgrimage is for those who love nature, high mountains, and places of spiritual power—who aren't necessarily hikers or climbers.
An Extraordinary Spiritual Journey through the Magical Lands of the Indian Himalayas
On this unforgettable trip you will experience:
A thousand years of continuous Tibetan Buddhist tradition, in the rarefied high desert beauty of Ladakh
Following a branch of the Ganges River from the plains almost to its source, all the way up to Badrinath, a spiritual destination of great power, even more ancient than India's scriptures
Visiting spiritual teachers and ashrams in Rishikesh; walking and meditating along the banks of the Ganges
The extraordinary sights and vibrations of the high Himalayas, and beautiful, ancient cultures
The spiritual power emanating from age-old sacred temples and other holy sites
The spiritual power generated by our own group, through conscious practices, meditation, chanting, spiritual fellowship, and giving back to places of pilgrimage
Driving and walking among rugged mountains and remote spiritual destinations
Experienced leadership and guidance by Ananda and our local experts
Ancient Buddhist Ladakh
Ladakh, known as "Little Tibet," is a spectacular and unique landscape of ancient spiritual power and beauty. To reach Ladakh we'll fly directly over the Himalayas, one of the most beautiful flights in the world. A well-kept global secret, Ladakh is part of the Tibetan plateau, and has remained a Shangri-La of traditional Buddhist heritage and culture. Only recently have foreigners been allowed to visit. Our visit will be timed for good weather conditions – much of the year Ladakh endures harsh cold weather. From our simple hotel in the Ladakhi capital of Leh, we'll take day trips to explore the Indus river valley, visiting and meditating in sacred hilltop monasteries and temples.

Badrinath: Land of Spirit
Badrinath is a high Himalayan pilgrimage, adventure, and spiritual destination unlike anywhere in the world. The rugged pure beauty of the mountains and rivers alone makes this an unforgettable trip. It is one of the highest places in India accessible by road, and rests near the Tibetan/Chinese border. From here, giant glaciers form one source of the mighty and sacred Ganges River. Much lore surrounds Badrinath: Paramhansa Yogananda said the immortal Mahavatar Babaji lives nearby to this day. Badrinath is mentioned in the ancient texts of India, and was re-established as a pilgrimage site in the ninth century by Adi Shankaracharya, the great reformer of Hinduism and founder of the Swami order. Legend also tells of the Pandavas of the Mahabharata making their divine ascension here.
Rishikesh: Mecca of Yoga
Rishikesh, land of the Rishis, is situated on the banks of the Ganges River. Saints and sages have frequented this sacred foothill locale for centuries.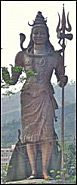 Hundreds of ashrams and yoga and meditation centers populate this fascinating and powerful place. Among the sacred sites we will visit here are the places made holy by Swami Sivananda, Anandamayee Ma, and Swami Kriyananda. We'll also visit Vanamali Devi, a modern spiritual teacher and author; and the Kriya Yoga Ashram of Swami Shankarananda, disciple of Swami Sri Yukteswar's lineage.
Each morning we'll meditate on the ghats or in nearby ashrams, and
we'll experience the celebrated Ganga arati at Parmarth Ashram our first evening.
We'll also meditate next to the ashes of Lahiri Mahasaya at the ashram of Swami Keshabananda, and the bhajan hall where "Hare Krishna, Hare Rama" has been chanted non-stop since 1942. On the banks of the Ganges we can walk, relax, and enjoy chanting and the traditional ceremonies of India; and have free time to explore on our own.
"The benefit of pilgrimage to holy places is not because of their rich history, but for the fact that divine blessings can be experienced when visiting them. Their very soil is impregnated with a higher consciousness."
—Swami Kriyananda
Home Base: Ananda Delhi
During our stay in India, we'll make our "home base" in New Delhi, our arrival city and the capital of India. Here we'll enjoy the company of our Ananda India family and the resources of Ananda Delhi, including the use of their beautiful ashram for meditation, satsang, and delicious meals.
Is this Trip for Me?
Your own meditation practice will enhance the pilgrimage experience, but is not necessary to deeply enjoy this trip. A love of adventure, high mountains, natural beauty, ancient cultures, spiritual traditions, and silence is all that is needed. Optional group meditations are offered daily.

You should be moderately fit, without health conditions liable to be affected by elevations up to 11,500 feet. All destinations involve climbing many stairs, at your own pace. Extensive walking is not required. Longer hikes are optional.
Travelling in the high mountains one must expect the unexpected, and flexibility is a key item to pack in your suitcase. Daytime weather is usually mild, but can also change suddenly. Roads are occasionally blocked by falling rock, which may cause delay or change of plans.
Pilgrimage Leaders
This pilgrimage is led by Krishna Das LoCicero of Ananda Village, CA and Shurjo Jha of Ananda Pune, India. Both are experienced teachers and leaders and have felt the power of pilgrimage firsthand. Together with experienced leaders Tyagis Keshava and Daya Taylor of Ananda India, every aspect of this adventuresome pilgrimage will be carefully coordinated, planned, and prepared for. Ananda has a long history of successful inspirational pilgrimages in India and around the world, working closely with local experts and strong leadership to guide each trip with greatest safety, inspiration, and care.
Testimonials:
I can't say enough about the many wonderful and powerful experiences I had on our pilgrimage! Feeling the amazing power of the several sacred places stands out. And being a part of a group of like-minded people was a strong confirmation of how real our spiritual journey is.
—V.B., Aptos, California, USA
I love Badrinath! ...there are no words to express what we experienced [there] both individually and as a group. For me it was a divine experience like never before.
—R. B., Gurgaon, India
For more information, please send us a Question or Comment:

Receive monthly news and inspiration.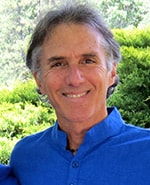 Spiritual Travel Host, Meditation Teacher, Director of Guest Services, Ananda Minister and Counselor
What is a nayaswami?
An exceptionally knowledgeable and gifted meditation teacher, Nayaswami Krishnadas shares his passion for meditation with dynamic enthusiasm. Over the last three decades he has taught thousands of people, from all over the world, how to meditate.
Accommodations, Meals, Transportation
All hotels, restaurants, and menus have been personally inspected by Ananda. We'll stay in clean, Western-style, comfortable but not luxurious 2- or 3-star hotel rooms with attached bath, and central heating where needed. In the mountains the variety of fruits and vegetables is limited. Still, hotel buffet meals include simple but healthy Indian, Western, and Asian dishes.
We'll fly from Delhi to Leh, about 1 hour each way. Transportation within Ladakh will be by air-conditioned bus or SUV, on good roads, driving 2 - 4 hours a day for two days..
Transportation up to Badrinath includes air-conditioned train the first afternoon, followed by 12 - 14 hours of driving by air-conditioned SUV, spread over two days. The road to Badrinath is spectacularly scenic, but often curving. Washouts during the monsoon season are never fully repaired, making the road paved for most of the distance, but also with long gravel stretches, sometimes in poor condition. Our drivers are well-experienced with these roads,and we'll have a very experienced local guide we have worked with for almost 30 years of Ananda Himalayan pilgrimages, but this is definitely a mountain adventure.
About the Altitude
Leh is at an elevation of 11,500 feet. Arriving by flight requires a 12- to 24-hour acclimatization period to adjust to the elevation and thin air. We'll spend our first day resting, drinking extra water, and having light, optional activity within the town of Leh. By taking this rest period, most people have little discomfort. You should consult your doctor if you have a chronic problem that could be affected by elevation. There is no need to walk long distances, but both Ladakh and Badrinath involve climbing many stairs. Those with asthma, diabetes, blood pressure, lung or heart conditions should consult their doctors and may need to limit their activity. You may choose to arrive in India a day or two earlier than the group if you would like extra time to rest and get over jetlag, before ascending to this elevation. This would cost just $100-150 per day extra. Badrinath is only slightly lower than Ladakh, at 10,000 feet, but we make our ascent gradually by road. Also in Badrinath, hiking is optional, and you can have a thoroughly enjoyable time without long walks.
Costs
Special note: If you book a shared room and you or your roommate decides to change to private accommodations, BOTH of you will need to pay the single occupancy rate (provided another room is available, of course). Also, if you request a shared accommodation but there is no one to share with you, you'll need to pay the single occupancy rate.
Payment
In order to reserve your space, please submit a down payment of $1000 with your reservation form.
Cancellation Policy
Price Includes:
All ground and air transportation in India, within the itinerary
Accommodations in each destination
Two meals per day for 10 days, usually breakfast and dinner and 3 meals for 6 days
All required tips and taxes
Professional local guides, and tour leaders from Ananda
Price does not include:
Flight to and from India; passport and visa fees; travel insurance; excess baggage charges; most lunches; items of a personal nature - laundry, snacks, beverages other than those included with meals, room service, any transportation outside of group activities, hotel telephone or internet, donations, and medical care should you need it.
Passport
You will need a passport that is valid until March 2020. If yours expires before March 2020, you must renew it before you request your visa. If you need a new passport, or need to renew one, do so immediately by going to travel.state.gov. You will find instructions there.
Visa
All our travel will be within India. You'll need a visa for India, but no other special permits. The easiest way to obtain a visa is to go to a nearby Indian Embassy, or go to the web-site: www.cgisf.org
Please check with Krishnadas before filling out your visa application for the special information you will need to include on your application:
Krishnadas will be available to assist you in getting the right application form (depends where you live) filling it out, and sending it.
Flights
You can fly on your own to Delhi. The airport designation is DEL. We will arrange your pick-up from the airport to the resort.
We will be happy to help book your flights and we can travel together to India. At this time, the cost appears likely to be about $1350 round trip. (We will give you an exact figure at the time you wish to book.)
Connecting Flights
If you will be coming from cities other than San Francisco, please arrive early enough to ensure that you will not miss the international flight to Delhi!
If you are coming from California
Please arrive at San Francisco by 10pm, the day of the travel.
Below is the itinerary and information about our previous trip. In 2019, there will be some changes. One change is that after landing in Delhi, we will take a short flight to Udaipur: a beautiful place to explore the rich culture of Rajasthan while we adjust to the Indian time zone. Udaipur is rich in temples, museums, and natural features.
Arrival in Delhi
On Tuesday, September 29 most pilgrims will land in New Delhi, the capital of India, and ride by car or bus to our hotel. Most international flights arrive at night. You may also decide to arrive a day or two earlier, to have more time to rest and get over jetlag, before beginning our mountain adventure.
Wednesday, September 30
Our first day will be one of rest and orientation. At a two-minute walk from our hotel, Ananda has a meditation center where we'll have lunch and an opening gathering, and we can change dollars for rupees. After lunch we'll offer an optional outing to explore Delhi. We'll be joined by Keshava and Daya Taylor, who direct the Ananda center, have been organizing the Indian logistics of our trip, and will travel with us to Ladakh.
Delhi will serve as a home base for our pilgrimage. We'll return two more times during the trip, to "rest and re-group." The Ananda center in Delhi will also serve as a peaceful place for meditation and home-cooked meals.
Ladakh
Ladakh is India's most remote and sparsely populated region, a high desert cradled by the Karakoram and the Himalayas. It offers a unique Himalayan landscape and culture that, until 1974, had been glimpsed by only a few intrepid Western travelers. It is one of the last undisturbed enclaves of Mahayana Buddhism, Ladakh's principal religion for a thousand years. Perched on rocky hilltops and sheer cliffs, medieval monasteries are both repositories of ancient wisdom and living centers of worship.
Thursday, October 1
In the morning we'll fly to Leh, the capital of Ladakh. It's just a one-hour flight, but one of the most spectacular in the world—flying over the whole Himalayan range, from south to north, at an altitude low enough for incredible views.
After checking in to our hotel, we'll rest for most of day to acclimatize our bodies to the 11,500 foot elevation and the rarified air.
Mid-afternoon we'll offer a visit to Shanti Stupa for a view over Leh, the meandering bright green Indus valley, surrounding high desert, and lofty mountain peaks. We can then walk through a traditional village to reach Leh's main bazaar, on the ancient Silk Road connecting China, India, and Europe—and still a crossroads of Tibetan, Kashmiri, and Indian culture. Our dinners in Leh will be at our hotel, a building using traditional Tibetan architecture.
Friday, October 2
We'll leave early to witness soul-stirring traditional morning prayers and chanting by the Buddhist monks at the 15th century Tikse monastery, followed by breakfast.
With our Ladakhi Buddhist guide, we'll visit and meditate in Tikse, Hemis, and Stakna monasteries—vibrant centers of meditation, dedication, and service, preserving a deep and ancient mystical heritage, still intact.
Hemis is the largest and wealthiest monastery, founded in 1672, and home to 500 monks. Old manuscripts found in the monastery support the tradition that Jesus stayed at this spot during his "lost years."
Saturday, October 3
After breakfast we'll take a scenic drive along—and high above—the Indus River, and visit the charming ancient village of Alchi, containing deeply peaceful 11th century temples with wall paintings done in Kashmiri style, amazingly preserved by Ladakh's rarefied air and dry climate. The Buddha's teachings were brought from India first to Kashmir, then to Ladakh, then to Tibet in the 9th century. Ladakh's continuous and still vibrant tradition of meditation, introspection, and Buddha's teachings of Dharma, dates from this time.
We'll also visit Likir and Spituk monasteries, which offer rich collections of paintings and Buddhist artifacts, and the opportunity to feel the tangible power left by centuries of spiritual masters and monks meditating in these same shrines.
Sunday, October 4
We'll take an early morning flight to Delhi. After lunch in Delhi we board a train for the 4-hour trip to Haridwar, and Rishikesh, on the Ganges river, for the night.
Badrinath
Monday, October 5
After meditation and breakfast we start our driving trip, slowly climbing through small villages and above beautiful river canyons, following the Ganges River, toward one of its two sources. After about 6 hours of driving, our dinner and overnight stop is Rudraprayag.
Tuesday, October 6
After meditation and breakfast, we continue driving, much of the time still along the Ganges, as more and more beautiful and lofty mountain vistas unfold. After about 7 hours we gratefully reach our final destination of Badrinath, at an elevation of 10,000 feet. Badrinath is remote and beautiful, with a spiritual power tangible to all who come. It's remarkable that such an isolated place can exert so much influence religiously, culturally, and spiritually.
If there is time in the late afternoon, we'll visit the famous temple in the center of town, above the Ganges, which is here is quite small and known as the Alaknanda River. The colorful temple of Badrinath enshrines the sacred statue discovered in the river by Sri Shankaracharya in the 9th century. This statue depicts a seated, long-haired yogi, looking strikingly like Mahavatar Babaji. Hundreds of thousands of pilgrims each year seek spiritual blessings at this holy site.
Wednesday, October 7
We can meditate at the temple in early morning, then walk back to
our hotel for breakfast.
We'll drive a short distance to the village of Mana, just 15 miles from the border of Tibet. From here, amidst stunning natural beauty and clear air, ancient history becomes blended with still more ancient Hindu mythology. We'll meditate in the cave where Ved Vyasa is said to have written the Mahabharata epic. Another cave is attributed to the elephant-headed Ganesha, who served as Vyasa's scribe. Close by, the characters of the Mahabharata come to life, as the "Stairway to Heaven" marks the path the Pandava brothers took at the end of their lives; Bhima's bridge is the boulder he is said to have placed so his brothers could cross the Saraswati River. The Saraswati is said to have its source from the mountain here, and flows above ground for only a short distance before going underground, only to emerge hundreds of miles later at Allahabad.
It's just a 2-mile walk along the river from Mana to Badrinath. We'll have dinners together at our hotel every evening in Badrinath.
Thursday, October 8
While it's still dark, we can walk to the temple and participate in the unique and moving early morning Puja, full of symbolism, led by Badrinath's head priest.
After breakfast we can walk in the Neelkanth Valley, above the temple, where a number of sadhus and yogis live very simply. There is a special place on the river where departed souls are blessed and prayed for, and we can offer our own love and blessings at this spot. Free time in the afternoon can include bathing in the hot springs below the temple.
Friday, October 9
Meditation at temple, breakfast at hotel. Today we can spend longer in the Mana area, and those who wish can walk the "Stairway to Heaven" as far as Vasundhara Falls—a 3-mile hike. Free time can be spent exploring the town and hills at your own pace.
Saturday, October 10
After an early breakfast we'll start our drive down the hill. An important stop will be the ancient town of Joshimath, where we can visit and meditate in Adi Shankaracharya's cave, where he is said to have achieved enlightenment. Here also is one of the four monasteries he established in the four cardinal points of India.
Swami Kriyananda wrote, "I have always suspected Yogananda was, in fact, himself Shankaracharya. Some of the stories he told me about that great master seemed to me the sort of thing history could not have recorded."
We expect to arrive late afternoon at Rudraprayag and stay the night.
Sunday, October 11
After meditation and breakfast we'll drive from Rudraprayag to Rishikesh. Along the way, we'll stop at a beautiful natural stretch of the Ganges, meditate in a large, very powerful cave, said to have been that of the ancient Sage Vashishta, and we'll spend time beside the river. Late afternoon we'll arrive in Rishikesh, and have dinner at our hotel.
Rishikesh
Monday, October 12 & Tuesday, October 13
Swami Sivananda came to Rishikesh in the 1930's and popularized meditation and yoga, making the town the "capital of yoga." Our Rishikesh activities include meditation at Sivananda's cottage on the river, at his samadhi mandir, where his body is, and in the temple where "Hare Krishna, Hare Rama" has been chanted non-stop since 1942. We can take a boat across the river, and at sunset we'll participate in the Ganga Arati ceremony right on the water, and sing with dozens of young ashramites at Parmarth Ashram. We'll meditate in the beautiful domed Kriya Yoga Ashram, built using the calculations of Swami Sri Yukteswar. One evening we'll have chanting, discussion, and arati with a wise and devoted modern spiritual teacher, Sri Vanamali Devi, at her idyllic ashram overlooking the Ganges. We'll also have free time to spend by the river, and to sightsee, shop in the markets, and explore the forested pathways along the Ganges between the neighborhoods of Ram Jhula and Lakshman Jhula.
Wednesday, October 14
After a free morning, we'll take a bus 45 minutes to the town of Haridwar, where the enormous Kumbha Mela gathering is held every 12 years. Yogananda said, "If you go to a place where masters have lived, the vibrations there will quicken your realization." We'll visit the ashram of Swami Keshabananda, which contains the ashes of Lahiri Mahasaya. Then we'll go to the ashram of Anandamayee Ma, immortalized in Autobiography of a Yogi, as the "Joy-Permeated Mother." Her ashes are kept here in a special shrine, and the house where she lived is preserved.
In Haridwar we'll board an evening train for Delhi.
Thursday, October 15
A day to rest, with optional shopping in Delhi.
Depart for home in the evening or night.
Spiritual Travel Articles
RELATED PROGRAMS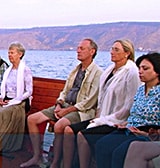 Oct 9–22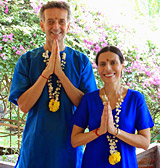 Ayurvedic Healing and Yoga Retreat in Kerala, India
Feb 1–13, 2019